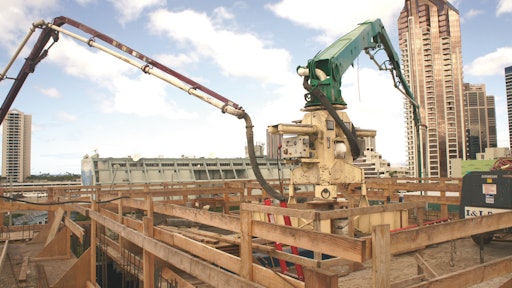 Developer: OliverMcMillan Pacific Rim, LLC, San Diego, CA
Architects: Gensler, San Diego, CA; and Architects Hawaii, Ltd., Honolulu, HI
General Contractor: Nordic PCL Construction, Inc., Honolulu, HI
Ready Mix Supplier: Hawaiian Cement, Halawa, HI
Concrete Placing Contractor: Ohana Concrete Pumping, Inc., Pearl City, HI
As one of the tallest buildings to be built in Hawaii, Symphony Honolulu is a 45-story luxury condominium rising from the heart of the Kapiolani corridor. Climbing 400 ft. into wide open blue skies, Symphony tower will be home to 388 private residences, with floor-to-ceiling windows boasting panoramic views of the Pacific, Diamond Head and downtown Honolulu. A condo unit averages 1,100 sq. ft. and starts at $500,000. The 3.35-acre development is across from the Neal S. Blaisdell Center, home of the Hawaii Symphony Orchestra, which lends the tower its name.
The lavish residential high rise features finely orchestrated amenities with 34,000 sq. ft. of open and recreation space with a grand terrace that includes a fitness center, lap pool and spa, movie theater and party pavilions. The pedestrian-oriented, urban project also includes 80,000 sq. ft. of commercial space on the lower floors. The project has been designed with USGBC LEED-certified criteria, PV solar panels, EV charging stations in the garage and gray water reclamation. Nearly 70% percent of the available units sold within the first two days of sales.
Construction is estimated to take about 25 months under the expertise of Honolulu-based Nordic PCL Construction, the general contractor, with Ohana Concrete Pumping, Inc. of Pearl City, HI, responsible for the intricate placement of 45,000 total cu. yds. of concrete.
Anniversary Milestone
"This high-profile project is of special significance as it illustrates our company's advancement as we celebrate our tenth year in business," says Kathy Thornberry, CEO of Ohana, a Woman Business Enterprise.
Thornberry explains, "In 2005, we started from scratch with the purchase of one Putzmeister 47Z-Meter boom pump. Just three years later, we had expanded our fleet to seven boom pumps before we were forced to ride out the severe economic downturn. Once our market recovered, we started handling high-rise projects, which includes the Symphony that is going strong during our 10-year anniversary."
Under the direction of Thornberry and her brothers William Frederick, president, and Joe Frederick, operations manager, Ohana's fleet today features truck-mounted boom pumps; a placing system that includes pin-connect placing boom towers, hydraulic climbing system, a clamp-down base and hydraulic diversion valves; along with a Telebelt conveyor and Thom-Katt trailer pump.
However, even though the company's fleet has grown over the past decade, the models needed for this large-scale job were already committed to other major projects, so the company sought out additional Putzmeister equipment from Ralph's Concrete Pumping of Seattle, WA, which supplied a placing boom with a Series II detach and a trailer pump for the project.
"Our entire fleet is Putzmeister so we felt more comfortable getting the same brand from the mainland," says Frederick. "This equipment arrangement with Ralph's worked out really well."
From Ground Up
To create the foundation for the project's huge 270' x 274' footprint, 480 auger cast piles were drilled 135 ft. deep and grout pumped into each hole. Three different mat foundations were required and concrete placed up to an 8-ft. thickness while employing Ohana's Putzmeister 43Z- and 47Z-meter truck-mounted boom pumps, needed for their more than 150-ft. reach.
The first three floors of the main 45-story tower were pumped using truck-mounted boom pumps before a detachable 38-meter placing boom was installed to take over concrete placement. The contractor is utilizing a hydraulic self-climbing formwork system, so no placing boom tower is needed, as the entire core formwork is raised independent of the crane. This approach is a new concept to Hawaii and a first for most construction crews involved with the project.
Implementing the novel technique, which is designed to increase jobsite production and reduce labor costs, Tim Rippy, Nordic superintendent says, "We selected this new system because of its self-jacking formwork that meant we didn't need a crane to climb."

A Putzmeister clamp-down mounting base, specifically designed to accommodate mounting without a tower, was used to fasten the placing boom to the formwork within the elevator shaft. According to Joe Frederick, operations manager at Ohana, "We supplied the cross frame to Nordic who mounted it, which is an easy process as it only requires four long bolts."

Frederick added, "Now that the new system is in place and the tower rising, it means one less step for us, as we don't have to jack up the placing boom tower for each level. We just show up and start pumping concrete."
Scaffolding Obstacle
Typically, a high-pressure trailer-mounted concrete pump would be used to pump the concrete to the placing boom. However, a maze of scaffolding surrounded the perimeter of the jobsite, which prevented its setup.
To overcome this obstacle, Ohana used truck-mounted boom pumps, which had to be set up in the street. They extended their booms over the immense amount of scaffolding to tie directly into the pipeline below the pedestal, using a 90-degree elbow that would deliver the concrete to the placing boom.
As the building progressed upward, different sized models were selected, starting with the 43Z-meter for the lower floors, and ending at the sixth floor utilizing a 61-meter truck-mounted boom pump. Its boom extended out more than 180 ft. horizontally to deliver concrete to the placing boom.
Upon reaching the seventh floor, a small area on the crowded site became available to set up a Putzmeister BSA 2110 HP-D trailer pump. At this point, the trailer pump took over delivering the concrete, as it is capable of up to 133 cu. yds. per hour outputs and 2,176-psi pressures.
The main tower is quickly rising out of the ground with concrete placed to the tenth floor at the start of the New Year. "Every project today is on a tight schedule, and Ohana and their equipment have been doing a great job," says Rippy. "We've had no issues at all."
Boom Takes Flight for Podium
The tower's design includes 1.5 million sq. ft. of concrete form work with a considerable amount of that in a seven-story podium, of which the first three levels will house restaurants, retail and a luxury car dealership, the next three will accommodate parking and the seventh level is the grand terrace.
To place concrete for the podium, a 36-meter placing boom, detached from its truck, is flown between two 40-ft. freestanding towers to access the large footprint. With a simple four-pin connection, the placing boom can be quickly moved from one tower to the next and then easily reconnected. The high-pressure trailer pump also supplies the concrete for these two added tower locations, with concrete being diverted via pipeline strategically placed to accommodate this arrangement.

The SDVH 3/2 hydraulic diversion valve by Putzmeister Pipe Technology is being used for system blow-out, as it prevents any movement of the connected delivery line. The leak-proof valve handles 1,885 psi at heights up to 985 ft., more than double the height of the Symphony.
Hurricane Hawaii
The Symphony tower project is on a five-day floor completion schedule, so Ohana is kept busy placing concrete on a regular basis. However, Mother Nature did cause disruptions to the schedule. In recorded history, Hawaii had never been hit by two tropical cyclones in one year. That is, until 2014, when two major storms blew in only two months apart — Tropical Storms Iselle in August and Ana in October.
The threat of both these tropical storms interrupted the project's timeline, as extra precautions were taken before the storms arrived to button down the hatches and shut down the job. Fortunately, the storms didn't cause much havoc, so crews could resume work soon after the storms passed, but they did contend with the excessive rain that followed.
Despite the setback, the construction that started in November 2013 is still scheduled for completion in early 2016.