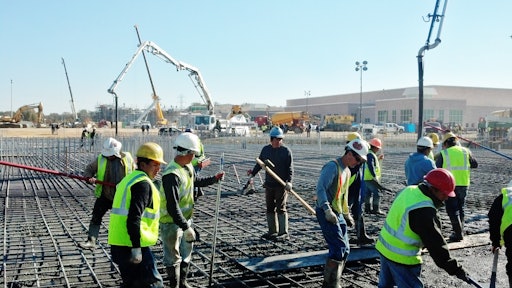 Silvi Concrete got the intel and service it needed to coordinate pumping a mixer truck full of ready mix every 66 seconds into a record 7,200-cu.-yd. continuous pour from GivenHansco's integrated Keystone suite of software.
The monolithic concrete foundation – 49,000-sq.-ft. by 3 ft. thick – would support a 70,000-sq.-ft. recreational and teaching facility and 10,000-sq.-ft. temple in Robbinsville, NJ, for the worldwide Hindu Organization known as BAPS. It would be the largest continuous pour in the Fairless Hills, PA,-based ready-mix supplier's history.
Three batch plants were set up to supply 106 trucks. Drivers only allowed to work 12 hours per day meant effectively calling "time" on the pour after 12 hours.
The goal was to deliver 600 yds. of ready-mix per hour for 12 hours. It would be poured over 160,000 tons of stainless steel rebar.
"Given the short timeframe, staging the traffic patterns for the trucks was a must and the ticketing of 700 truckloads of material was key for success," said Jeff Davis, Silvi's director of dispatch.
At 5:45 a.m. on the day of the pour, the first of 40 trucks started rolling onto the site. After a Hindu priest's ceremonial blessing at the project's start, the trucks began feeding five pump trucks staged around the foundation.
Silvi assigned 20 additional employees on site to assist in quality control, traffic management and truck placement. Special care was taken to keep routes and spaces open for full trucks to rotate in to replace empties.
"[The Keystone software products] allowed us to maximize every last drop of efficiency out of whatever resources we had in action on the project," Davis noted. "There were no lags in tickets, no waits from plants, as well as approved mixes, immediate driver tracking, centralized reporting and cost control analysis."
Elements of GivenHansco's Keystone Suite used on the BAPS pour:
Keystone accounting:
Facilitated centralized reporting for the project's multi-plant operations
Customized full financial and ready-mix specific accounting requirements of the producers involved
Managed tickets, material usage costs, and job management data throughout the project's process
Keystone Dispatch:
Provided straightforward truck scheduling with an easy to use color-coded interface
Tracked all 106 trucks on one screen with continuous fleet management, order status, and updates throughout the 12 hour project's delivery timeline
Intuitive "slider" controls kept all of the project's information on one screen
Keystone GPS:
Tracked 700 truckloads of concrete with radio GPS throughout project's critical product delivery
Provided easy to recognize icons that changed color based on driver's current vehicle status
Quickly identified a downed truck that was blocking the entrance to the BAPS site for retrieval
Currently, Silvi is using GivenHansco's Keystone products for all nine of its operating plants, including three new ones that were integrated easily into the system.