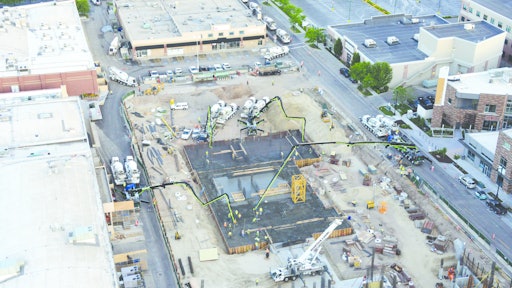 The challenge:
Pour the concrete foundation and floors for a 10-story mixed-use building with restricted space and only one street available for ready mix truck access
The players:
Big-D Construction
Pikus Concrete
Dudley Concrete Pumping
Jack B. Parson Companies
The process:
Significant efforts to revitalize Sugar House, one of Salt Lake City's oldest neighborhoods, are underway with construction of Legacy Village, a 10-story mixed-use, senior living complex. The project is benefiting from the frequent visits of a Putzmeister America, Inc. 61-Meter truck-mounted concrete boom pump, being relied upon for its long reach and unique setup capabilities to place concrete, from the foundation to the top floor.
To overcome complex jobsite conditions and logistical demands, the 61-meter is providing two key attributes to place concrete efficiently and cost-effectively, from project start to finish. First, it has the long 197-foot 2-inch vertical and 183-foot 9-inch horizontal reach needed to access footing pours and also reach the top floor of the 130-foot-tall high rise.
Second, the boom pump has a unique One-Sided Support (OSS) outrigger system, which allows the operator to reduce the outrigger extension on one side of the unit to create a smaller machine footprint for setup that is needed in tight spaces on the jobsite.
A familiar sight
The 61-meter is a common sight in the 162-year-old Sugar House neighborhood, which is undergoing major changes to the tune of $400 million by the time all proposed construction is accomplished in the next five years. Legacy Village, the largest of the new developments planned for the area's central business district with a scheduled completion of spring 2017, includes 12,800 square feet of ground floor retail and 268 luxury residential units. There will be four floors of parking on levels two to five, with residential units occupying the top six floors.
Utah-based companies responsible for construction of the $50 million project are general contractor Big-D Construction of Salt Lake City and concrete contractor Pikus Concrete of Lehi. Dudley Concrete Pumping of American Fork is pumping a total of 30,000 cubic yards of concrete for the high profile job.
Dudley is no stranger to challenging projects or to Sugar House, as the pumping company has tackled difficult concrete placing feats during its 20 years in business and just recently pumped a project across the street from Legacy Village.
From the ground up
Using various models from Dudley's expansive fleet, concrete placement began in June 2015. The footing was pumped in sections with the fourth section requiring 3,100 cubic yards of concrete, which made it the most sizeable, and also the most challenging. With restrictive space and only one street for ready mix trucks to access, along with buildings surrounding all sides of the pour, the jobsite required a tactical plan for equipment setup to ensure a flow of ready mix trucks without interruption as well as address other logistical issues.
Although it was important to keep at least one traffic lane open for residents in nearby condos, more importantly, it was needed for ready mix trucks to access the four boom pumps that would be needed to accomplish the pour. The 61-meter with OSS solved the problem. OSS allowed setup without fully deploying the outriggers on one side of the unit because of sensors that maintain a defined working envelope and prevent the operator from positioning the boom outside a safe operating range. Therefore, the system avoids the unsafe practice of short-rigging outriggers.
"OSS was very critical so we didn't have to shut down a street and route mixers in a different pattern, which would have caused major delays during the pour," says Rob Pikus, owner of Pikus Concrete.
More equipment
Also on site was the 38Z-5-meter, added to Dudley's fleet just days before the pour. Its compact outriggers at only 20 feet 8 inches front and 21 feet 3 inches rear allowed setup in an alley. It reached 107 feet 7 inches horizontally to easily place concrete for its designated section of the total 70,000 square foot foundation.
"This is the second 38Z-5 in our fleet. It's our flagship, as we can maneuver the unit's five-section, Multi-Z boom to reach into awkward areas that were once basically inaccessible for pumping concrete," says Tyler Dudley. "Its design also helps absorb boom movement for an even smoother concrete output at the end hose, which was apparent during this pour."
Also on the pour were a 36- and 38Z-5-meter, positioned next to each other on one side of the site, doing their part to place concrete with great speed. In total, the four boom pumps, strategically located, successfully met the logistical requirements of the job.

Race against clock
To achieve the goal of finishing in six hours, the pour started at 3 a.m. in the morning. Ready mix trucks were staged in a hospital parking lot close by, but they had to vacate this area by 8:30 a.m. In addition, the 38Z-5 that was setup in the alley had to leave by 7:30 a.m. to enable early morning deliveries to retail stores along this pathway.
"It was a race against the clock," notes Tyler. "We needed to achieve about 600 cubic yards an hour to meet the schedule; but fortunately, this wasn't a problem with the high volume Putzmeister .16H pump cells." The .16H pump cells are capable of maximum outputs up to 210 cubic yards an hour.
To maintain the targeted volume, it was also critical to keep two ready mix trucks continually discharging into each of the four boom pump hoppers. Therefore, concrete supplier Jack B. Parson Companies of Salt Lake City dispatched 140 ready mix trucks from four batch plants, supplying a 1.5-inch aggregate, 7-bag mix. Although this mix has a larger sized aggregate than normal, it was still pumped without difficulty with the Putzmeister S-Valve that has a thick-walled valve construction, exclusive hard-chromed concrete cylinders and multi-piece piston cup design.
"This was the fastest placement per hour that we've ever accomplished," notes Pikus, who credits the results to impressive equipment performance and detailed planning efforts. "Our past experience with Dudley led us to use them for Legacy Village, as they get heavily involved in the coordination of a project and provide equipment that performs well."
The workhorse
The 61-meter was not only involved in the footing pours. Once the exterior walls are built, it will be mainly relied upon for placing the remaining concrete for the floors as the building rises to the top — pumping half of a floor from one side, the other half from the opposite side.
"Our 61-meter is a major factor in effectively handling this project," says Tyler. "It would have been impossible to use a truck-mounted boom pump for placing concrete to the top level if not for a combination of factors: a very small vacant space on the southeast corner of the site, the boom pump's OSS for setup in this small space, and the unit's long and versatile boom to access the top of the 10-story structure. Otherwise, a placing boom, tower and system would have been the logical yet more costly alternative for concrete placement."