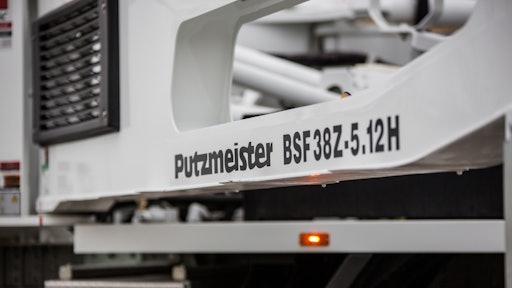 Torres Obispado, which will become the tallest building in the Latin America & Caribbean region, is architecturally topped out and set for completion in 2020. With an impressive architectural scheme — a 12-story podium with commercial areas; access lobbies; more than 2,450 parking spots; a 33-story apartment building tower; and a 55-story hotel and office tower — it's a massive undertaking. To help the project live up to its potential and hit its impressive heights efficiently and safely, construction has relied on Putzmeister and its industry-leading concrete and material placing equipment, including the RS 850 Column Placing System, the City Pump CP 2110 HP Truck-Mounted Concrete Pump, the 38Z-5-Meter Truck-Mounted Concrete Boom Pump, the 36Z-Meter Truck-Mounted Concrete Boom Pump, the MX 36/40Z Placing Boom, and the 32Z-Meter Truck-Mounted Concrete Boom Pump.
Making the Difference
Monterrey is a major industrial center in northern Mexico — the third-most populated city in the country with more than 4 million people, almost 90% of which live in the metropolitan area. Initial concept and area studies for the project began in May 2015; the goal was to fulfill the need for a high-rise living space and additional workspace needed for the booming city. Ultimately, the chosen site was selected for its advantageous location within the metropolitan area. 
As with most constructions in heavily populated cities, land is a finite resource. Vertical expansion is the only option. For Tepeyac, ready-mix supplier and equipment owner, that meant setting a new record as the Latin America & Caribbean region's tallest building.  
Owners/Developers ANCORE Development Group —founded in 2007 — and NEST, who also developed the Torres Obispado building in Monterrey, developed the ambitious LEED Certified Core and Shell project. POSTENSA, the project's general contractor, also brought more than 50 years of experience to the construction process.
The experienced team understood that, though height would become Torres Obispado's defining attribute, it would also become its most challenging aspect.
This made the Putzmeister 32Z-Meter Truck-Mounted Concrete Boom Pump an ideal choice. With exceptional reach in a compact and lightweight design, Putzmeister's 32Z proved to be a purposeful, versatile option for the task at hand with its 104 feet, 6 inches (31.85m) of vertical reach.  
Putzmeister's MX 36/40Z four-section Multi-Z boom has also helped the project's team hit its noteworthy peaks. It has a horizontal reach of 115 feet, 2 inches (35.1m) and a reach depth of 88 feet, 4 inches (26.92m). Its 365-degree rotation also provides added maneuverability.
"Once we got up to level 12, we attached the boom to one of the building's rigid walls to provide support and make for an easy installation," said Alfonso Roa, Putzmeister's Regional Sales Manager for Latin America and the Caribbean, who has been with the company since 2004. "The placing was strategic in order to reach the most distance without any difficulty. By attaching to a rigid wall, the equipment is supported and installation becomes easier."
Around-the-clock Effort
Excavation began around February 2016 — the foundation was poured in November of the same year. Though the project requires a 24-hour pour schedule to complete construction within its aggressive timeline, Putzmeister has kept the concrete flowing and the timeline on track.
"The construction schedule is exceptionally tight," Roa said.
With its Putzmeister Z-Fold boom, the 36Z-Meter Truck-Mounted Concrete Boom Pump was selected to handle the high-stakes concrete delivery. It was chosen for its great reach: the only four-section, 116-foot, 10-inch (35.6m) boom on the market. Additionally, features like high-strength steel and welded connections are meant to stand up to the project's continuous pouring and subsequent wear and tear.
The same durability is featured on Putzmeister's 38Z-5-Meter Truck-Mounted Concrete Boom Pump, which was also used. It features a five-section boom arm and pedestal for increased maneuverability, a reduced boom unfolding height, reduced overall weight, and a more user-friendly design.
Total Project Ownership
One hundred percent of the concrete for Torres Obispado's tower installation — more than 6.6 million gallons (25,000 cubic meters) of concrete — was placed by Putzmeister equipment. This includes the structure's slabs, columns and walls.
Putzmeister's placing systems have proved beneficial in reaching the most distance by the easiest possible means.
"At those heights, the difficulty of maneuvering — combined with the increases in productivity and speed of casting — could cause an accident," Roa said.
Putzmeister's RS 850 Column Placing System is made for high-rise pumping with greater flexibility. It uses an M-profile design that incorporates the self-climbing and delivery systems into a smaller footprint – just a three feet, three inch (1.00m) square. For Tepeyac, this meant avoiding carrying heavy components from one floor to the next. Its pin-connect system, which sidesteps time-consuming bolted connections, also helped to enhance efficiency on a project where time was of the essence. 
Going Above and Beyond
For Tepeyac, the concrete itself also required careful consideration. High-performance mixtures, with resistances ranging from 100.75 square inches (650 square centimeters) to 54.25 square inches (350 square centimeters), are utilized for optimum security. In addition, fly ash was being used as a substitute for a percentage of cement to help obtain read points for certification.
Putzmeister equipment has been successful in mitigating the risks.
"By utilizing Putzmeister concrete pumps instead of hose installations, the jobsite becomes much safer," Roa said.
Putzmeister City Pump CP 2110 HP Truck-Mounted Concrete Pump got the nod for its range of applications on high-rise jobs and its maximum output: 139 cubic yards (106.27 cubic meters) per hour. Not only is it capable of pumping pressures up to 3,191 psi on the piston side, it can do so safely — Putzmeister is the first manufacturer to achieve a Concrete Pump Manufacturers Association (CPMA) safety certification within the truck-mounted concrete boom pump product category.
"We always prioritize safety, efficiency and expertise," Roa said. "This project has been a textbook example of all three priorities working perfectly together."