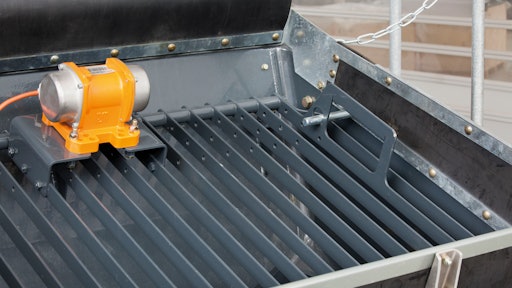 Putzmeister America, Inc. has announced two upgrades to its boom pump line: the new standard RS 909 Hopper, and the optional .12H pump cell. The new features will allow for less maintenance and will accommodate higher concrete pressures.
"Putzmeister has been committed to continuous innovation of our boom pump line with numerous design and engineering changes in our next generation of equipment," says Jim Bury, director of engineering for Putzmeister. "We're confident our customers will appreciate the benefits of these two new features." 
Putzmeister is currently in the process of updating its hoppers on all boom pump models to the more robust, yet lightweight, RS 909, from the previous RS 907A, and will complete the conversion in early 2013. The mounting and hopper shell have been improved and the multi-piece grate will have bolted connections that allow for the replacement of just one bar in the hopper grate if it is damaged, as compared to needing to replace the entire grate. In addition, the new hopper only uses one agitator instead of the previous two, decreasing congestion on the control-side of the hopper, reducing the number of parts, and removing a potential leak point.
Additionally, the RS 909 hopper incorporates an RFID safety switch, preventing it from operating with the grate open. This innovative feature simplifies a mandatory safety feature by incorporating zero moving parts, and uses the same advanced sensor technology shown to be effective and reliable in other Putzmeister systems.
Beginning in early 2013, all boom pumps that currently offer the .12L pump cell option will now offer the .12H pump cell. The .12H pump cell accommodates a higher pressure of 1,233 psi (85 bar) on the rod side and 1,885 psi (130 bar) on the piston side. With an increase in the pressure, further pumping distances can be attained. Only Putzmeister has the technology to offer both high pressure and high output from one pump.