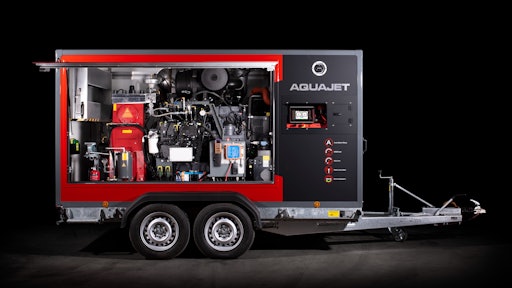 Aquajet

Aquajet has introduced the Revojet 270 high-pressure pump, serving as a solution for smaller-scale Hydrodemolition projects. It can be used with Aquajet's most compact Hydrodemolition robots — the Aqua Cutter 410 and the Ergo system — for applications such as small parking garage renovation and industrial cleaning.
"Our innovation comes from constantly listening to customers to create new solutions for tackling their projects," said Roger Simonsson, Aquajet managing director. "As Hydrodemolition gains popularity, customers are looking for ways to use the technology for more aspects of their work. Pairing the Revojet with our compact Hydrodemolition machines gives contractors a powerful equipment arsenal for jobs in tighter spaces."
The REVO Control System provides a range of functions for users to control and monitor the Revojet. Its features include closed-loop pressure control or RPM control and smart pressure regulating that finds the set pressure from the idle or auto-stop state. The Revojet also has a mode that flushes the hoses without any nozzle mounted, along with rpm hold delay for hand lancing that minimizes delay when the high-pressure trigger is activated.
Operators can set parameters on the graphic color display with instructions available in multiple languages. Users can see all important information in real time or view history of items such as the alarm list and trip meters of fuel consumption. The system also automatically tracks service schedules to minimize downtime.
Aquajet put mobility at the forefront of the Revojet's design. The trailer unit weighs 3,500 kilograms (7,716 lbs.), making it light enough to be towed with a pickup or large SUV. Additionally, a compact Hydrodemolition robot, such as the Ergo, can be stowed in the same towing vehicle, providing simple transport between jobsites and setup without having to load the pump on a larger truck and trailer. A stationary Revojet unit is also available.
Though compact, the Revojet provides performance equal to Aquajet's Power Pack 270 with a standard configuration of 2,800 bar and 40 liters/minute (40,610 psi and 10.6 gal/minute). For operations requiring more power, two Revojets can be parallel operated to increase pump power from 270 to 540 hp (400 kW) as a flexible alternative to a larger pump. Some larger pumps could require a larger trailer and a CDL to haul, so utilizing this equipment allows for an expedited transport process.
The Revo remote comes standard with the Revojet and, to increase flexibility, operators can leave the remote in place on the unit or detach the remote and control the Revojet up to 300 meters (984 ft.) away with extension cables. The Revojet also features start/stop technology, meaning the system automatically shuts down and restarts the engine to reduce its idle time.
The Revojet's main power system features a variety of built-in capabilities. The system monitors the battery level and shuts down when critical to avoid discharging them completely. It also offers an adjustable auto shutdown timeout that can automatically turn off the main power after a certain period of inactivity to save battery. The main power is also automatically kept on until the engine finishes its shutdown process.
When servicing the Revojet, workers can turn off the pump and remove the ignition key, disabling all system functions except for the work lights. An additional safety offering is the Revojet's flashing status light, which relays information and warnings by changing flash frequency and color.
In addition to the standard radio remote control, the Revo system is compatible with most remotes and high-pressure tools on the market — whether Aquajet tools or those from common manufacturers. When the Hydrodemolition robot is connected to the Revojet, everything works as one unit through the radio remote control with no need for extra cables or devices. This allows operators to connect multiple pieces of equipment, including high-pressure guns, foot pedals and other high-pressure actuators. The Revojet is a versatile solution for industrial cleaning contractors, for example, who have a diverse fleet of equipment for different worksites. Tools are connected directly to the Revo remote with a standard seven-pole connector.
The Revojet was designed to provide access for service and maintenance. Two large hatches — one on each side of the machine — allow workers access for routine maintenance such as checking fluid levels or oil and filter changes.
Request More Information
Fill out the form below to request more information about
Aquajet Unveils Revojet 270 High-pressure Pump for Hydrodemolition Projects