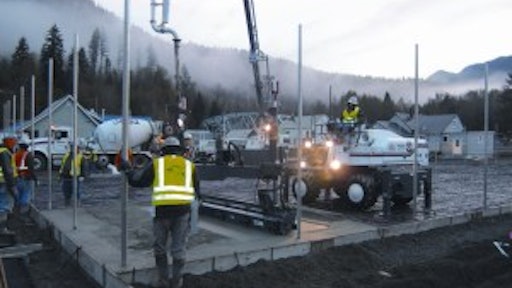 Mike Poppoff started his concrete career while still a college student at the University of Washington. He operated a crane for a concrete contractor that built concrete structures for sawmills throughout the Northwest. After a move back to his roots in the eastern part of the state, Mike needed a job. "I had never finished concrete before, but I saw it done a lot," he jokes. "I had a house payment, so I started a company." Poppoff, Inc. was born.
Mike was his own one-man crew at Poppoff, Inc., working small residential concrete projects for homebuilders. "The most I could handle by myself during the summer was 4 yards of concrete because of the temperatures. I would have a 6 o'clock pour of 4 yards, a 10 o'clock pour of 4 yards and a 2 o'clock pour of 4 yards. I was the guy who wheeled it, finished, everything. It was a fire drill every day!"
In 1979, Mike got his first employee and started getting into some small commercial and industrial projects. Poppoff, Inc. continued to grow, and by 1983 Mike had seven employees.
On track with a 'revolution'
Mike says the 1980s were frustrating for the company, partly due to the economy but mostly because as he tried to break into larger commercial projects he was met by many customers who thought of the company as a residential contractor. The following decade, however, saw two big things happen at Poppoff, Inc. "We were going through a phase back in the 1990s where our customers were growing. And we knew if we didn't grow with them they would drop us and find someone else," Mike says. So he put the company on a path for growth.
Making the decision to expand the business meant the company needed more work. That pressure to find more work led Mike to implement the second big change at his company - he had to get out of the field. "My job was to generate more work for the crew that we had. It got to the stage where I wasn't doing my job feeding them work. The company needed to grow, and it wasn't going to grow with me in the field," he says.
At the same time Poppoff, Inc. was going through changes, the concrete flooring industry was seeing changes of its own. "The slab industry went through a revolution in the 1990s. You could see it coming not only in the screeding equipment but also with the finishing equipment. And the introduction of F numbers changed a lot of things we did," Mike explains.
Poppoff, Inc. was an early adopter of the industry's equipment advancements. The company moved from walk-behind trowel machines to the then-new ride-on models with pans. In the early 1900s, Poppoff Inc.'s crews were screeding with roller screeds and truss screeds, but Mike recalls seeing an ad for a Somero Laser Screed in an industry trade publication and thinking, "That's what we need." The company bought its first Laser Screed in 1994. "We went all in to buy our first Laser Screed. We scraped up every penny we had," he says. "The nearest machine was in Denver at the time we bought ours. We knew we had to go down that road if we wanted to grow and build relationships with our customers."
Those equipment acquisitions opened up new markets for Poppoff, Inc. and gave them an advantage when bidding box stores and large slabs. "What these tools allowed us to do was install slabs quicker with fewer people. People didn't lose their jobs, we just ended up doing more work with the same crew," he explains.
Mike's ability to recognize equipment trends early on allowed Poppoff, Inc. to use that equipment and its expertise to move the company forward. The company grew five-fold over the course of the 1990s.
The following decade was another period of growth for Poppoff, Inc., with Mike calling 2003 to 2009 the "boom years." During this time he says screeding and finishing equipment got more mechanized, allowing Poppoff, Inc. crews to become even more technical, challenging crews to use their brains more than their brawn to increase quality. The company doubled during those years, with what Mike calls a lucrative and controlled growth.
Grooming the next generation
In 2008, Mike's son, Matt Poppoff, joined the company. A 26-year-old with a background in IT, Matt entered the family business with the intention of filling in his dad's shoes. "I wanted a career that was more challenging and an environment that was faster paced than what I was previously doing for work," Matt says. "Plus my dad told me he would look to sell the business if I was not involved, and there was no way I could let that happen." Mike is currently grooming Matt to take over the business.
"I'm in the process of learning how every person in the company plays a key role," Matt says. "I kind of do small portions of each person's job to help me learn how our business goes about every day. I think it would be hard for anybody to set foot in a company and expect to run it without knowing the job we do every day to make money."
There is no clear time frame set for Matt to take the lead at Poppoff, Inc., but over the next 10 years Mike hopes to see his son's role in the company grow as his own role in the day-to-day shrinks. "Eventually my role will be to be available for advice. I will not hover over Matt and the employees and I will not make them justify everything they are doing. But I will be available and visible. I won't retire - Matt knows I won't retire. I love this industry. I just want to scale back my hours as he moves into the primary role at the company."
Another evolution Mike's role at the company will continue to take is his involvement in the industry and the educational opportunities that come with that involvement. He's a member of the board of directors for the American Society of Concrete Contractors (ASCC) and has been involved at the Washington state level with the Associated General Contractors of America (AGC) and the American Concrete Paving Association (ACPA). That involvement came about partly out of necessity to stay on the forefront of the industry.
"The role of the concrete contractor is changing. They are more knowledgeable about the industry than they were 20 years ago," Mike says. "You take the combination of owners being more demanding and the industry responding, you have to learn a lot quickly. It's a process. Just because the F numbers system came out you can't say, 'OK, I learned about that, now I'm done.' There is always something new out there, and I am learning something new every day."
Matt has taken notice of the benefits Mike's industry involvement offers the company. "As a concrete contracting company we are hired to place and finish concrete and create a nice floor, but I see my dad go the extra mile - which is never really billed out," Matt says. "Customers come to him for his knowledge about what concrete does. They come to him to double-check on things because he's always up on the industry. And with his buddies at the ASCC, he can get those questions answered when the owners are looking for something he doesn't know."
In the construction world, as in the natural world, evolution is progress and improvement. Over the last 20 years, Poppoff, Inc. has been responding to changes in the concrete flooring industry and evolving along with it in order to stay on the leading edge of productivity and quality. And as a new generation moves up in the company, the management team is set to continue pacing with the industry.
Adjusting to a Down Market
Poppoff, Inc. has seen its business down 38 percent in 2010 from its boom year in 2008. Whereas in 2008 the company was performing 75 percent of its work outside its home turf in Yakima County, Wash., that split has flipped with Poppoff, Inc. now working about 75 percent of its jobs in Yakima County, most of them from the agricultural market still strong in the area.
Matt Poppoff's timing for joining the family business in 2008 happened shortly before the economy started to sour, which gave him a taste of some of the toughest challenges a construction business owner will face. One of these experiences came when the company had to downsize staff in reaction to fewer jobs. Poppoff, Inc. President Mike Poppoff says he and Matt looked at employees using a common business practice - categorizing them as A-, B- and C-team employees, with A-team employees exemplifying the highest standards of workmanship, the C-team employees those who merely show up for a paycheck, and the B-team employees somewhere in the middle. "We discussed cutting a cross section of the As, Bs and Cs. It would have been a cheap way to go about it because the A-team guys are paid a premium and the C-team guys are lower on the pay scale. But we decided to start cutting from the bottom and work our way up. We kept all the A-team members and let the Cs and Bs go," Mike explains.
That decision ensured despite a smaller company, quality increased overall. "Even after we scaled back our number of field workers, we are a stronger company. Our quality of work increased, our professionalism on the jobsite increased and service to our customers increased," Mike says. "We will be a much stronger company when we come out of this downturn." - R.W.
COMPANY SUMMARY
Company:
Poppoff, Inc.
Moxee, Wash.
Poppoffinc.com
President: Mike Poppoff
Employees: 38
Founded: 1977
Affiliations:
ASCC, ACPA (paving), AGC, ACPA (pumping)
Services offered:
Slabs for commercial, industrial and public works projects and tilt-up contractors.
Key products and equipment:
Somero SXP-D and SXP Laser Screeds; two 39-meter Schwing pump trucks; Freightliner and Ford trucks; Whiteman power trowels and paving/panel roller screed; Allen Engineering power trowels; Bunyan Industries roller screed; Husqvarna Soff-Cut saws; Tennant floor scrubber.