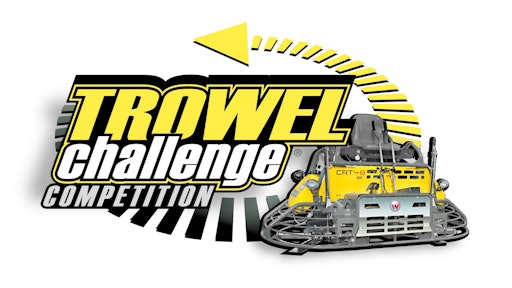 What started as an impromptu friendly competition has now become one of the most anticipated events at the World of Concrete trade show. For the seventh year, Wacker Neuson will host its annual Trowel Challenge competition during the show, February 3-6, 2015 in Las Vegas, Nev. Each year Wacker Neuson creates an obstacle course on a 2,400 square foot concrete slab at their WOC booth (#O31708). Concrete finishers are invited to test their skills as they maneuver a 48-inch, ride-on trowel through the timed course. The top 10 finishers of the qualifying rounds will meet for the final championship on Thursday, February 5, 2015. Once again, Wacker Neuson will award the fastest finisher with a grand prize custom 48-inch CRT 48-35VX ride-on trowel powered by a special Vanguard BIG BLOCK V-twin engine.
While the Trowel Challenge draws the crowds and creates excitement, attendees are also invited to learn more about the industry's largest, most diverse line of concrete trowels. From the 24-inch finishing model up to the 10-foot hydraulic rider, there is a Wacker Neuson trowel to fit any job for any concrete contractor.
For over 25 years, Wacker Neuson has been a leading manufacturer of walk-behind models designed for professional results, comfort and safety. As safety continues to be paramount concern for jobsites, Wacker Neuson's walk-behind models offer a patented design to provide extra protection from an out of control spinning trowel handle. When the operator lets go handle, a gyroscopic safety sensor detects the motion of the handle and stops the engine before the handle reaches a 45-degree rotation. This engages the gearbox brake which will stop the handle rotation within a 270-degree rotation. This proven system is the industry's best way to protect the operator form being struck by a runaway handle. Watch the video here http://www.wackerneuson.us/en/your-industry/concrete-construction.html
Follow the fans to Booth #O30708 to participate or to cheer on your favorite finisher during Wacker Neuson's Trowel Challenge 2015.