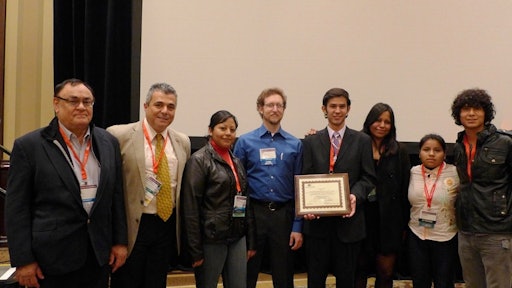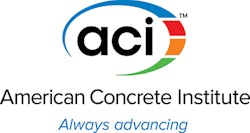 The American Concrete Institute (ACI) announces the winners of its 2012 Student Egg Protection Device Competition. The competition took place at the ACI Fall 2012 Convention last month in Toronto, Ontario.

In this competition, teams were challenged to design and build the highest-impact-load resistant plain or reinforced concrete Egg Protection Device (EPD). Teams also reported on concrete's sustainable benefits related to durability, impact resistance and other real-life aspects which an EPD simulates.
Winners were chosen in durability and performance categories. The first, second and third place teams in each category receive cash awards of $300, $200 and $100, respectively.
Durability Category
1st Place: Universidad Autónoma de Nuevo León – UANL2: Alberto Isaac Elizondo Garza, Ana Luisa Aguilar Rubio, Israel Aarón Chavarría Padilla, Griselda Yazmín Martínez Hernández, Yohana Elizabeth López Alejandro; Faculty Advisor – Dr. Alejandro Durán Herrera 
2nd Place: Universidad Autónoma de Nuevo León – UANL1: Gabriel Angeles, Montaño, Marcos Balderas-Varela, José O. Hinojosa-Sánchez Luis R. Isidro-Díaz, Luis A. Aquino-Morales; Faculty Advisor – Dr. Alejandro Durán Herrera 
3rd Place: Texas State University: Marcus Flores, Kevin Clare, Eric Adams,Cody Houser, Nathan Grosch; Faculty Advisor – Dr. Kim
Performance Category
1st Place: Universidad Autónoma de Nuevo León – UANL1: Gabriel Angeles, Montaño, Marcos Balderas-Varela, José O. Hinojosa-Sánchez Luis R. Isidro-Díaz, Luis A. Aquino-Morales; Faculty Advisor – Dr. Alejandro Durán Herrera
2nd Place: Faculdade Integrada Metropolitana de Campinas – MTRO1: Airton Magdal, Juscelino Rhis da Costa, Marcelo Luiz da Silva, William de Jesus Brandolim, Rogério Magdal; Faculty Advisor – Fabio Albino de Souza 
3rd Place: New Jersey Institute of Technology: Andrew Canon, Brian Neves, Fabian DeLaHoz, John Te, Tyler Hanson; Faculty Advisor – Dr. Mohamed Mahgoub
Companies in this article