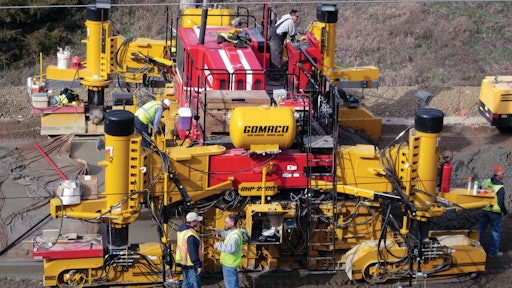 Trimble and GOMACO announce a new stringless 3D paving control solution with CAN-bus integration into GOMACO slipform pavers. Using field-proven Trimble total stations, on machine positioning sensors and office software, the new Trimble PCS900 Paving Control System allows contractors to pave an accurate and consistent concrete surface with increased productivity and yield.
The companies announced at CONEXPO 2014 that the solution will be sold through GOMACO in North America on new and existing GHP-2800 four-track slipform pavers, with additional paver models expected to follow.
"Customers who have already implemented the system for field tests are reporting very impressive International Roughness Index (IRI) readings after using the system," said Kevin Garcia, segment manager for Trimble Asphalt and Concrete Paving Solutions.
Integration between the GOMACO paver and the Trimble paving control system gives operators real-time six-axis control over the pan and the ability to use a 3D design model to control grade and slope. The time and cost of stringlines are eliminated, allowing projects to start sooner and maintain smoother haul operations without the need to drive around stringline.
Trimble PCS900 uses automatic steering and six-axis control of the pan to keep the paver on the target alignment, design and slope. The Trimble SPS930 Universal Total Station and unique Trimble Hot Swap technology make total-station transitions faster and less dependent on manual intervention from the operator. The system will "hot swap", or automatically and instantly transition, to the next total station without stopping the machine to make a manual transition. While doing so, it also automatically maintains the same tolerance between total stations, ensuring a smooth surface at the transition point.