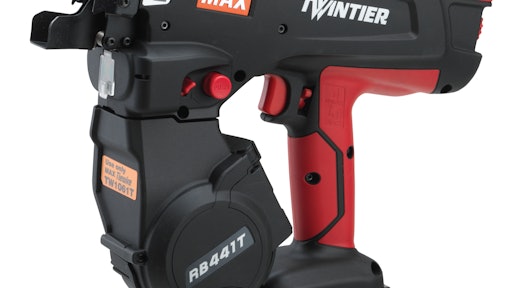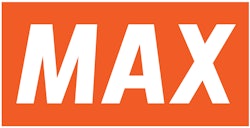 MAX USA Corp. launched its new battery operated rebar tying tool the TwinTier RB441T at the 2018 World of Concrete Show. This exciting new rebar tying tool is faster and delivers even greater efficiency and labor saving than previous models. The TwinTier's special attributes include its faster tying speed, which further increases productivity, a reduction in wire consumption, which further increases cost savings for end-users, and a wire tie that is shorter in height requiring less concrete to fully cover it. 
The TwinTier simultaneously shoots two 19ga. wires around rebar intersections wrapping once to form a tie equivalent to the strength of a hand snap tie.
The TwinTier uses TW1061T wire which is available in steel, poly coated, and electro. galvanized options.

 

One coil of the TwinTier TW106T wire can produce up to 240 ties when tying #4 x #4 bar and the 4.0 Amp Li-Ion battery of the tool will now tie up to 4000 ties before any need to recharge.
The TwinTier's large jaw allows users to tie #3 x #3 up to #7 x #7 rebar.

 

Its new enclosed design offers greater protection against debris and moisture entering the tool.

 

Like other MAX rebar tying tools the simple operation of the TwinTier RB441T helps reduce muscular skeletal injuries when compared to hand tying.

 

Published NIOSH report (HEATA #2003-0146-2976) and the Canadian Safety Association of Ontario Final Report (WSIB Grant #01023) both support these statements.

 
[VIDEO] MAX RB441T TwinTier Rebar Tying Tool Makes Tying Faster, More Cost Efficient
Request More Information
Fill out the form below to request more information about
MAX USA Corp. Introduces the TwinTier RB441T