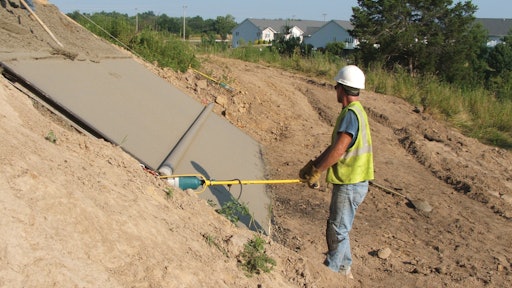 When it comes to screeding concrete, contractors have a variety of options to choose from. One of those options is a power roller screed, also called a friction screed. A roller screed is powered by either an electric, hydraulic or gas motor and spins in the opposite direction it is being pulled. The spinning motion levels the concrete while pulling it forward.
The motion of the screed loads the concrete in front of the screed and then pushes it down into the rest of the concrete providing compaction, says Spin Screed Inc.'s President Joe Churchill.
Roller screeds are made of a power head (end with the motor), tubular rollers and a tailpiece, says Bud Martin, field sales manager with TerraQuip Construction Products, Inc., which manufactures the Terramite roller screeds. These screeds can be operated by a two-man crew pulling the handles on each end of the screed. The various lengths of pipe allow contractors to accommodate different job sizes. With some roller screeds, pipes can be combined to create a longer screed. It is important to note that screed lengths should not be too large, though. Make sure to check with the manufacturer on limitations or requirements.
What's the difference?
"The roller screed differs from other screeds in that it will strike off, level and compact the pour in one pass," Martin says. And they work well with concrete of all slumps, manufacturers say.
"Unlike a vibrating screed that tends to produce too many fines and water at the surface, a roller screed doesn't do that," Churchill says. "One of the big advantages of a roller screed is you can pour concrete wetter and still get a durable surface," he adds.
And roller screeds do not vibrate, which keeps the aggregate near the surface resulting in a harder surface, says Joe Lindley of Jlin Corp./Multivibe. "It does have to rest on forms. The forms are your grade. All a person has to do is just pull the roller screed until the tube is riding on the forms," Lindley adds.
The roller screed is a lightweight unit and very portable. It can be lifted by the crew and transported in a truck, without the need for a job trailer, adds Dennis Lura, president of Lura Enterprises.
Cleanup and maintenance of roller screeds is fairly simple as well. Contractors can use a hose to spray off the pipe and remove any concrete paste, Churchill says. Bearings on the ends and inside of the pipe also need lubrication from time to time, he adds.
Unique applications
Roller screeds are designed to be used with flat concrete slabs, but they can also be used in some unique applications. Because roller screeds are lightweight and pulled by the crew, they are a great option for inclined pours. "You can't strike off a pour going downhill or uphill with anything that vibrates because it's always going to shake the mud to the bottom," Lura says.
One of the most popular uses for roller screeds is with pervious concrete placement. Pervious concrete is a drier mix with zero slump. But even more important is that pervious concrete cannot be vibrated or the voids will close up. "The NRMCA recommends that a roller screed is the best method to strike pervious concrete because you don't want to consolidate it," Lura says. "If you're shaking the concrete you're closing up the matrix and making it less porous." The roller screed will also compress the pervious concrete which will tighten up the rocks to give the pervious concrete more strength. Lura says a weighted cross roller is still needed to push the surface down, though.
The construction of roller screeds makes customizing for other unique applications possible. Multivibe has adapted its roller screed for screeding concrete between railroad tracks at plant sites. In case of fire, emergency trucks need to travel over the tracks, so concrete is poured between them to make travel easier, Lindley says. For this application Multivibe's roller screed features flanges on the ends that dig out indents in the concrete where the train wheels will go.
Roller screeds are also being used for circular pours for projects such as silo or circular foundation slabs. Lura Enterprises and Spin Screed offer a center pin that attaches to the roller screed allowing one-person operation in a circular application.
Some manufacturers make different shaped attachments for specific applications such as curbs and gutters. These attachments are placed over the screed pipe, and the concrete forms to the shape of the screed creating a lower area in the center of the gutter.
TerraQuip manufacturers a triple roller screed which features three roller screeds to strike off low-slump concrete on larger projects such as roads, bridges and parking decks, Martin says.
Another application rollers screeds are used for is patching. A patch may be in the middle of the road or parking lot and might not be large in size. In that case, a single roller screed can be great for striking off the concrete needed for the patch.
Since roller screeds can be powered by electric and hydraulic motors as well as gas, the screeds can be a great option when air quality is a concern. They can be used for precast pours at a shop or for indoor slabs.
What to consider
Contractors interested in purchasing a roller screed need to consider a few factors before making the purchase. Lindley says knowing job conditions is important. A roller screed requires supports - the rails - under the screed, so contractors should know if the jobsite has enough space to include these supports.
Lura suggests contractors do their homework before making a purchase. Ask the manufacturers questions. Even better, go to a trade show to see the equipment in person and get the opportunity to talk to the manufacturers there.
"A contractor should purchase the most simple and economical machine for him to perform the jobs he will be doing," Martin adds.
Roller screeds have been around the concrete industry for almost 40 years. But there are still a lot of contractors out there that don't know the benefits, Lindley says. "But once they do know the benefits, and once they've used it, you can't take it away from them," he says.
If you need a customized roller screed ask the manufacturers what they can do. You may discover an attachment or type of roller screed you're looking for in the works. And if not, the manufacturer might be able to create what you are looking for.
Companies in this article