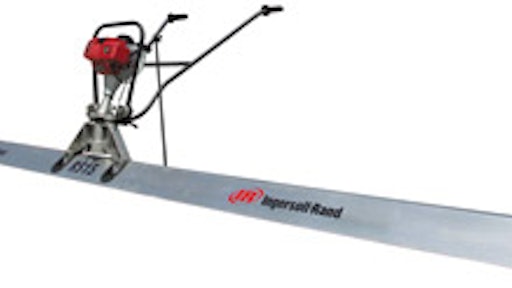 RS-15 Rapid Screed
Weight of 1.5-hp, four-cycle Honda engine is carried by the screed board, minimizing operator fatigue and vibration
Enclosed bearing and power transfer systems, coupled with no-lube shaft and bearings is virtually maintenance-free
Adjustable, offset handlebars for ease of operation and balanced maneuverability
"Set it and forget it" throttle system
Ingersoll Rand
Spin Screed Power Roller
Powered by a heavy-duty right angle electric drill
4-in.-diameter pipe up to 22 ft. long spins opposite the direction being advanced, evening out high and low spots
Leaves aggregate immediately below surface
Spin Screed
SuperScreed
Self-propelled roller screed
Sectional truss frame and several strike tube lengths that enable it to strike off panels ranging from 12 to 50 ft.
Powered by a removable hydraulic power unit and driven by a 28-hp Vanguard diesel engine
Wrap-around steel frame with lifting points
Multiquip, Inc.
Silver Beauty Power Screed
Enclosed eccentric and an equilateral triangle bar
Handles bars from 3 to 12 ft.
Weighs 23 lbs.
Unrestricted throttle control
Bars guaranteed straight for one year or will be replaced
Advanced Concrete Tools
Screed King
Adjustable handlebars with quick-release lever
Double dampering system reduces vibration, minimizes operator fatigue
Power head at 10° angle for strong vibration transfer to the concrete
No tools required to remove the MAGFLO board
"Set and Forget" throttle
Crown Construction Equipment
Vibratory Truss Screeds
12 models
Lightweight aluminum for industrial, commercial and residential pours
Heavy-duty steel for high-tolerance concrete floors
Super heavy-duty paving style for large paving projects
Allen Engineering Corp.
Terex Screeds
High-frequency vibrations distribute evenly across the screed
Spans up to 45 ft. (standard) or 70 ft. (super)
12,000 vibrations per minute
Terex Light Construction
Speed Screed Solo
One- or two-handle models
Redesigned to incorporate lower weight, reduced handle vibration and multiple finishing attachments
New series 4-stroke Honda engine
Available in widths up to 12 in. with one unit or up to 16 in. with two combined units
Metal Forms Corp.
VibraStrike II
One-piece design of the two-in-one float eliminates more than 60 nuts, bolts, studs, washers, tensioning rods and brackets for improved overall functionality
Unique geometric shape of the float allows use as both a float and curl edge when screeding from the top of forms
Lindley Inc.
Wet Screed
Blade lengths from 4 to 16 ft.; 4.8- or 6.5-in. widths
Adjustable eccentric weights
Fully enclosed exciter can be adjusted to seven different positions
Adjustable, folding squeeze grip handle
Wacker Corp.
CopperHead XD 2.0
Uses laser leveling technology to cut to grade, screed flat and vibrate smooth in one pass
Sets grade automatically
13-hp Robin engine, electric start
Ideal for slabs on grade, post-tensioned slabs and difficult applications such as chaired rebar, lower slump and poor subgrades
Somero Enterprises, Inc.
Multivibe Cordless Hummer Screed
Place up to 1,500 sq. ft. of concrete with one battery
Serves as a heavy-duty hammer drill, concrete vibrator and power screed
Lighter than engine-powered units
Requires no starting (just pull the trigger) and offers quiet operation with no fumes
Jlin Corp.