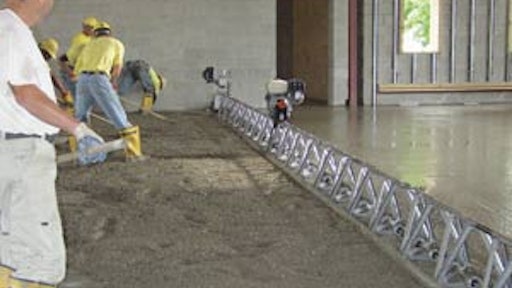 R2Tech Screed
The R2Tech Screed from Vittetoe Inc. combines the benefits of a vibrating screed with automatic laser leveling.
DC power allows instant starting and stopping
Constructed of lightweight aluminum, weighing less than 50 lbs.
Features adjustable vibration control and can be operated in manual or fully automatic mode
Jlin Corp. Hummer Screed Combo
The Multivibe Hummer Screed Combo is a two-in-one tool that can be used for vibrating walls then adapted to screeding concrete in seconds with no tools.
High-profile screed bars go up to 24 ft. long and require only one power unit
Engine is elevated off of the screed bar for longer engine life
2x4 or 2x8 vibrator head
Spin Screed
The Spin Screed is powered by a heavy-duty right-angle electric drill.
4-in.-diameter pipe up to 20 ft. long spins opposite the direction being advanced, evening out high and low spots
Works quickly on sidewalks, bike paths and driveways
Easy to store, load and move
Multiquip DuoScreed
The one-person DuoScreed sports a blade profile that is 50 percent lighter than preceding models.
Integrated lifting bar is now part of the control handle
Advanced blade reverses in seconds without tools, and allows one side to be used for standard form-to-form screeding while the other is used for wet screeding

Arrow-Master AS60
The Arrow-Master AS60 gas-powered vibratory screed has all-bolted construction for easy on-site maintenance.
Expandable to 60 ft.
Screed sections available in 2 1/2-, 5- and 7 1/2-ft. lengths
Weighs only 8 lbs. per foot
Unique curl-edge runner eliminates concrete rollover
Kelly Screedmatic
The Kelly Screedmatic can be used in pits, between buildings, fences and other objects where strike-offs cannot hang over forms.
Levels, compacts and vibrates concrete in one operation
Spans 20 ft.
Speed Screed Solo
The one-man Speed Screed Solo from Metal Forms Corp. features steel frames, straight/flexible drive shafts, greaseable bearings, direct vibration and multiple attachment options.
Options include one-handle or two-handle models
Available in widths up to 12 in. with one unit or up to 16 in. with two combined units
Allen Magic Screed
The Magic Screed from Allen Engineering features an easy-to-change, hardened extruded aluminum blade.
Design prevents accumulation of concrete by rolling back the excess
Curved edge for smooth cuts
Ergonomically designed grips and adjustable handles
MBW Blitzscreed
The MBW Blitzscreed is a lightweight aluminum screed designed for flat, inverted or crowned applications up to 65 ft.
Unified vibration from one end of screed through the other
Flex couplings and turnbuckle design for quick assembly and disassembly
Section lengths include 8 ft. 4 in., 4 ft. 4 in. and 2 ft. 4 in.
Lindley VibraStrike II
Lindley's VibraStrike II power screed features a four-stroke engine.
One-piece design of Lindley's two-in-one float eliminates more than 60 nuts, bolts, studs, washers, tensioning rods and brackets, improving overall functionality
Unique shape allows it to be used as both a float and curl edge when screeding from the top of forms

Advanced Concrete Tools Silver Beauty
The Silver Beauty power screed features an enclosed eccentric and an equilaterial triangle bar.
Handles bars from 3 to 12 ft.
Weighs 23 lbs.
Unrestricted throttle control
Wacker wet screed
Wacker's wet screed is powered by a Honda engine and is offered in blade lengths from 4 to 16 ft.
Lengths available in 2-ft. intervals and also come in 4.8- or 6.5-in. widths
Fully enclosed exciter can be adjusted to seven different positions
Adjustable, folding squeeze grip handl
Companies in this article