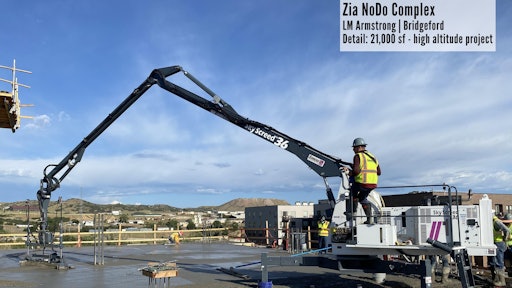 Somero Enterprises Inc.
Accomplishing a flat floor at ground level is one thing, a warehouse of choices for equipment and tools are all at your disposal. However, obtaining the same floor with the same flatness specs has its own challenges when working on a multiple-story building.
I connected with the experts at Somero Enterprises Inc. to discuss the finer points of this situation and to get a look at their SkyScreed®. Somero Enterprises, Inc. is a manufacturer of advanced concrete placing equipment and associated machinery. Founded in 1986, the company has grown and prospered by delivering superior products to an international market.
Q. First, what are the biggest challenges contractors have in screeding?
A. In today's market almost all large slab-on-grade floors (warehouses, parking lots, etc.) are placed with laser screeds. In fact, some customers like Amazon actually specify that a laser screed must be used in placing their floors due to the higher tolerances required for FL and FF numbers. Most contractors also utilize our slab-on-deck laser screeds for placing concrete on metal decks for the same reason. 
There are advantages that larger machines provide that contractors can't get manually. These include automated laser-guided flatness, engine-driven power that moves and screeds concrete efficiently, as well as sizable reductions in labor. Not to mention tireless consistency.
Q. What changes when you start working on a floor at height vs on-ground work?
A. Flatwork has always been common in high-rise construction. The difference now is that engineers are specifying flatter leveler floors to accommodate higher-end finishes and systems. The biggest challenge on high-rise structural concrete decks is trying to place a high-quality floor and getting good FL and FF numbers. There are many factors at lay to achieve these on a structural deck as opposed to a slab on grade pour, but this is usually handled by adding additional manpower and even then the numbers that can be achieved are limited. 
Traditionally, designers have specified lower tolerances because higher numbers were not achievable. We are seeing more customers calling us because they have a job that requires a spec higher than normal on their project. For example, CG Schmidt out of Milwaukee, Wisc., needed to achieve an FL 25 minimum which is high for a structural concrete deck. They purchased our Sky Screed 36® and are consistently achieving their numbers actually hitting an FL 50 on one of their decks. 
The two biggest challenges for using the  SkyScreed® is access to the crane for moving the machine and penetrations that need to be lowered, in some cases, to allow screeding over them. These challenges have been handled by every contractor we have dealt with so far. 
Quick Specs

The SkyScreed

®

25 weighs 9,000 lbs. and uses a 32.5 HP gas Kubota engine, with electric start
The SkyScreed

®

36 weighs 10,400lbs.  and uses a 57 HP gas Kubota engine
Both machines come with a 360-degree rotating head allowing the operator to screed in any given direction and come with a trailing vibrator (electric on the 25, hydraulic on the 36 ) to bring up the cream.
Only one re-shore per leg is required to support the machine.
The SkyScreed® 25 features an articulating knuckle boom that allows screeding on structural high-rise and slab-on-grade applications. 
The lower frame rests on three stabilizers, while upper frame and screed head rotate 360° for flexibility around columns and other protrusions.
The auger-less screed head enables screeding in any direction.
Features a powerful vibrator motor to consolidate concrete.
Elevation controlled by the OASIS laser control system, with all machine functions controlled via wireless remote control.
Capable of screeding 5,000 sq. ft. per hour with FL's in the mid 30's to low 40's.
Features Somero's Quick Pass function enabling the operator to move a large amount of concrete in a short amount of time without the need for rakers. When using the Quick Pass function the machine will just move concrete to 1/4 in. above finished grade eliminating the need for multiple rakers to move all of the concrete. 
Equipped with on-board pressure washer for cleaning.
Manufacturer training available.
Q. What special considerations should contractors keep in mind when screeding on a high rise?
Somero Enterprises Inc.A. Concrete delivery is much more challenging requiring pumping and bucketing. Additionally, removing unacceptable concrete is typically not an option compared with on-grade work. Wind can shut down the tower crane on a job allowing finishing equipment to be placed on the slab.
Using a SkyScreed® on a structural deck allows the customer to utilize laser-guided technology as opposed to wet pads increasing both productivity and quality. Also, working safer is a major theme in any quality contractor's company mission statement. For example, the ability to just screed over existing concrete beams versus placing manually can create a hazardous condition (stepping in or tripping over).
Q. That's a great point, what safety elements must be planned out?
A. Once a general contractor realizes that they are going to have a much higher quality floor with zero cost to them they seem to become very proactive in getting us access to the crane and getting the penetrations lowered. The largest issue with safety is the fact that we are removing a number of men from the pour, which in itself, makes the entire pour safer. By utilizing a machine like the SkyScreed®, a contractor can reduce workplace injuries such as back strains, knee injuries, concrete burns, and more.
It is important to include limited perimeter access with safety rails to safely finish slab edges. 
Companies in this article