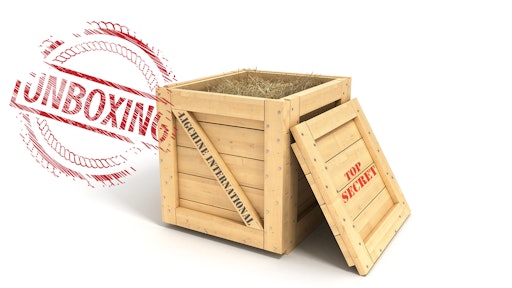 Ligchine International, a leader in innovative laser and 3D GPS/LPS guided concrete screeds, today announced that it will be unveiling its latest ScreedSaver machine at the World of Concrete 2019. The company will reveal the product to the public at an unboxing event held at its booth on the opening day of the show:
WHEN: 12:00 noon on the opening day of the show (Tuesday, January 22, 2019).  
WHERE: Ligchine booth O32126 (located outside between Wacker and Train escalator)
"We are excited to open the crate and release our latest advancement to the market," comments Peter Ligman, Ligchine Vice President of Engineering. "Our customers are at the core of our development efforts, and this new series of ScreedSaver machines was developed to address challenges our customers face. Listening to our customers throughout our 12-year history has allowed us to continually introduce the industry's most advanced concrete screed machines – and this may be our most innovative machine yet."
Details on the new ScreedSaver series have not been released, however the company has indicated:
It is a completely new series, not a modified version of our #1 selling line of boom-operated screeds.
It offers the unprecedented ability to screed concrete slabs anywhere they are poured.

It is affordable by every size contractor in the industry.
This latest introduction follows a long list of advancements by the company, including:
First wireless remote controlled screed machine
First and only boom machine with "zero turn drive" capability
First company to offer a range of boom operated screeds to fit every size job/company
First and only laser guided screed offered with all-terrain track drive system
First and only screed machine operated with a 3D GPS satellite control system
First screed head mounted spray bar system to apply retarders or hardeners while screeding
First boom machine that can be transported with an economical sized truck and utility trailer
First boom machine with a screed head that can be changed out in minutes instead of hours
First boom screed light enough to run on heat tubing, rebar and vapor barriers without damage
First with one touch control that sets vibration, down riggers and auto level system automatically
For additional information, please contact Josh Kinney directly at (812) 903-4989 or email jkinney@ligchine.com.