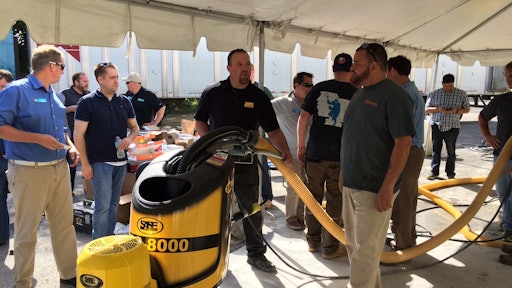 Recently, two manufacturing companies in the concrete industry came together to exhibit a new decorative, polishable, cementitious overlay built for new and existing concrete surfaces and unique applications.
LATICRETE International, a manufacturer of proven construction solutions, along with SASE Company, a manufacturer of surface prep, planetary machines and diamond tooling, held a training seminar at the LATICRETE plant located in West Palm Beach, Fla. Relationships are often the heart of the concrete industry and this training was no exception.
LATICRETE International recently acquired L&M Construction Chemicals, formerly based in Omaha, Neb. Along with a full line of construction chemicals, the L&M product family offered a decorative, exposed aggregate, polishable overlay called Durafloor TGA. According to Eric Pucilowski, Director of the Specialty Products Division, "Durafloor TGA is a versatile decorative overlay used on new and existing concrete surfaces. We found that this product offering is currently lacking in the industry, a distinctive, exposed aggregate topping that looks and acts like traditional concrete."
Durafloor TGA is a unique blend of cements, polymers, color and mineral aggregates applied to new and existing concrete surfaces. The topping combines the durability of concrete with color and decorative aggregate to produce a high-performance floor with enduring beauty. The product can be found installed at commercial lobbies, institutional floors, shopping centers, and schools.
Pucilowski and his team contacted SASE Company two months ago to test and have a first look at Durafloor TGA. The product was initially introduced to Marcus Turek, National Sales Manager for SASE Company and Joe Reardon Director of SASE Signature Floor Systems. According to Turek, "We sampled the Durafloor TGA at our Seattle facility and found it to be the closest overlay to existing concrete." During the sample demo, SASE Company was tasked with producing multiple systems for the successful grind and polish that LATICRETE was looking for.
To educate the industry on Durafloor TGA, LATICRETE and SASE focus on training operators, sales staff, and distribution. On March 10 training was held at the LATICRETE West Palm Beach, Fla., plant with about 55 people in attendance. More training sessions are planned for the future.
According to Joe Reardon, Director of SASE Signature, "Once we saw the product and how it acted, we knew that we had something that the industry has been asking for: a decorative, cementitious overlay that worked and acted like traditional concrete." SASE honed in the process to allow the attendees to grasp the durability and appearance that the Durafloor TGA exhibits.
Companies in this article