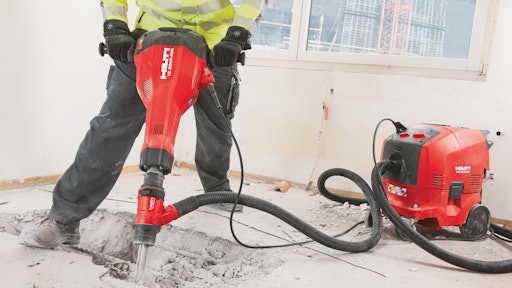 United Rentals
Concrete projects can call for a wide range of equipment. Removing glue, grinding down high spots, smoothing rough surfaces and preparing a surface for a coating are just a few of the applications that could be done. Concrete grinders and scarifiers, also known as planer or rotary cutters, each have their own unique applications.
Closer Look at Grinders and Scarifiers
Concrete grinders remove imperfections and stains to about 1/8 in. below the surface. Example use cases include stripping off material such as paint, or glues and adhesives that remain after tile is removed, getting rid of oil and dirt stains before resealing concrete and removing industrial-strength coatings to prep a surface for new material.
Concrete grinders range from single-head to heavy-duty dual-head and planetary machines. Each machine has its own ideal applications, as well as power requirements that must be considered on a case-by-case basis.
The aggressiveness of the grind varies on each machine based on its weight and down pressure on the diamonds tooling, as well as grit and tooling design. The heavier the machine, the greater down pressure which results in greater concrete removal and faster production.
Each grinder is outfitted with specific diamond tools to reach the desired result on the floor, whether that be removal, prep or polish. Walk-behind, single-head grinders are ideal for edging and small spaces such as garage floors, offices and basements. Larger, planetary machines are preferred on larger commercial jobs for higher production and a smooth flat cut across the floor.
A concrete scarifier is used for heavy-duty concrete removal. These machines remove unwanted concrete and overlays quickly and efficiently, pummeling up to a ¼ in. of concrete in a single pass. They are typically used for removing trip hazards, overlays and heavier commercial coatings.
Scarifiers have a series of wheels made of steel or tungsten. The wheels spin and pummel the ground until the concrete breaks up. Depending on the profile the contractor is trying to achieve, they can either leave the surface rough or follow the scarifier with a grinder to help smooth out the surface. When removing concrete this aggressively, it is important to have a dust collector connected to any machine that will produce dust. Scarifiers and grinders can be seamlessly paired with manufacturers' recommended dust collection units designed to help operate cleanly and safely.
For both grinders and scarifiers, always be sure to check equipment specifications to determine a model's exact capabilities and consult experts when necessary. Grinders and scarifiers are offered in a variety of sizes and power options and can be fitted with different accessories to tackle the needs of a particular job.
Sourcing Equipment When It's Needed
Unless a contractor specializes in floor projects, it can be cost-prohibitive to own concrete grinders and scarifiers that are not used frequently. Besides the purchase price, there extra costs from maintaining the equipment and purchasing parts.
When renting, contractors pay only for the equipment they need, at the time they need it. Usually the short-term rental cost of this equipment is easily built into the job. Equipment rental providers typically have a local team to offer personal service, including knowledge of accessories needed and equipment familiarization that can help a user to safely operate the machine. They also can provide convenient business terms including credit card payment.
Once projects are up and running and unexpected needs arise, local support becomes an even more important consideration. Even a small delay can have a ripple effect on a project timeline. If renting the equipment, the rental provider should be able to fix a broken machine or replace it quickly to help avoid or minimize downtime.
When assessing equipment needs for a project, it is important to note that neither grinders nor scarifiers can cut into concrete – a concrete saw is needed for that task. Complex projects may call for additional tools like concrete saws, core drills, pavement breakers, demo hammers and more.
Rental companies have a broader inventory of equipment than most contractors own. Working with a rental company with a wide product offering can reduce time spent sourcing and supporting equipment and eliminate invoicing from multiple suppliers.
Preparing, grinding and polishing concrete floors can be demanding jobs. Having the right equipment, and right equipment rental provider, can help the job get completed safely and efficiently.
About the Author
Cary Barrows is branch manager for United Rentals in Olathe, Kansas. He has worked for United Rentals for more than 20 years.