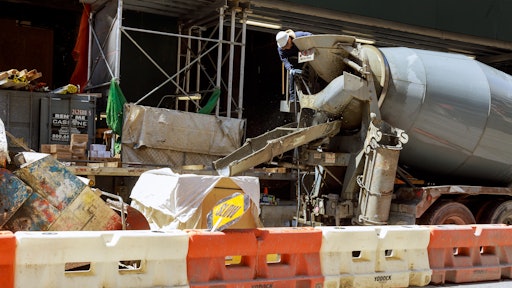 Adobe Stock Images | By ungvar
Concrete is the foundation of most of our infrastructure. However, the process of concrete production has remained relatively unchanged for decades. From creating and transporting concrete to eventually dealing with concrete being returned to the plant, there are opportunities to help ready-mix producers improve efficiency and reduce material waste, thus becoming more sustainable in addition to reducing their costs.
The National Ready Mix Concrete Association estimates 3-5% of ready-mix concrete deliveries in the U.S. are rejected at the jobsite.
Concrete consists of roughly 10% cement, 20% water, 30% sand, and 40% gravel. The mix can vary depending on how the concrete will be used. The cement is produced by heating limestone at high temperatures which produces cement clinker and CO2.
Two of the toughest challenges for ready-mix producers are the lack of information available to make informed decisions and the automation of the systems needed to reduce process variability and waste.
The Problems: Water
Ready-mix producers interact with multiple individuals every day who have different perspectives of how the final product should look and how it should perform. During the process, some tasks or decisions made can compromise the integrity of the final product. For example, drivers and site teams can make decisions about water addition in fresh concrete. The largest reason for rejected loads and defects in finished structures in the industry is uncontrolled water additions. In many cases, the impact of uncontrolled water addition is not visible until after the concrete is in place.
Another key issue is the monitoring of concrete - or lack of - when in transit. When concrete is being delivered there is little to no monitoring of the mix and the slump can fall out of the designed range. Because of these issues, the National Ready Mix Concrete Association estimates 3-5% of ready mix concrete deliveries in the U.S. are rejected at the jobsite for various reasons, such as not meeting specifications. This concrete is oftentimes dumped into landfills, which is expensive and a waste of resources for the producer and impacts customer satisfaction and the environment.
This leads to a second problem, even when loads are not rejected there can be variability from load to load as there are so many individuals involved in the process. Even if the same mix design is being ordered, any water added—even if believed it was needed— can alter the mix. To mitigate these inconsistencies the ready-mix producer is required to increase the amount of overdesign (safety factor) of the concrete mix design, often by adding additional cement to the mix. This increases the cost and the carbon footprint of the mix.
Automation & Control
In-transit concrete management (ITCM) is one of the final pieces of the puzzle in terms of process visibility and automation in the manufacturing of fresh concrete. ITCM can reveal decisions and actions made by people within the process who may not be qualified or authorized to make them. As the data is available in real-time via a web portal and a mobile application, it allows the producer to immediately intervene with objective data and educate where necessary to prevent repeat occurrences.
Reducing cycle times by 10% means that trucks can be utilized more effectively and projects can place more concrete per shift.
By ensuring that the concrete arrives in specification and making uncontrolled water addition visible as soon as it happens, ITCM enables the producer to manage, respond and resolve issues with customers by informing them of site behavior and its impact on the finished product. This may result in the customer ordering the concrete at a slump more fit for the purpose of a job or changing their behavior.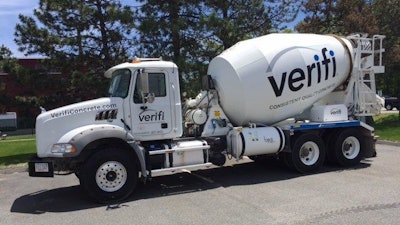 One example of ITCM is the VERIFI in-transit concrete management system from GCP. The system uses sensors installed on ready-mix trucks to collect real-time data that enables producers to monitor, measure and manage concrete properties while the concrete is in transit to the jobsite. The data transmits a status from on-board computers to the cloud every 15 seconds, making the data accessible to the producers and contractors teams on phones, tablets, and laptops. VERIFI uses over ten years of continuous research and development data, from over 20 different truck types and hundreds of types of concrete, to collect over 90 billion rheological data points to deliver over 100 million yards of concrete.
Controlling Water
By controlling water additions and giving visibility to site behavior, ITCM brings more control into the production process. Benefits include limiting concrete being rejected for being too wet or segregating and its associated impact, improving contractor satisfaction, and reducing the carbon footprint of the process as less concrete is sent to landfills. Samples taken for cylinder tests will show improved strength results over time as they become less and less likely to have been taken from loads that have had uncontrolled water addition, and therefore more likely to hit their design strength. This in turn will positively impact mix designs as standard deviations reduce, allowing a reduction in cement contents. Shifting the average delivered slump closer to the specified slump by one inch can reduce cement content of the design mix by 25 lbs. and save over 21 lbs. of CO2 from being emitted.
Time & Fuel Efficiency
Time efficiency on the jobsite can be improved by ensuring that loads show up ready to pour. The collected data shows that there is an average 10% reduction in cycle time on loads that have used ITCMs for water addition only to keep the concrete at the specified slump versus loads that have manual water additions. When there is a manual water addition the driver has to spend more time on-site mixing in water. This not only increases cycle time but also increases fuel usage and emissions at the job site. Reducing cycle times by 10% means that trucks can be utilized more effectively and projects can place more concrete per shift.
An ITCM can also increase your fuel efficiency. In ready-mix concrete delivery, fuel use is a significant source of cost. The ability to track truck locations and truck routes allows for shippers to find when drivers have taken a less than optimal route and correct that on their next delivery. In addition, approximately 23% of fuel in a concrete delivery is used for high-speed drum rotations that mix the concrete. Traditionally, the truck driver has to determine the timing of rotations, using minimal information about concrete consistency or fuel-efficiency. In contrast, real-time data from ITCMs, such data from the VERIFI system, gives the driver instructions on the optimal number and timing of rotations. Data suggests that the number of high-speed revolutions can be reduced by 10%, representing significant cost reductions.
ITCM is the critical missing link in optimizing and increasing efficiency in concrete production. It provides never before available data on fresh concrete throughout the delivery cycle that can be instantly shared within the producer's organization and across the supply chain. The overall impact of addressing this gap with an ITCM is a smaller carbon footprint with less waste and the associated benefits throughout the process for the producer and the contractor placing concrete.
About the authors
Helen Frape is Business Analyst - Innovation and Change, and Jason Straka and Angie Khaw are product managers at GCP.