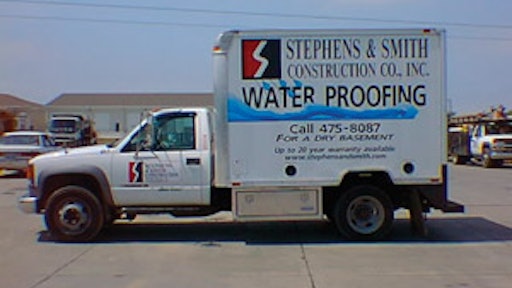 Concrete contractors are always looking for ways to make their businesses more profitable. Beyond cutting costs and increasing revenue from the services they offer now, finding additional profit centers by adding new services can be a good way to grow the business. One service that might be a good fit for contractors who install foundation walls and basements is waterproofing. While some building codes require waterproofing, the benefits it provides in protecting against water intrusion apply anywhere.
Why waterproofing makes sense
Since the concrete contractor is at the jobsite in the early days of construction, finding a way to stay there longer and make more money is logical. That's why Stephens & Smith Construction got into the waterproofing business with Epro Waterproofing Systems' products. "It was kind of part of our long term business plan to do the complete turnkey package for the builder and homeowner," explains Vice President Brett Richert. "So this way the builder could get the whole front end of the job from one company instead of calling five or six. It was a natural add-on service to something that we already do. Waterproofing ties into the poured foundation part of our business. It's not like we were becoming drywallers or roofers or something that was not concrete related."
Tri-State Concrete Construction, Inc., which uses Mar-Flex Waterproofing and Basement Products, found that it could earn more money by performing waterproofing itself than by hiring subcontractors. Tri-State stopped employing subs to do dampproofing because the management felt waterproofing was superior and doing it in-house would get them more business. "I felt the market might be getting a little bit slower, so we were trying to do more of our own work instead of subbing it out," notes owner Kevin Wernimont.
Keeping builders happy was the motivation for Mar-Flex user Excel Concrete Inc. of Indianapolis, Ind. "The builders want you to waterproof the foundations when you get done with the basement, so we started doing it," says owner Don Greemann.
Getting started
There are two basic types of waterproofing materials: sheet membranes and sprays, including polymers and elastomeric. A contractor will typically use only one of these waterproofing systems. In deciding between them, contractors need to consider the initial cost of the equipment required to do the work and how long it will take to learn excellent waterproofing techniques.
The up front costs for installing sheet membranes are negligible, according to Ron Kazemi of Kazemi & Associates, who uses ProtectoWrap products. The only special equipment he bought was a linoleum roller, which costs about $50 today. This roller is used to install the membrane by pressing it firmly against the concrete wall. An angle grinder is also needed to smooth and clean the wall during the preparation process to remove any protrusions from the concrete, but this is a tool most concrete contractors already own. Other equipment includes roller covers, brushes, knives and scrapers, which he had on hand as part of his normal concrete work.
Getting started with sprayed-on waterproofing is more costly, but still reasonable. "We bought a cube van," Richert recalls. "We put a bulk tank inside it with the spray rig, hoses and nozzles." They also purchased ladders to get down into the excavation and personal protective equipment including respirators and face shields. Workers are supplied with disposable Tyvec coveralls to protect them from the spray material. The total startup cost was about $40,000.
Excel Concrete also put its tank inside a box truck. "The product has to be heated before it's sprayed by running hoses off the radiator system," notes Greemann. "Once the truck is running, the product is being heated. There are gauges to control the temperature, and when they get to 100 degrees you're ready to start spraying. The engine on the spray unit circulates the product and will keep it warm enough while completing the job." It cost his company $30,000 to get into waterproofing.
Tri-State Concrete economized by purchasing a used 3/4-ton pickup truck to haul its waterproofing unit. "We put a flatbed on it to make it more accessible to gas and service the machine," Wernimont explains.
Learning to waterproof
These users of spray-on waterproofing systems say they were trained by representatives of the manufacturers. The one-day training provided by Mar-Flex involved demonstrations of how to use the system and how to spray the waterproofing product onto walls properly. Wernimont says in addition to this initial training, Mar-Flex visited his company a few months later to observe their technique and make sure they were using the right application rate. As they have worked with the product longer, they are becoming more expert in how much to heat it based on the outside temperature.
"Epro sent out a field rep who spent a few days with us," says Richert. "He checked us out on the equipment and did a few jobs with us to make sure everything was going OK." However, as the company does more jobs, he says they always encounter some little unique unexpected thing and find a way to work through it.
Kazemi's workers started applying ProtectoWrap membranes after reading the product literature and following the instructions. He has since taken several seminars put on by the company. Although learning the basics took only a few days, he says it was three to five months before he felt they had become high quality waterproofers. He stresses the importance of learning new techniques and observing how the structure is put together so the junctions will be waterproofed correctly.
Selling the service
The benefits of waterproofing are the same regardless of the type of product used. They include protecting the foundation or basement walls from vapor or moisture transmission and preventing efflorescence in the concrete. "They can expect a dryer basement," Wernimont says. "It will prohibit mold. It will stop any water from coming in through cracks. Many people use their basements as lower level living, so it's a simple sell to protect their investment in the finished basement."
Richert says customers in his area needed education on the benefits of waterproofing to understand it is more valuable than the dampproofing typically offered there. Now some contractors call them just for waterproofing when someone else is doing the concrete work, although he hopes this will help them get that work in the future. The company uses a comprehensive marketing program for waterproofing, including a phone book listing, home show participation and sending a trifold mailer to builders when they first started offering the service. "But the most visible is on the side of our waterproofing truck," he points out. "We've got 'Waterproofing' in big letters and a big water wave trying to break over the top and being repelled back. We've gotten quite a few calls from people saying they've seen the truck."
By contrast, Excel Concrete does no marketing, because waterproofing is required by the building code so it sells itself. Kazemi takes a middle road, with ads in the contractors' blue book and heavy reliance on referrals from satisfied customers.
Warranties
Part of what sells waterproofing is the warranty. For below-grade jobs, Kazemi offers a three-year warranty. Approved ProtectoWrap applicators who have their work inspected and approved by the manufacturer give a 10-year manufacturer's warranty. Stephens & Smith offers five-, 10- or 20-year written manufacturer's warranties depending on the additives and layers of protection chosen by the customer. Mar-Flex provides a 10-year warranty which Excel Concrete stretches to 25 years.
Preventing damage to the waterproofing
Things that happen on the jobsite after the waterproofing is finished can damage it. "The waterproofing can be damaged in the backfill process or the wall can be cracked then and damage the waterproofing," Richert notes. "Or they don't grade the drainage away correctly and the water ponds and eventually finds a way in. Correct landscaping, grading and downspouts are needed. Landscapers can create pockets so areas don't drain or may put a sprinkler head too close to the foundation." To avoid these problems, waterproofers need to talk to the landscapers, excavators and builders about how they should do their work to prevent problems that could affect the waterproofing. Subs who cut holes in the wall for utility lines may damage membrane waterproofing.
Wernimont recommends waiting 24 hours for the waterproofing product to cure before backfilling to prevent damage. Excel Concrete has two workers on each foundation waterproofing installation, one running the sprayer and the other putting up 1/4-in. drain and dry board as the spraying is completed. "This wicks the water down to the tile to keep it away from the wall and routes it to the sump pit while protecting the waterproofing," notes Greemann. Waiting too long to backfill can damage membrane waterproofing because excessive ultraviolet exposure can cause the upper portion of the membrane to delaminate.
The bottom line
Waterproofing can be more profitable than building the concrete foundation or basement. With the sheet membrane system, it takes about a week to waterproof a $10,000 concrete job, and the contractor will be paid about $1,500 for the waterproofing work. Kazemi says adding waterproofing has added 3 to 5 percent to his profits.
At Stephens & Smith, waterproofing adds only $500-$600 to a $15,000-$16,000 home foundation, and the work is done in three to four hours. They are hired to waterproof almost all of their foundation jobs, as is Excel Concrete, where the price is $1,200 to $1,800 per job and the work is finished in 90 minutes or less. At Tri-State, waterproofing for a $25,000 foundation costs the buyer $1,500 and takes two hours at most. While Greemann says waterproofing has not increased business much, it has pumped up profits 5 to 6 percent.
Being able to waterproof concrete foundations makes a concrete contractor more valuable to a homebuilder or general contractor. Offering a complete package of services saves them money and puts more dollars in the concrete contractor's pocket.
Jean Feingold is a Gainesville, Fla.-based freelance writer who frequently covers concrete and other construction-related topics.