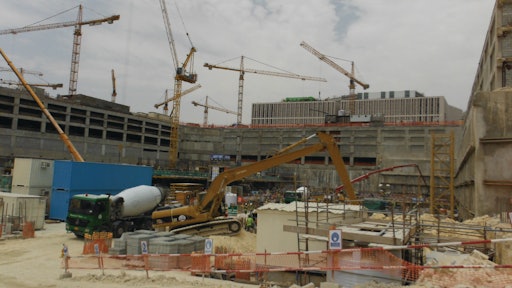 The Challenge:
Quickly place 11,000 sq. ft. of waterproofing that will also stop migration long-term around a 76-acre development's extensive substructures where temperatures regularly exceed 100°F
The Players:
Grace Construction Products
Msheireb Properties
The Process:
At the $5.5 billion 'Downtown Doha' development in Qatar, 3,200 sq. ft. of Grace Construction Products' Preprufe waterproofing membrane has been specified to prevent water penetration and migration around the development's extensive substructures.
Said to be "the world's first sustainable downtown regeneration project," the 76-acre development aims to blend traditional Qatari heritage with modern, sustainable technologies. It is designed and built by Msheireb Properties. Preprufe combined watertightness, low environmental impact and long-term performance with fast application in temperatures regularly topping 104°F (40°C).
With the final phases of construction beginning in 2013, Grace will add 6,500 sq. ft. of Preprufe 300R to keep the landmark project watertight and on course for 2016 completion.
Designed with synthetic adhesive layers combined with a robust HDPE film, Preprufe provides a permanent physical barrier that will protect each structure against chloride and sulphate attack. Grace's patented Advanced Bond Technology enables concrete to aggressively adhere to Preprufe, forming a unique intimate seal to prevent any water migration between the waterproofing and the structure and substantially reduce the risk of leaks.
Preprufe can be applied on wet substrates and is immediately trafficable after installation without protective layers, which makes for fast and easy application. 
Grace also supplied 1,100 sq. ft. of Bituthene 8000 HC waterproofing membrane to completely protect structures against the water table and aggressive ground conditions.
The project will include more than 100 residential and commercial properties that reflect the culture and aspirations of the people of Qatar. Designed to generate less waste, deliver long-term cost savings and minimize its own carbon footprint, Msheireb Downtown Doha is expected to become an iconic landmark in Qatar.