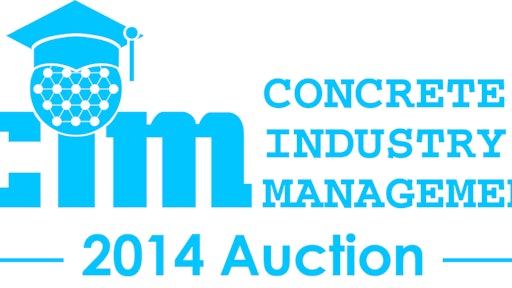 The Concrete Industry Management (CIM) program is seeking donations for its ninth annual auction to be held at the World of Concrete. The auction is scheduled for Wednesday, Jan. 22 at the Las Vegas Convention Center. The silent auction will be held from 11 a.m. to 1 p.m. and the live auction begins at 1 p.m.
Organizers hope the 2014 Auction is even bigger than the 2013 Auction, which raised more than $615,000 in gross revenue.
The money raised from the CIM Auction will benefit the NSC and support the CIM programs at Middle Tennessee State University, New Jersey Institute of Technology, Texas State University and the California State University - Chico.
The auction has helped the NSC of CIM raise more than $3.1 million through the previous eight CIM Auctions. Previous auction items have included concrete mixer trucks, cement, skid steers, concrete saws, drills, mixers, vibrators, scaffolding, safety equipment, screeds, fiber transport systems, dust collectors, NDT equipment, decorative concrete tools, water meters, pumps, generators, training sessions, reference books, advertisements, laptop computers, mobile computers, sports memorabilia, sports travel packages, golf school packages and vacation travel packages.
Those interested in making a donation should contact CIM Auction Committee Chairman Michael Philipps at [email protected] or (713) 722-2969.