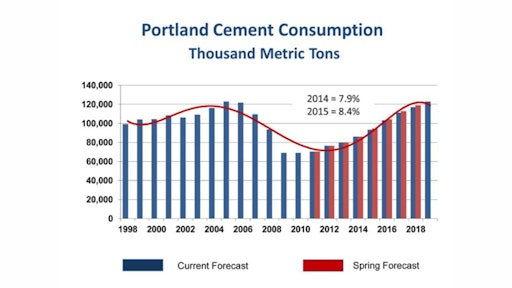 Driven by healthy gains in the economy and most construction segments, cement use will grow 7.9 percent in 2014 followed by increases of 8.4 percent in 2015 and 10.7 percent in 2016, according to the latest Portland Cement Association forecast.
"
Through July, year-to-date cement consumption is up 8.4 percent, says 
Portland Cement Association
(PCA) group vice president and chief economist Ed Sullivan.
"The pace of cement consumption has clearly strengthened from earlier in the year."
 The increase will bring U.S. cement volume to 86.1 million tons this year, 93.3 million tons in 2015 and 103.2 million tons in 2016.
Gains in the labor market, low consumer debt and increased consumer wealth are driving economic growth.
 "Unlike the spring forecast, there is considerable evidence that the economy's growth path has strengthened," says Sullivan. "This growth is based on strong underlying fundamentals. The labor market has generally recorded strong gains in net new job creation. Consumer debt to household income is extremely low. And consumer wealth has increased due to stock performance and rising home prices."
 With stronger economic growth, residential and nonresidential construction will strengthen while improving state fiscal conditions will drive gains in public construction.
 "While there is concern that the economic growth dynamics have changed as a result of the recession, there are also ample reasons to suggest the economy has weathered the healing process and is just now beginning to transition to a stronger growth plateau," says Sullivan. "Keep in mind that the recession  generated  tremendous pent-up demand, which will add strength to economic growth rates going forward."