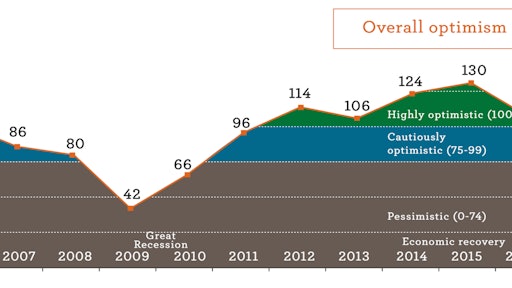 Construction industry executives have entered 2017 with increased optimism for nonresidential construction activity, according to a recent survey of industry contractors and equipment distributors released today from Wells Fargo Equipment Finance, a subsidiary of Wells Fargo & Company. The 2017 Construction Industry Forecast revealed increased optimism driven by expectations of industry expansion through higher infrastructure spending and increased company profits.
The survey's primary benchmark for measuring construction industry contractor and equipment distributor sentiment is the Optimism Quotient (OQ). The OQ reached its third highest reading in 20 years with a very positive 123 for 2017, a marked increase over the 2016 reading of 108. An OQ score greater than 100 suggests strong optimism for increased local construction activity versus the prior calendar year. 
"An OQ reading at this level leads us to believe that the industry will continue to build on the momentum generated over the last few years," said John Crum, senior vice president and national sales manager of the Construction Group at Wells Fargo Equipment Finance. "Contractors have increasingly improved their businesses and this year looks to provide more opportunities to do that again."
A growing number of executives believe the industry will expand in the next two years, with 84% of executives expecting moderate to significant expansion in this timeframe versus the results in last year's survey that indicated only 62% expected expansion.
Equipment sales and purchases
Regarding equipment sales, distributors are expecting to move more new and used equipment this year with 65% expecting an increase in new and 66% expecting an increase in used sales, compared to contractors who plan to increase new and used equipment purchases by 39 and 25%, respectively.
A significant result of the survey showed that only 13% and 11% of contractors expect to decrease new and used purchases this year, respectively. In 2013, these figures were 30% and 20%. This reading shows the strong confidence that equipment end users have in their businesses.
Cost concerns
Contractors and distributors report similar cost concerns in 2017. The top concern among contractors continues to be employee wages and other benefits (24%), followed by taxes (21%) and healthcare costs (19%). Contractors are also more concerned about equipment purchase costs in 2017 than in years past with 18% selecting this as their top concern, compared with just 10% in 2016. Top concerns for distributors include increasing concerns over equipment costs (31%) and continued concern over healthcare costs (22%).
Rental market remains strong
With increasing concerns about equipment acquisition costs, contractors generally expect to support construction expansion by renting equipment in 2017. Although most (49%) continue to believe rentals will remain flat, a growing number of contractors (38%, up from 27% in 2016) believe it will increase. The largest%age of contractor respondents (49%) cited the need for flexibility as the most important factor in renting equipment instead of buying, while 29% said rental equipment being readily available is also very important.
"Rental companies, distributors, and manufacturers might notice that their customers indicated increased rental costs as a driver of more purchasing behavior. Even a small increase in rental rates of less than 5% could cause almost one in five contractors to consider purchasing over renting equipment," said Crum.
To learn more, including key opportunities for the industry, download the complete report.
The 2017 Construction Industry Forecast presents the results of Wells Fargo Equipment Finance's 41st year surveying construction industry executives. This year's survey was conducted November 10 – December 2, 2016. Drawing on the responses of construction contractors and equipment distributors from across the U.S., the Forecast reveals trends in the industry and gauges the sentiment of industry leaders on a variety of business topics.