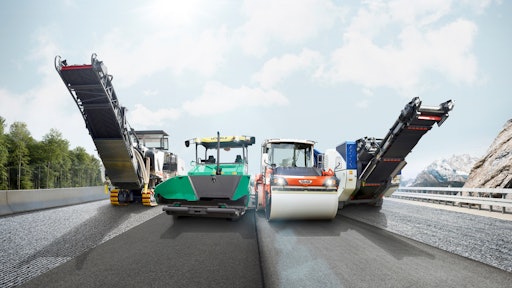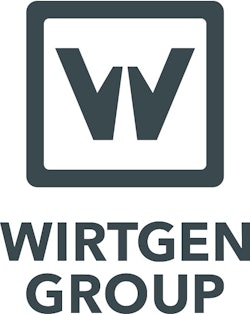 Exciting new products, more than 40 exhibits, experienced applications experts and a comprehensive service spectrum: from March 4-8, 2014, the Wirtgen Group – with its four established product brands Wirtgen, Vögele, Hamm and Kleemann – is presenting its collective expertise in the two business areas Road and Mineral Technologies on 39,600 square feet of exhibition space (Booth No. 51021, Central Hall, Las Vegas Convention Center).
The focus is on innovative machines and technologies for road construction, road repair, the mining and processing of pay minerals and mineral raw materials and the recycling of construction materials.
Wirtgen
With new products from four lines of business, i.e. cold milling machines, cold recyclers, soil stabilizers and slipform pavers, Wirtgen is causing a furor in the road construction and road repair industry. Highlights: the new W 200 Hi cold milling machine with hydraulically displaceable (400 mm to either side) milling drum unit, the Wirtgen W 250i high-performance cold milling machine with eco-friendly "intelligent emissions control" drive technology, the WR 250 high-performance cold recycler and soil stabilizer (the most powerful machine in the new WR generation) and the new SP 84i slipform paver with fully modular inset models on four steerable, swivelling crawler tracks for paving concrete surfaces between 6' and 26' wide.
Vögele
Visitors to the show can look forward to innovative technologies among the road pavers and screeds from Vögele: from the models of the VISION series and the new "Dash 3" generation of the SUPER series, all the way to Vögele's extending screeds. Highlights: the powerful SUPER 2100-3i tracked paver with AB 600 TP2 Plus high-compaction screed and the highly manoeuvrable SUPER 1300-3i Compact Class paver with the new AB 340 V extending screed. Both "Dash 3" pavers stand out due to their highly advanced and user-friendly technology and are also extremely cost-efficient and eco-compatible. The versatile VF 500 front-mounted extending screed from Joseph Vögele AG is also making its North-American market début. The screed is equipped with bolt-on extensions that are mounted in front of the basic screed. These were specially developed for Vögele's VISION series Universal Class.
Hamm
Hamm is currently expanding its broad product range of soil and asphalt compactors with new products in the HD Compact Line, as well as the H and HD+ series. The technical innovations in ergonomic design offer ideal solutions for high-quality and economical compaction in earthwork and road construction. Highlights: four oscillating compactors in the HD Compact Line, eight new 7 and 8-tonnes tandem rollers in the HD+ series, high-performance H series compactors in the 11 to 16-tonnes class and the H 25i VC compactor with crusher drums, which can crush and compact rock in a single pass.
Kleemann
Introducing the new generation: the brand new Mobicat EVO mobile jaw crusher and the Mobirex EVO 2 mobile impact crusher set a new benchmark for the processing of natural stone and recycling materials with the highest level of processing capability. Highlights: the Mobicat MC 110 R and Mobicat MC 110 Z offer an impressive new jaw crusher unit with hoisted articulated crusher jaw for optimal material in-feed. The direct drive concept of the Mobirex EVO 2 impact crusher and the Mobicat EVO jaw crusher ensures optimized fuel consumption values per tonne of material produced.
As well as innovations and a representative cross-section of tried-and-tested construction machines, the Wirtgen Group is also presenting another of its core competencies at Conexpo 2014: its comprehensive service spectrum, ranging from application consulting all the way to rapid on-site service. In personal dialogues, experts will provide visitors to the exhibition in Las Vegas with information about the perfectly coordinated Wirtgen Group product and service program with the four product brands Wirtgen, Vögele, Hamm and Kleemann – four of a kind.
For further information about the Wirtgen Group at Conexpo 2014, please visit: wirtgen-group.com/conexpo
Companies in this article