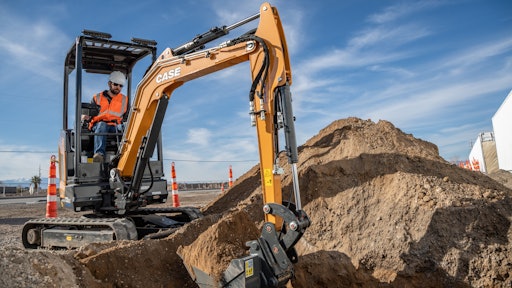 CASE Construction Equipment
There's no denying that compact excavators are becoming more popular. Contractors are demanding more features out of a smaller package and manufacturers are responding by launching several new models less than 8 tons. The compact excavator market in 2022 was $8.9 billion in North America and is projected to reach $14.6 billion by 2031, according to market analysis by Straits Research. CONEXPO/CON-AGG 2023 saw a glut of new machines, many of which were in the compact equipment category, and several that were in the compact excavator category.
Compact excavators offer countless benefits and advantages. As always, they can fit into tight spaces. These newer models, though, are much more built out with advanced features than their predecessors. An excellent choice for trenching and other earthmoving tasks, compact excavators are now offering more hydraulic flow, improved cab comfort, better fuel efficiency, modern telematics features, machine control and more. There are other reasons for the popularity. Compact excavators, quite simply, offer a lot of value for a lower price. Many don't require a CDL to operate and the smaller machines tend to have easier cab controls, making them simpler for workers new to the industry to learn.
CASE Construction Equipment is building out a lineup of mini excavators to fill a demand for earthmoving equipment in landscaping, underground utilities sectors and more. The launch included two electric mini excavators, a diesel-powered mini and other models that will be released in 2024. The CX15EV is a 3,186-lb. mini excavator powered by a 21 hp/16 kW electric motor, and the CX25EV is a 4,828-lb. mini excavator running with a 27 hp/20 kW electric motor. The lithium-ion battery featured in both machines is charged by the 110V/220V on-board charger, or an external rapid charger that can have the machine charged extremely fast, typically within 90 minutes. Depending on the work, the two models will last for eight hours per charge.
"Mini excavators are ideal for electrification because they go through varied work cycles throughout the day," said Brad Mace, product manager, CASE Construction Equipment. "Between access to power and the fast-charging capabilities of the machine with both on-board and external technologies, these machines deliver excellent runtimes and are sure to be ready to take on any task."
The cab includes a standard color LCD monitor that delivers access to battery information, machine settings and work modes. It also features an electronic pattern changer (for switching between ISO and SAE patterns) and customizable hydraulic proportional controls and auxiliary hydraulics to let the operator dial that machine in to their preferences.
Both machines feature standard 1-way/2-way hydraulics with an electronic detent hold to reduce operator fatigue, and an optional second auxiliary circuit (2-way only) can be added for more hydraulic options. The new LCD monitor allows flow settings to be set and stored for up to five attachments for convenience and confidence when switching between attachments. An optional quick coupler further makes switching attachments quick and easy. CASE's SiteWatch telematics is standard on each machine for optimal visibility into machine performance, and greater collaborative fleet management with the local CASE dealer.
Hitachi also launched new compact excavators earlier this year, including the ZX75US-7 and ZX85USB-7. An ultra-short-tail swing radius on the ZX75US-7 allows access to confined spaces while an ultra-short-tail swing radius with swing boom model ZX85USB-7 digs next to walls and guard rails. Power is provided by turbocharged Yanmar diesel engines. A power mode provides higher engine speeds when extra horsepower is needed, while the economy mode reduces engine speed when performing normal work. This results in low noise and decreased fuel consumption.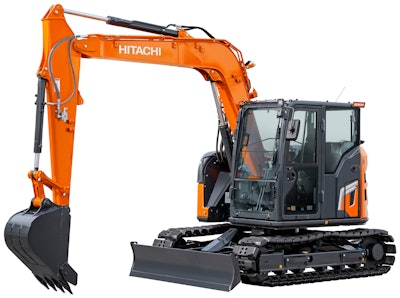 Compact excavators are commonly used with a wide range of attachments. An optional attachment replacement support system simplifies swapping work tools. Attachment flow settings can be adjusted from the monitor and the operator can name and store up to 12 settings. An auxiliary function lever (AFL) is available with an analog switch, trigger switch and horn for running attachments such as a breaker or an attachment with swing.
Cab space has been improved from past models. There is more head clearance when opening the front window. A low cabin floor height facilitates access to the machine. The Aerial Angle peripheral vision camera system provides a wide 270-degree bird's-eye view of the machine's immediate environment. The operator can select from five views on the monitor, and a camera allows the operator to see the area right below the counterweight.
Routine checks, such as engine oil level, are accomplished from ground level and all service points are within reach through the access panels. ConSite telematics remotely monitors operational status and alerts owners and operators to upcoming maintenance needs. A new optional feature, ConSite OIL, monitors engine and hydraulic oil conditions to detect issues before fault codes are triggered in the machine.
Yanmar recently launched its ViO17-1E and ViO25-6B mini excavators. The ViO17-1E is designed for residential work, landscaping and small general construction projects. The ViO25-6B can also be used in those applications but brings additional power and size for building maintenance projects, irrigation, plumbing pipeline and more.
"Operators will appreciate the upgraded features in these new generation models," said Jeff Pate, director of sales at Yanmar Compact Equipment North America. "From improved operator comfort and lighting to enhanced attachment coupling, the improvements make long days in the cab a little easier."
The ViO17-1E offers a 4,023-lb. operating weight and 14.5-horsepower engine while the ViO25-6B features a 5,908-lb. operating weight and 20.4-hp engine. These vehicles feature dig depths of 7 ft., 7 in. for the ViO17-1E and 10 ft. for the ViO25-6B.
Yanmar builds the ViO17-1E and ViO25-6B with true zero tail swing technology for workplace performance. Zero tail swing models are designed so that no part of the cab or canopy extends beyond the track width.
The ViO25-6B includes SmartAssist Remote, Yanmar's telematics system. Using the integrated theft protection, the mini excavator's owner can set a range from a specific location or a starting time, triggering SmartAssist Remote to send a notification if that range is exceeded. SmartAssist Remote can also detect errors with electronic components and send notifications to service personnel and directly to Yanmar for diagnostics. Additionally, the machine's owner can view the operational status of the equipment in real time and view daily work reports that track use of the excavator. Finally, SmartAssist Remote can track maintenance intervals and inspection items as well as notify the owner via email about upcoming maintenance requirements.
Companies in this article