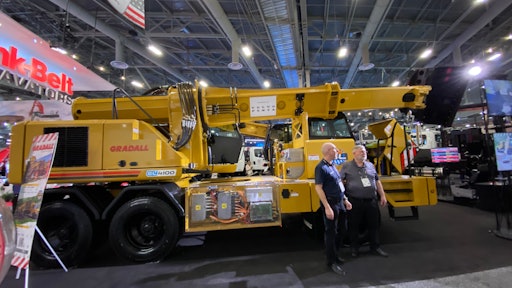 Lori Ditoro
Diesel. Electric. Hybrid. Hydrogen. Deciding how to power equipment no longer involves one choice, and many factors affect the method selected. The 2030 emission goals are 7 years away, but the construction industry has already started to move toward them. Because the industry cannot flip a switch and change every piece of equipment in operation today, the process involves all fuel and power options. Original equipment manufacturers (OEMs) and contractors making improvements where they can today and planning for a cleaner industry tomorrow.
Optimized Diesel Engines
Diesel remains part of the solution for decreased emissions. While fossil fuels are slowly being phased out, millions of engines that operate on traditional fuels continue to be manufactured. During CONEXPO-CON/AGG (CONEXPO), several engine OEMs presented engines that are optimized for fuel use efficiency and produce fewer emissions.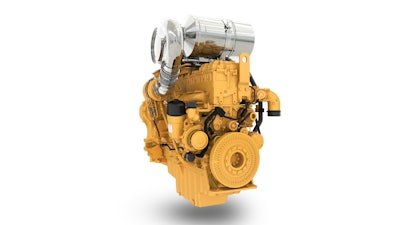 The Caterpillar C13D engine platform provides an opportunity for OEMs to downsize the engine and simplify the design, assembly and supply chain requirements. This consolidation can also reduce maintenance, parts and technical training complexity for end users, providing a lower total cost of ownership and operation. According to Dustin Childers, global marketing manager, Caterpillar Industrial Power Systems, the C13D also produces less noise and vibration.
The new engine platform offers up to a 20% increase in power and up to 25% more low-speed torque when compared to the previous generation of Cat engines in its power class. It is designed to perform at altitudes of up to 12,000 feet, twice as high as legacy Cat engines, and in extreme ambient temperatures as high as 140°F (60°C) and as low as -40°F (-40°C) with aids.
When sister publication OEM Off-Highway talked with Cummins President and CEO Jennifer Rumsey, she discussed the zero goal. While she agrees that the move away from fossil fuels is the right direction, the industry is not there yet.
"Cummins built 1.2 million engines last year," Rumsey said. "So, there's a lot of engines going out into the field, ours and others, that will operate for many years."
Electric
Hesitancy often accompanies the conversation around construction equipment going electric. Among the concerns are:
Having enough power and torque to do the work
Keeping equipment charged
Training operators and any changes in how the equipment is operated
While these concerns are valid, OEMs are working to make sure all these problems are solved, particularly for larger machines.
During CONEXPO, Volvo Penta and Gradall shared a fully electric, highway-speed excavator that was powered by a Volvo Penta electric driveline. The excavator will go through another year of testing before it is available.
The Volvo Penta team took a systems approach to this project and provided a complete system including batteries, motors and cabling. According to Darren Tasker, vice president, industrial sales, for Volvo Penta, the product will evolve over time. The Volvo Penta team is committed to science-based sustainability.
"At Volvo Penta we are firm believers that great projects begin with solid partnerships, and this collaboration with Gradall on the electric excavator is a prime example," said Tasker. "Venturing into the realm of electromobility alongside Gradall marks a thrilling progression for both of us."
"This nearly decade-long partnership, along with Volvo Penta's full-system approach and expertise, made Volvo Penta the top choice for Gradall's first step into electromobility. This was also Volvo Penta's first electrification project in a construction application, and it paves the way for many more. Electrification will be one of the cornerstones in our transformation as we work toward meeting our goals of zero emissions by 2050."
Here are the Gradall electric excavator electric driveline stats:
The system will deliver 133 kilowatt-hours of energy
Can reach full capacity in under 45 minutes from a 150-kilowatt charger.
Powered by two

Volvo

Penta batteries matched to the duty cycle of the excavator, which fit into the engine bay
Also includes the complete high voltage system (electric motors, gearboxes, inverters, junction boxes and cabling)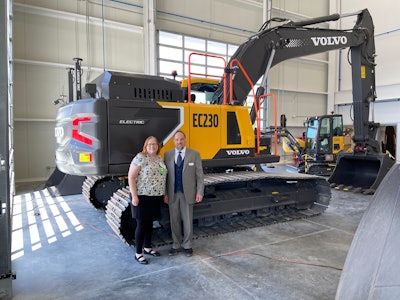 While much of Volvo Construction Equipment's (CE) compact machines are electric, larger models are also moving in that direction. This includes the new Volvo EC230 excavator. Ray Gallant, vice president — sustainability and productivity solutions, North America, Volvo CE, showed me the excavator and talked about the future of electrification in general and with Volvo CE.
With many companies focused on a goal of decreased emissions and fully electric inventory in some cases by 2030, we started with this aim.
"The goal is 2030, for a lot of this, but we spent 100 years building up the diesel infrastructure. Is that [goal] realistic?" Gallant asked.
Among the challenges of manufacturing electric equipment to perform in demanding construction applications is the fuel sources, including charging stations in remote locations. Gallant sees finding sources as the common challenge between all the power types.
"When we talk about alternative power, it's a lot of different things. It could be electricity; it could be grid-connected; it could be alternate fuels; it could be renewable fuels; it could be hydrogen. So, the challenge unique or in common with all of those is we need the fuel sources," Gallant said.
Volvo has added a fully electric, medium-sized excavator, the EC230. The EC230 excavator is a 23-metric-ton excavator. It is one of Volvo's heavier battery electric machines. It has an extendable battery pack and not one 264 kilowatt-hours of storage for 66-kilowatt-hour batteries.
Many other OEMs have electric machines including Bobcat, CASE, Caterpillar, FIRSTGREEN Industries, HEVI, Hitachi, JCB, John Deere, KATO-CES, Komatsu and Wacker Neuson. If an OEM is not working on an electric machine today, it will be in the future.
Hydrogen & Other Alternative Fuels
According to Gallant and many others in the industry, electric power will not be the solution for all applications.
"Other technologies come into play … In my opinion, if we bring in multiple technologies in tandem or in the applications where they fit, [that is ideal]," Gallant said. "In our line are some heavier machines where a battery is just not practical. It would be too heavy, too expensive or too long to charge. So, we go to other sources of power, alternate fuels, hybrids, grid-connected directly or even hydrogen to make that transition."
To that end, many OEMs are manufacturing engines that can use multiple fuel types. This includes the Cat C13D engine platform discussed earlier. It can operate using renewable liquid fuels including:
100% hydrotreated vegetable oil (HVO)
B100 distilled biodiesel
Up to B100 standard biodiesel
Cummins displayed its fuel-agnostic engine during CONEXPO. Cummins' 15-liter diesel platform highlighted a practical route to emissions reduction and decarbonization for off-highway applications. It showed a common architecture optimized for low- and no-carbon fuels including biodiesel and HVO, renewable natural gas and hydrogen. All engines derive from the same base, providing parts commonality.
At CONEXPO, FPT displayed its range of engines, including the technology that operates on alternative fuels. The team is also working on a move to hydrogen and produced a 13-liter engine prototype last year.
Also at CONEXPO, DEUTZ CEO Sebastian Schulte discussed the need and desire to support and grow their classic diesel business, where the company produced 185,000 engines. The diesel engine range is 2.2 liters to 18 liters. However, he knows that DEUTZ must look to the future. He said that a carbon-zero future includes a mix of power options: electric, alternative fuels, hydrogen fuel cells and hydrogen combustion. Schulte said he feels that hydrogen combustion is best for off-highway applications that require more power than battery electric energy can provide.
One OEM that is all-in on hydrogen for larger machines is JCB. During a media visit in January 2023, I learned about the company's new hydrogen combustion engine. JCB has several compact electric equipment options. However, for larger machines, the company is opting for hydrogen combustion.
After experimenting with a hydrogen fuel cell excavator, the team decided that the fuel cell prototype was too complicated, not robust and too expensive. Then they moved to hydrogen combustion.
While the team faced some major challenges when working on the design, Tom Beamish, principal engineer, JCB, discussed that this engine is not a conversion. The engine was designed from the ground up to be optimized for hydrogen combustion. While it's not rocket science, it uses the same fuel and similar combustion principles as NASA.
Several engineering factors that had to be overcome:
All materials that contacted hydrogen had to be carefully examined.
A whole new control system for the engine was used.
The spark system is new.
This hydrogen-combustion engine made its North American debut during CONEXPO.
Reaching the 2030 Goals
To begin or continue the move to zero emissions, all power prospects must be considered. This has been confirmed by virtually every OEM that the Equipment Today team has talked with. To learn what may work best for fleets, contractors should talk with their dealer or OEM to begin their transition.
Companies in this article