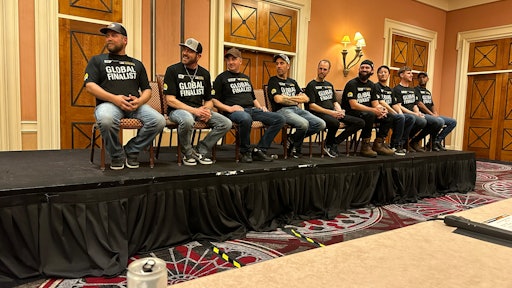 Erica Floyd
In an exciting and exclusive day of presentations, Caterpillar announced the launches of new small wheel loaders, an engine, mobile apps, attachments, rotary cutters and a three-dimensional screed on Sunday, March 12, ahead of CONEXPO 2023.
Global Operator Challenge Finals
The nine finalists who will compete for the top prize in Caterpillar's Global Operator Challenge finals on Tuesday, March 14, spoke about what the competition meant to them, emphasizing their love of the construction industry and their operator careers. Like the regional competitions, the Global Operator Challenge finals will include three challenges that require the operators to successfully complete tasks on a wheel loader, a backhoe loader and an excavator.
Jaus Neigum of Canada, winner of the 2020 Global Operator Challenge at the previous CONEXPO, advised the finalists to keep their nerves in check. Calm operation leads to fewer mistakes, he said.
The finalists also spoke of their history in the construction industry and how they became operators. Many grew up in and around heavy machinery, but all had good advice for future operators—seek out mentors and practice, practice, practice.
The grand prize for the top operator will be a trip for two anywhere in the world that has a Caterpillar facility. Finalists spoke of dream trips to Spain, Australia, Paris, Brazil and the United States if they were to win.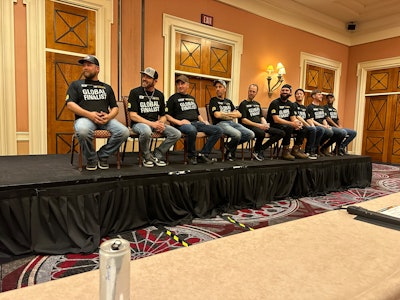 The nine finalists include:
John Schiedeck, representing Holt

Cat

(Texas, U.S.)
Matt Ferris, representing Empire

Cat

(Arizona, U.S.)
Łukasz Mokrzyński, representing Bergerat Monnoyeur, Poland
Sebastian Behr, representing Zeppelin, Germany
Pontus Eriksson, representing Zeppelin, Sweden
Nick Thompson, representing CavPower (Australia)
Masato Imai, representing Nippon

Caterpillar

(Japan)
Patrick Doheny, representing William Adams (Australia)

Fernando do Nascimento

​

, representing PESA (Brazil)
Be sure to follow our Equipment Today social media accounts and ForConstructionPros.com/CONEXPO for live, exclusive coverage of the 2023 Global Operator Challenge Finals on Tuesday, March 14!
Next Generation Wheel Loaders
In addition to the recent expansion of Cat's medium wheel loaders with the introduction of the 950 and 962 loaders, CONEXPO-CON/AGG 2023 attendees will be the first to preview the Next Generation Cat 930 Wheel Loader March 14-18 in Caterpillar's outdoor Festival Lot exhibit F9127. Target production date for these small wheel loaders is late 2023. Other next-gen new small wheel loaders include the 926 and 938 models.
The Next Generation Cat 926, 930 and 938 wheel loaders offer a range of new technologies and features designed to boost productivity by simplifying machine operation. The Cat small wheel loaders offer industry-specific configurations to handle agriculture, waste, forestry, aggregate and snow removal applications. Customized models can be equipped direct from the factory or through aftermarket upgrade kits installed by a Cat dealer.
The next-gen medium 950 wheel loader will only be available for viewing on Tuesday, March 14 at the Global Operator Challenge finals, as the machine will depart the CONEXPO grounds immediately after the final competition.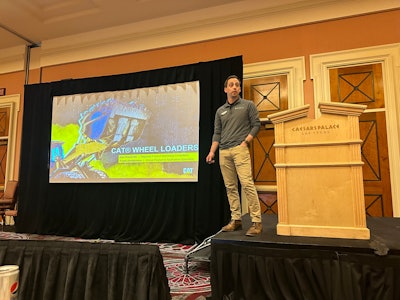 The 926, 930 and 938 loaders notably include upgraded joysticks, 200% longer service hour intervals—from 500 to 1,000 service hours—and automatic wheel torque control. Engine oil and filters and fuel filter service intervals increase to 1,000 hours for the next gen small wheel loaders. Over 10,000 operating hours, this saves 45% in engine oil, 67% in fuel filters, and 45% on air filters, substantially lowering service costs and improving loader uptime.
Operators also may be delighted to know that Cat Payload now comes standard on the 926, 930 and 938 next-gen wheel loaders, rather than being available as a paid upgrade.
New 13-Liter Next Generation
Caterpillar

Diesel Engine Platform

The inline, 6-cyl. Cat C13D engine platform will offer eight power ratings from 456 horsepower (hp) to 690 hp—340 kilowatts (kW) to 515 kW with up to 3,200 Newton meter of peak torque. Engine-mounted aftertreatment and cooling packs will be available from the factory to reduce installation and validation costs. The C13D will meet the emissions standards of higher regulated markets, such as EU Stage V, U.S. EPA Tier 4 Final, China Non-road IV, Korea Stage V, and Japan 2014, with models available for lesser regulated markets, said Dustin Childers, global marketing manager, Caterpillar Industrial Power Systems Division.
Mobile Apps to Make
Caterpillar

Parts Purchasing, Service and Repairs, and Fleet Tracking Easier

Enhanced QR codes on new Cat machines will allow access to three new mobile apps: Cat Central, SIS2GO and VisionLink.

Cat customers who already have an account on parts.cat.com can access the 1.5 million parts available on the site on the new Cat Central app. However, any user is eligible to make a purchase without an account - as a guest.

The new Cat SIS2GO app is a companion app to the Caterpillar Service Information System (SIS), providing 3D models to help users locate parts and, innovatively, offers users direct links to parts manuals on the app.

Cloud-based and accessed through desktops, tablets, and mobile devices, the new VisionLink consolidates My.Cat.Com, the Cat App, and the previous version of VisionLink applications into one centralized solution for fleet management. Simplifying the process for customers, all user accounts, personal settings, account configurations, and equipment subscriptions now will transition from these previous platforms to VisionLink.

Check out the Improved VisionLink - YouTube
New Attachments, Blades and Rotary Cutters
Expanding the Cat Demolition and Sorting Grapple line, the new G306 and G308 models are specifically designed for 5- to 6-ton and 7- to 10-ton mini hydraulic excavators respectively. These new models excel in waste, recycling and heavy-duty material handling applications where precise material placement is required.
The first hydraulic attachment expansion for the Cat Tiltrotator (TRS) product family, the new Cat G206 and G208 Multi-Purpose Grapples expands the grapple technology in combination with the TRS6 and TRS8 models for 5- to 10-ton mini hydraulic excavators.
Caterpillar expands its Cat Vibratory Plate Compactor line with the new CVP28 and CVP55 models and relaunches its CVP16 and CVP40 compactors with new design enhancements. Well suited for the compaction of soil, sand, gravel and asphalt, the compactors' flexibility delivers lower investment and maintenance costs for contractors engaging in residential, commercial and industrial work. The Cat CVP range is performance-matched to Cat machines, covering all backhoe loaders and excavators ranging from the Cat 302.7 to the 313. They offer compaction widths from 304.8 mm (12 in) to 660.4 mm (26 in) and compact areas ranging from 0.19 m2 (2 ft2) to 0.53 m2 (5.7 ft2) at vibration frequencies from 33.3 to 40 Hz (2,000 to 2,400 vpm). All models can be equipped with a backfill blade to help spread out material in the ditch prior to compaction, and a swivel mount rotates 90 degrees in each direction to minimize machine movements.
Offering a working width of 350 mm (13.8 in) and 120-mm (5-in) maximum milling depth, the new Cat PC35 Cold Planer is designed for operation with side-shift backhoe loaders and 5- to 6-ton mini hydraulic excavators. The new Cat PC45 replaces the PC404 with its 450-mm (17.7-in) cutting width and 150-mm (6-in) cutting depth and is ideal for use with backhoe loaders and extends the planer's compatibility to 7- to 10-ton mini hydraulic excavators. Designed for small paving jobs in residential and commercial applications, new Cat Cold Planers deliver economical restoration of asphalt and concrete surfaces. They efficiently mill imperfections prior to resurfacing and remove deteriorated pavement and traffic lane stripes.
Caterpillar also announced new options for the Cat Smart Grader Blade and Smart Dozer Blade. The new external control kit for GB120 and GB124 smart grader blades expands use of these blades to Cat D and D2 series SSL and CTL machines, enabling customers with previous model fleets to run smart blades. The new 3D grade control kit uses existing connections to add automatic blade control to the Cat Smart Dozer Blade.The new external control kit provides customers with a means to run smart grader blades on all D-series and select older Cat machines and includes a third joystick for operating blade raise/lower, tilt, angle and wing functions like smart control for D3 series machines.
3-D Screed Plate System
Better density, increased smoothness and improved integrity – these are three qualities of the new Cat Three-Dimensional Screed Plate System that the product promises for the asphalt paving industry. The Cat SDX Screed Plate System also promises lowered International Roughness Indicator (IRI) scores, potentially offering remarkable smoothness.
Caterpillar Inc. previously announced that it has entered into an agreement with construction solutions supplier, Axenox, Inc., to acquire the intellectual properties of two of the company's asphalt paving screed products. Under the agreement, three-dimensional screed plates and the modular screed plate fastening system will be available options exclusively for Cat asphalt paving customers. This makes the Cat SDX Screed Plate System an exclusive-to-Cat offering.
See these products and more at the Caterpillar booth this CONEXPO, and keep an eye out on ForConstructionPros.com for continual coverage.