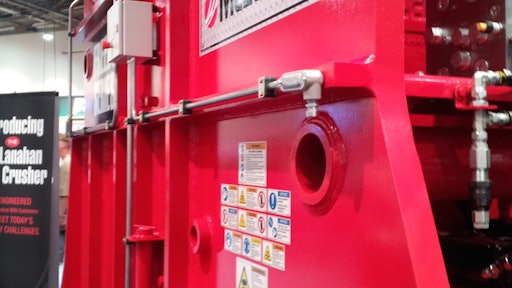 Since being first introduced in 1906 by Universal Engineering Corp., the jaw crusher design has remained pretty much the same over the last century – until now.
For the past two years McLanahan Corporation has collaborated with customers to fully understand their needs when it comes to primary crushing. At CONEXPO-CON/AGG, the company will introduce the result of all that research.
The answer to customers' needs is a whole new crusher that is able to meet today's challenges and help producers do even more at the primary crushing stage. McLanahan has engineered its new jaw crusher line to give producers a higher performance primary crushing solution than has ever been available before. The result is a safer, simpler and smarter jaw crusher.
Safety lock pins and hydraulic assist for wear parts change-out makes maintenance safer.
McLanahan engineers designed a simpler way to adjust close-side settings and provide tramp iron relief. Hydraulic rams are isolated from crushing action, allowing longer life and full automation, while virtually eliminating toggle migration.
The attack angle and crushing stroke pattern are engineered smarter to increase capacity up to 15 percent while minimizing wear on the jaw dies.