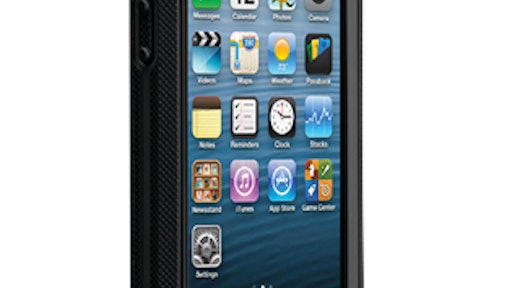 One scarcely needs to be Sherlock Holmes to know that working on a construction site involves some pretty heavy-duty tasks. From the billowing dirt, the flying dust, the water and all the other materials that relentlessly spatter the clothes and the possessions of those lifting and loading and handling heavy machinery all day, it might seem like bringing along any electronic device isn't such a good idea. However, there's no reason why those working on a site can't enjoy the benefits of the latest smartphones including the iPhone 5. Here are just some of the durable iPhone 5 cases contractors can consider to protect their phones on the jobsite.
2012's Best Rugged iPhone 5 Cases
Case Mate 'Tough Xtreme' case
Case Mate has long been a trustworthy brand name bobbing about in the endless ocean that is the iPhone accessory industry. It's known for providing good quality, versatile and reasonably priced cases; all qualities that are currently difficult to find with any sort of consistency. Couple this with the great reviews the Tough Xtreme has received from customers across various e-tail outlets, and it's safe to say this is an ideal solution for the iPhone owner on the cautious side. With thick, reinforced outer-edging and a strong back-panel that will scupper the malicious intent of any hard surface, the case adds protection without adding too much chunk to the feel of the phone itself.
Griffin 'Survivor' case
One of the bulkiest solutions, but undoubtedly also one of the safest, the Survivor case has actually been tested using the US Department of Defence Standard 810F. With dirt, sand, water and shock resistance as well as a non-shatter polycarbonate frame and in-built screen protector, Griffin has gone all out to make sure that short of running it over with a tank, your iPhone will be kept safe and sound. It even has some dense removable covers to protect those all-important ports. Ideal then, for taking out to even the most physically demanding and punishing jobs.
Lunatik 'Taktik Extreme'
Of course, sometimes you need your phone to be utterly bomb proof. That appears to be the mantra Lunatik ran with when it was creating the Taktik Extreme. This impact damage protected case provides a rock solid Gorilla Glass lens, high impact ballistic bezzles, an impact truss and anti-dust and water resistant membranes, complete with strong metal casing and a bulky but sleek futuristic aesthetic that makes it look as robust as it is. By a considerable way it's the most expensive of the lot, and the Griffin Survivor will probably do you just as well, though for its unique visual and just weighty-enough metal texture, the Taktik might just be worth the extra to save your phone from being smashed to bits on the job.
12 of the Toughest iPhone 5 Cases
With one of these three sheathing your iPhone 5 in their protective outer-shells, you'll have no problem keeping up to date with everything that's going on on the site. Our phones are important, and the last thing you'd want to do is miss a call about a potential job, an email about material drop off, or any other logistical process you need to be kept in the loop for. So which is your case of choice? Will you be sticking with something slim and taking the risk or going bulky but safe?
5 Smartphone Cases to Survive (Almost) Any Drop
This article was written by Rob Vicars of AMA Aggregates. Use your properly protected smartphone to give us a call from the construction site today, and find out how we can make your project run smoothly with top quality, on-time aggregates.
Smartphone cases product roundup
Hard Core Series iPhone 5 Cases
OtterBox Commuter Series iPhone 5 Cover
ToughSkin Duo from Speck Products
AKTIV Collection from Edge Design
Drop Tech Series iPhone 5 Cases from Gumdrop Cases