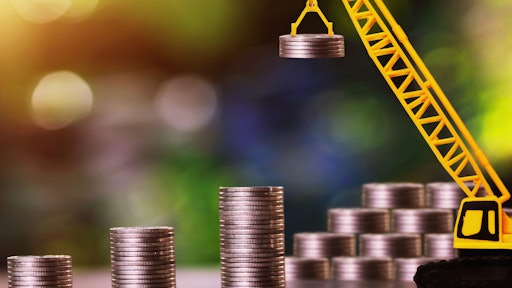 **Content Sponsored by Trimble**
Reasons for Optimism About Civil Construction Profitability
Contractors may have different goals, but the most common is to be profitable.
Protecting the profit margin regardless of the company age or scale often relies on efficient construction project management and a deep understanding of competitive advantage to win bids, and deliver each project.
From the CFMA's 2021 Annual Financial Survey Online Questionnaire, an analysis of profits revealed that the 282 U.S. civil construction companies that participated experienced an average 8.1% net income before taxes, which is up from 6% reported in FY2019. Return on assets (ROAs) rose from 10% in FY2019 to 13% in FY2020. The typical civil construction respondent used its assets to generate 2.0 times more sales than assets, maintained a leverage ratio of 2.0, and achieved a return on equity (ROE) of 26%.

When comparing engineering and construction companies to other professional-services organizations that might achieve 30 to 40 percent operating margins a McKinsey Insight report stated that "20 to 30 percent is possible if they design their operations differently and focus not on utilization (for example, by taking low-margin business to keep resources at work) but on profitability". As clients ask for higher-quality and more cost-efficient solutions built on more productive technologies and workflows, this report identified that engineering and construction companies able to bring such value-enhancing solutions to clients will likely enjoy better margins.
Internal Challenges
The CFMA report identified the following internal performance challenges:
Shortfalls in accountability
Talent management
Inconsistent performance management from project to project
Failure to adapt to new technology
Problems utilizing resources.
External Factors
Contractors interested in improving profitability have the ability to influence each of these factors. However, there are other external factors that contractors should also monitor:
Fragmented value chains with conflicting goals (e.g. designers don't necessarily aim to maximize cost-efficiency or that contractors simply pass on additional costs to the owner rather than work together to reduce them)
Extensive subcontracting
Complex portfolios
Competitive pressure.
Tools to Help Improve Profitability
Machine Control and Automatics
Automatic excavator control is available as a mixed fleet, integrated 3D aftermarket grade control system for excavators and tilt-rotator attachments. Excavators can work semi-automatically, allowing operators to create smooth, flat or sloped surfaces more easily.
Compaction control systems help you roll a more efficient pattern so you can reach target passes and density faster.
Motor grader automatics can measure the position and slope of the blade and compares that to design data for fine grading on complex design surfaces.
For dozers, the Horizontal Steering Control feature can automatically control the machine to follow any horizontal alignment from the 3D model. This allows the operator to focus on grade, machine productivity and safety rather than worrying about steering. This results in increased situational awareness, reduced operator fatigue, better accuracy and improved productivity with decreased overlap and fewer passes and ultimately a more sustainable project.
Jobsite Connectivity
Improve jobsite monitoring by connecting construction project workflows from design to construction. Using machine control and construction surveying systems as data sensors, contractors can avoid time-consuming rework, hand off data seamlessly across a project and ensure everyone has the same plan. Less drive time between the site and the office means lower carbon emissions, reduced fuel costs and a more sustainable project. Transparency between the office and the jobsite encourages closer control relative to KPIs and better profitability.
Civil BIM software
For vertically integrated contractors, Civil BIM software can reduce inefficiencies, improve productivity and capitalize on demand for new infrastructure projects to improve contractor profits. And it starts with better estimating and takeoff. Instead of working on paper or relying on custom software programs that typically don't sync with one another, adopting a suite of integrated, multi-discipline civil BIM design tools gives everyone involved in the process access to current plans, designs, schedules, and budgets, with changes made in real-time. These systems help improve estimating, accounting, project management, inventory and equipment tracking.
Getting Started
Every contractor has room to improve profitability.
Leverage machine control technology to get more from every machine hour
Look for real-time operations visibility.
Reduce construction waste
Measure the total cost of equipment ownership
Invest in staff and training
Leverage construction management software systems.
When considering which tools are right for your team, ask your local construction technology partner about the range of options, but also about purchasing options. Instead of purchasing hardware as a depreciating asset, consider subscription options. Subscriptions can offer a flexible, all inclusive and connected construction solution bundled into a predictable contract.
Learn more at civilconstruction.trimble.com
Companies in this article