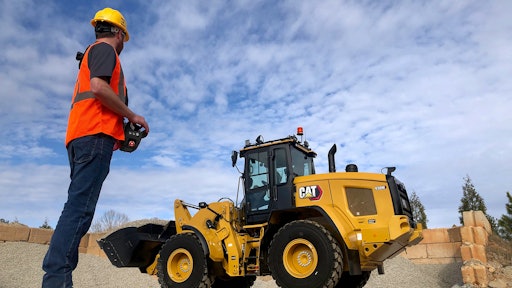 Caterpillar
Remote control of construction equipment continues to gain acceptance as the technology continues to advance. In addition, semi-autonomous features are emerging and autonomous construction machines are just over the horizon.
Autonomous operation promises to create a paradigm shift. "Autonomy will have a profound impact on the construction ecosystem, potentially disrupting or challenging existing norms in relation to the size of the equipment employed, the role of the dealers and OEMs, all the way to the individual operator or subcontractor," says Fred Rio, construction digital and technology product manager, Caterpillar. "With regard to automation and autonomy, our customers must integrate the technology into their work processes, as well as identify the correct users who are willing to adapt and change."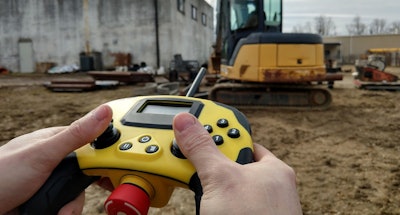 Remove the Operator from the Cab
Remote control technology allows operators to safely run machines from outside the cab, removing them from risky operations or providing them unobstructed views of the work.
Bobcat Company offers remote control options for its loaders, which can pay off with increased productivity. "Bobcat MaxControl Remote Operation provides customers with the option to take traditionally two-person jobs, or jobs requiring frequent entrance and exit of the machine, and make them more efficient through remote operation of the machine from outside the cab," says Britta Kopp, marketing manager, Bobcat Company. "It acts as an extra set of hands when help is limited."
Another advantage of remote operation is the ability for operators to have complete visibility of the machine and operation. "Being able to stand outside of the machine allows visibility of every angle," says Kopp. "There is also the opportunity for enhanced operator comfort and a more inclusive working environment. If equipment operators are unable to sit in the cab of a loader for a full 8- to 10-hour shift for any reason, they can work outside of the cab without losing productivity."
Fatigue is a major consideration when deciding if remote operation is beneficial. "In most cases, remote operation will increase productivity because it reduces fatigue and allows a team to work more efficiently with less downtime," says Walid Dimachkie, product manager, FORT Robotics. "Using a remote allows the operator to have a much better view of the work they are doing, and it can help eliminate the need for a spotter, allowing other workers on site to do more productive tasks. In addition, using a remote can improve overall worker health, reducing total in-cab hours and effects of potential back strain or pain, and allowing more time outside of the cab without reducing work productivity."
Key Considerations for Remote Control
Safe operation must be ensured when implementing remote control. "It's a systems approach, where a formal hazard analysis should be conducted and considered in the application design process," notes Dimachkie. "Of course, training operators properly on using the remote control for the specific machines and then provisioning remotes so that only trained and experienced operators can access and use the remote is essential."
Depending upon the remote control utilized, you need to evaluate your sight lines. "For remote control, having a clear line of sight to the vehicle is important to ensure wireless communication integrity, but also to keep visual contact with your equipment in case of emergency," says Dimachkie.
FORT Robotics mitigates the risks of interference through a radio and wireless communications system that is designed to ensure the remote's integrated Estop will maintain communication with the machine and, in event of emergency, cause the machine to stop safely.
FORT Robotics, outlines three key issues to consider when selecting a remote-control solution:
Functional safety features —The remote-control solution must include a certified safety-rated Estop to ensure the machine can stop if there's an emergency, along with other features like drop and abandonment signals.
Ergonomics and ease of use of the remote — The remote should be lightweight and comfortable to use, yet still rugged enough to be used outdoors in any conditions. Buttons and design should be familiar and easy to program.
Security features — The system should be configurable to authorize, authenticate and control access by machine and by operator to ensure machines and remotes are only used by trained and authorized personnel.
Evaluate options before making a decision. "The advanced technology of remote operation allows operators to control machines and the work they do from outside the cab using a transmitter strapped around the neck or a smartphone app," says Kopp. "Deciding which option fits their needs and the needs of their operators is an important consideration for contractors. Any Bobcat loader equipped with selectable joystick controls can be fitted by a dealership with a durable, job-tested and affordable Bobcat MaxControl component box and a single wiring harness. Once this installation is complete, the dealer will invite the owner to download the Bobcat MaxControl app and then invite other users (operators) to do the same and determine which operators have access to which machines."
Control via an Apple app is a convenient solution that utilizes technology an operator already has on the jobsite. "Bobcat MaxControl Remote Operation is an iOS app that makes operating machines easier and more convenient than ever before," says Kopp. "The system enables operators to control their machines from up to 300 ft. away with any Apple device, such as the iPad and iPhone. Load trucks without making countless trips in and out of the cab, use a pallet fork to lift, carry and place building materials — all without hiring an extra set of hands. Even move a loader across a patch of mud to avoid walking through it."
It is no longer necessary to keep track of another device on the jobsite. "The primary benefit of using smartphone technology is that the ability to operate a machine from outside of the cab fits right in the operator's pocket," says Kopp. "It's not an additional piece of equipment to remember before heading out to a jobsite."
From the Mine to the Construction Site
Caterpillar offers a full range of remote-controlled and autonomous solutions under its Cat Command suite of products. "With multiple levels of remote control, and even semi-autonomous operation, Cat Command helps customers increase operator safety and reduce operator fatigue," says Rio.
The company has built on years of experience of providing autonomous solutions to mines worldwide. "Autonomy is a journey that starts with remote control machines that, over time, become more autonomous," says Rio. "Cat Command remote control technologies enable a user to run equipment from a remote location on or off site, making work safer, more convenient and more comfortable."
The technology is rapidly advancing. "One exciting update in the Cat Command space is Caterpillar's recent release of a Cat Command station that can operate multiple machines from different product families," says Rio. "From the same station, a user will be able to switch from trenching with an excavator to using a dozer to backfill, then finally picking up a compactor to wrap things up — all at the touch of a button. The Cat Command Station can be paired with up to five machines (not simultaneously)."
Operators can now safely operate from almost anywhere. "Whether they choose the Command console or the Command station, users can have full control of the machine without exposing themselves to dust, noise, vibration or other hazards," says Rio. "The solution is scalable and incremental, allowing customers to enter at whatever level of technology and infrastructure they choose, ranging from line-of-sight (LOS) to non-line-of-sight (NLOS) solutions."
It is worth noting that machine feedback can be critical for efficient operation. "Many operators listen to the machine when operating to help understand what it is doing, such as whether the machine is under load or not," explains Rio. "The Cat Command station feeds real-time sound from the machine to help the user better understand what that machine is doing. The Command station controls provide haptic feedback to replicate machine hydraulics, enabling the user to feel what the machine is doing in multiple operations, as though they were physically in it, operating it."
It's important to match system capabilities with the needs of your jobsite. "Whether you elect for automation at the machine level, semi-autonomous operations at the system level or a totally autonomous solution, complete connectivity and mobility paired with robust data analytics will deliver actionable insight to ensure optimized jobsite performance with positive enterprise outcomes," says Rio.
There are still significant hurdles before we see mass adoption of autonomous solutions. "Full autonomy may not yet be ready for the construction industry," says Rio. "However, there are numerous step changes that can be taken now by balancing people, processes and technology."
Starting in Q3 of 2020, Cat Command will debut into construction with Command for Loading (928/930/938), followed by Command for Excavation (320/323/326/330/336/340) and Command for Dozing (D6) in early 2021. "Over time, we expect the majority of Caterpillar machines to become compatible with the Command technology," says Rio. "As technology and processes change, the sophistication and adoption of automation will evolve into full autonomy."
Moving toward autonomous solutions may help ease the operator shortage. "Finding experienced talent in application areas is often a challenge," says Rio. "Autonomous applications can provide employment opportunities to a new workforce for those with physical disabilities and wounded veterans, creating a value-added job for someone who wants to work but may face challenges in physically operating a machine. Technology and automation make the role of equipment operator more widely accessible.
"With the use of Command comes a suite of operator assist features similar to that found in the machine," he continues. "These features help a less-skilled or less-experienced operator achieve optimal work in reduced time. These features are critical aids during the development of an operator's skills."
Automation Becomes a Reality
Built Robotics has successfully deployed fully autonomous solutions on commercial projects in the U.S. and Australia.
"Using the machine autonomously improves productivity," says Erol Ahmed, director of communications, Built Robotics. "The machine uses less fuel and moves more efficiently, which prolongs the life of the machine, reduces maintenance and prevents unnecessary wear and tear. On average, a robotic piece of equipment from Built runs at the same speed and responsiveness as one being used manually by a person."
According to the company, robots offer a number of advantages that can improve jobsites:
Safety: Robots can perform remote or difficult work, which helps keep people out of harm's way. This can save lives and make jobsites safer for everyone.
Greater labor productivity: By allowing robots to automate some tasks, skilled workers can work on more complex tasks or move to areas where they are needed most.
Extended operations: Robots allow jobsites to run beyond normal operating hours (e.g., at night) and also perform tasks in parallel so they can be done more quickly.
One of the main advantages is separating employees from dangerous environments. "By removing operators from the cab and the active zone of machine operation, robotic solutions can help improve safety on the jobsite," says Ahmed. "The most important step in ensuring safety is proper training. It is always important to understand how the robot works, how it communicates its status, what it can and cannot know with its sensors and how to stop the robot at any time."
Autonomous operation requires the system to incorporate several levels of safety. Equipment upgraded with Built Robotic's AI guidance systems come with a number of safety features:
geofencing to keep the robot in one area;
on-machine and wireless emergency stops to halt operation at any time;
sounds and lights to indicate status and action;
and sensors and video cameras to detect obstacles such as people so it can stop.
"After training, it is important for as many people who will be near the robot to work with it to get first-hand experience," says Ahmed. "Like any tool, proper training helps people understand the limits and safety parameters for the machinery being used. Safety is our No. 1 priority and we put safeguards throughout the robot and work environment to make a robotic-controlled environment a safe environment."
It is possible to upgrade current machines for autonomous operation. "We build AI guidance systems, which are kits that can be easily installed on almost any type of existing equipment," says Ahmed. "The upgrade is not complicated. The whole process can take anywhere from one to two days depending upon the age of the equipment and its hydraulic system. We add additional sensors elsewhere on the machine, too. We also have our own fleet of equipment that has all of the sensors and equipment installed already. Upgraded equipment still allows for manual operation."
Setting up robotic operations doesn't have to be a complex process. "The software can utilize existing site plans like terrain maps," says Ahmed. "The terrain maps are uploaded and create a virtual map the software will use. Then, the robotics software handles the rest of the planning itself based on the task and requirements set up by the robotic equipment operator (REO), which involves inputting basic data.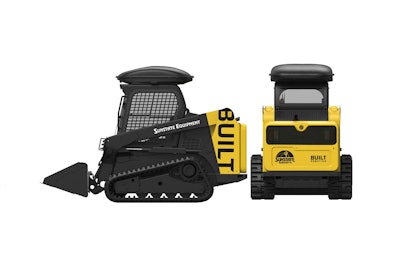 "Familiarity with software like Excel and CAD are ideal, as well as being able to comfortably read and understand drawings and plans," he notes. "We've designed the software to be as easy and familiar to users as possible." More information on the skills needed can be found at www.builtrobotics.com/training.
The technology promises to make operators more productive. "There is no technical limitation to having one operator run multiple machines at once, as we've done on some jobs," says Ahmed. "The most important concern is safety, and on many of our jobsites the REO maintains some type of proximity." The application demands really determine how the robot is used. "In all cases, though, the REO is never in the cab and is always positioned remotely."
Probably one of the most important considerations is autonomous solutions don't have to break the bank."The robotic control does not add a significant cost to the purchase price of the machine," says Ahmed. "In fact, most partners use existing equipment that they upgrade with our kits without the need to buy any new equipment. There is normally a monthly rental fee charged, like a typical piece of hardware, which covers the installation of the equipment. In addition, for each hour the machine's software is used in robotic operation, the partner is billed for those hours.
"Savings are realized almost immediately once the robot is implemented in the normal workflow of a project," he adds, "which makes the use of autonomous machines a valuable tool for contractors looking to do work not only more safely but also cost effectively."