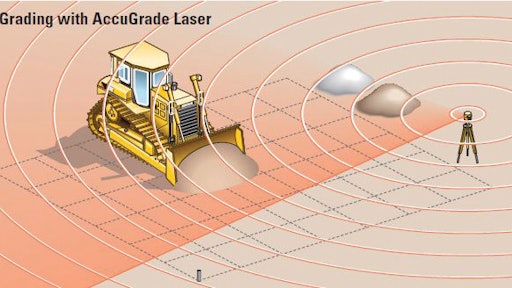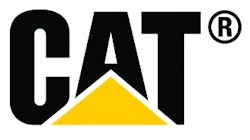 Caterpillar says its AccuGrade Grade Control increases earthmoving productivity up to 40 percent while reducing site costs – such as for grade staking, fuel use and undercarriage wear – "dramatically." The Caterpillar solution is developed with the company's partner, Trimble; is factory integrated and includes a suite of products for crawler dozers that includes laser, GPS, and ATS technology.
Accugrade Laser – Two-dimensional control
A digital laser receiver mounted on the dozer captures the laser reference signal transmitted over the work area. The system calculates blade adjustments necessary to achieve the desired grade and can automatically make the elevation adjustments. Two laser receivers – one on each end of the blade – provide dual-slope control.
Accugrade GPS – Three-dimensional control
AccuGrade GPS control is the best solution when the desired site requires contours, rather than single or dual slope planes. Global-positioning-system signals locate the blade on a digitized three-dimensional site plan and signal the operator or hydraulic system to raise or lower the blade to achieve the design requirements.
Accugrade ATS - Three-dimensional control
An Advanced Tracking Sensor (ATS) instrument on the work site tracks a target mounted on the blade of the machine. Cut and fill values are computed by comparing blade position with the design file, and the system automatically adjusts the blade.
Brochure: Cat AccuGrade Grade Control for Dozers
Request More Information
Fill out the form below to request more information about
Cat AccuGrade Grade Control for Dozers