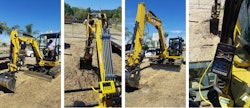 ZIPLEVEL EZDepth directly displays depths over unlimited ranges without line-of-sight, satellite horizons or complex arrays of inclinometer sensors.
Real-time profiles and tables or elevations plotted on site photos
Installs on excavators, backhoes and skid steers

Precise to 1/20 in.
+/-20-ft. max display to sensor elevation
Set display Zero at any elevation in range
Unlimited ranges with the Carry Function.
Selectable scales of inches, feet or meters
Pre-settable MSL or any elevation
Stores up to 137 readings internally
Up to four or more years between factory gas recharges.

                                                                   
Request More Information
Fill out the form below to request more information about
ZIPLEVEL EZDepth