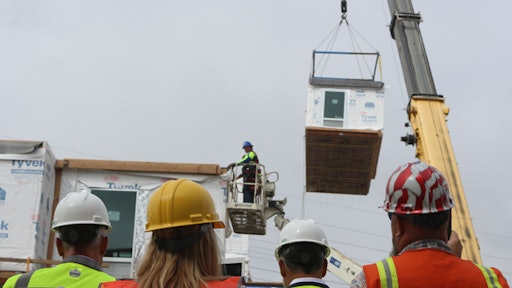 Home2 by Hilton
Home2 Suites by Hilton will open its first hotel using modular construction in early 2019. Developed by Southern Hospitality Services LLC and constructed by Akshar Development Inc., the Home2 Suites by Hilton San Francisco Airport North will be the Bay Area's first modular build hotel.
"Staying at the forefront of building trends has translated to faster construction and ramp-up times, making Home2 Suites one of Hilton's fastest-growing brands," said Adrian Kurre, global head, Home2 Suites by Hilton. "The unmatched efficiency of modular building allows us to provide a consistent, high-quality product constructed in as little as half the time of a traditional build, allowing owners to see an even faster return on their investment."
Construction modules are built off-site in a controlled environment then assembled at the building's location. Hilton says this building technique allows for faster construction time without sacrificing quality, especially in high-barrier-to-entry markets where available skilled labor is limited. Construction schedule for the Home2 Suites by Hilton San Francisco Airport North property was cut nearly in half and will be significantly shorter than the average for the Bay Area market.
The property will also incorporate several extraordinary sustainability measures including solar panels to produce nearly 50% of the hotel's energy and a bio-retention pond to filter water run-off.
Home2 Suites by Hilton San Francisco Airport North will offer all-suite accommodations with equipped kitchens and modular furniture, offering guests the flexibility to customize their suite to their style and preference.