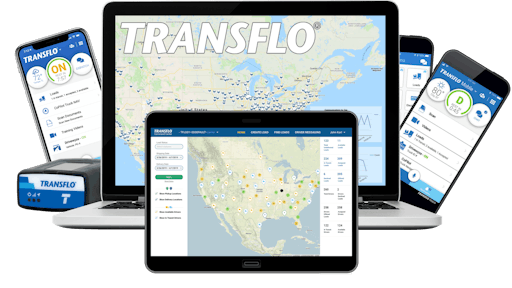 Transflo
Transflo is offering a digital ecosystem, Transflo Bundle+, that will help truck fleets and drivers manage efficiency and compliance directly from their mobile devices.
The Transflo Bundle+ extends the capabilities of the Transflo Mobile+ platform to include ELD compliance, weigh station bypass, fleet navigation and unlimited scanning.
"Fully integrating these features with Transflo Mobile+ and offering them in one package deepens our commitment to helping users stay connected and manage their business with powerful telematics, mobile devices, and cloud-based applications," says marketing director Don Mitchell.
The platform also includes several features that take advantage of the company's T-Series telematics and GPS-based vehicle tracking device from Geotab to improve fleet and driver compliance.
Improvements Include:
- Electronic logs: The Transflo T-Series ELD is connected to both the vehicle and Transflo Mobile+ on the driver's mobile device. Drivers can access everything they need to stay productive and in compliance with HOS rules on one app, including electronic records of duty status, notification of remaining drive time, and real-time communications with dispatch.
- Weigh station bypass: The Transflo Bundle+ includes Drivewyze, North America's largest weigh station bypass service, which helps fleets and drivers save time and money.
- Fleet navigation: With CoPilot Truck navigation integrated into Transflo Mobile, drivers can simply connect with the industry's best navigation system right from the main menu. Fleets and driver instantly see savings by reducing out-of-route miles and avoiding fines with truck-legal routing.
- Vehicle inspections: Transflo's electronic Driver Vehicle Inspection Reports (DVIR) let drivers complete and submit pre- and post-trip inspections right from their mobile device running Transflo Mobile+, which saves time, reduces the risk of paperwork errors, and helps fleets respond to reports as soon as possible.
Transflo's Bundle+ plan includes no upfront hardware costs for fleets of 26 trucks or more and lifetime upgrades and warranty on ELD hardware.