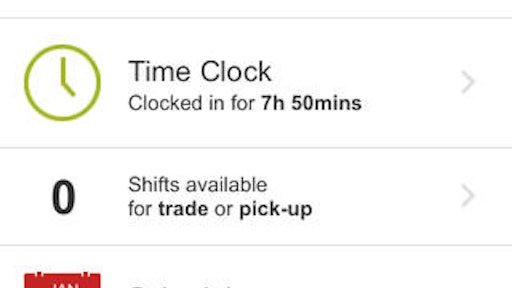 Mobile app: ShiftPlanning Mobile
Developer:  ShiftPlanning Inc.
Cost: Free to ShiftPlanning users
Available on: Apple, Android and Blackberry devices
ShiftPlanning's mobile application provides managers and employees fast access to schedules and messages on their mobile devices. Employees can use the app to access their schedules so they always know when and where they are scheduled to work.
Video: ShiftPlanning Online Employee Scheduling Software 
This mobile workforce management app incorporates all the key functionality of ShiftPlanning's web-based desktop application with the advantage of being able to access the information immediately and remotely by mobile device.
App features for managers:
View and manage schedules including creating and editing shifts
View and manage staff including adding and editing employees
Use GPS tracking to verify employee clock location
Communicate with the message wall or send messages to employees or entire departments
Edit settings and update business details
App features for employees:
View schedules to find out when they work
SMS reminders give employees less chance to misread or forget shifts
Automatic shift reminders 60 minutes and 24 hours prior to work times
Notifications related to shift trades, open shifts and more
Pick up shifts: check for and pick up available shifts
View staff message board and private messages
Clock in and out from the field and schedule specifying field locations
View time-sheets
Edit profile settings