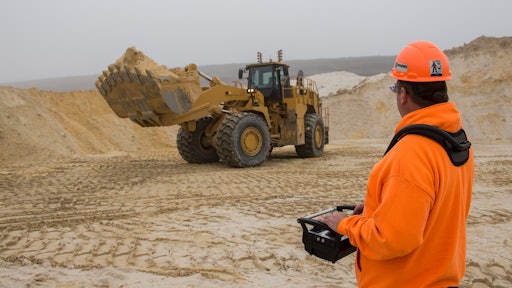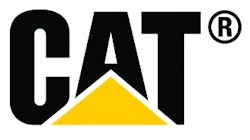 Cat Command for loading enables line-of-sight remote control of 988K wheel loaders. The new system reduces the risk of injury and enables production to continue by allowing safe operation of the loader in potentially hazardous environments. Command for loading is available as a retrofit kit for 988K machines in the field.
The system features a compact control console supported by a shoulder harness. Ergonomic controls, common with the controls in the cab, give the operator full access to primary machine functions. The controls are integrated with machine electronics to provide the same control and response as if operating from the cab, allowing the operator to maintain productivity from a distance. Advanced options such as Autodig are also accessible from the console. The portable console allows an operator to maintain line-of-sight control of the loader from as far away as a quarter mile.
Full integration of Caterpillar electronics enables notifications of critical machine health parameters and the activation of several safety features to ensure that the operator remains in control of the machine at all times. For example, a machine shutdown will be activated if an off-board transceiver loses power or if radio or on-board communications are lost. A shutdown also will occur if the operator console is tipped more than 60°, which could indicate that the operator has fallen. Any manual stopping of the machine results in application of the parking brake.
Command for loading includes rugged onboard components that are sealed to keep out dust and moisture. Exterior components are housed in steel enclosures to protect from damage. The roof-mounted electronics enclosure houses the antenna, indicator lights and wireless receiver. Different colors of LED lights clearly indicate machine status for everyone in the area.
The remote console and on-board transceiver utilize spread spectrum technology to virtually eliminate interference from other wireless devices utilizing the 900-MHz or 2.4-GHz frequency bands. Proprietary algorithms secure the communications between the onboard wireless receiver and the console, preventing communications from unauthorized devices.
Request More Information
Fill out the form below to request more information about
Cat Command for Loading Enables Remote Control of 988K Loader