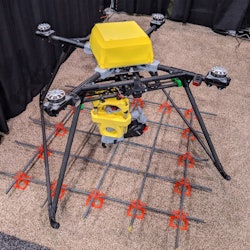 SkyTy is a swarm of drones that automate rebar tying for concrete flatwork and other slabs. SkyTy solution consists of a control station and a swarm of drones. The swarm size can be varied with the size of the jobs and the schedule for completion.
The technician manning the system identifies the rebar installation area that needs tying. A divided section of the work area is assigned to each drone. After the technician selects the percentage of ties (50%, 75%,100%) and the pattern for tying, multiple drones from the SkyTy swarm are deployed.
The drones fly over the rebar and identify rebar intersections without using CAD files or programming utilizing computer vision technology. They identify the untied intersection, land, tie and takeoff towards the next intersection. Each drone operates independently of others and is easily replaceable. Each drone comes back to the landing station for spool and battery replacement. 
After the completion of tying, SkyTy control station provides a report of the successful ties for quality control and archival. SkyTy system enables a trained technician to perform the tying job done by multiple rodbusters, freeing up the rodbusters to do other critical tasks for rebar installation.
Request More Information
Fill out the form below to request more information about
SkyTy Rebar-Tying Drones