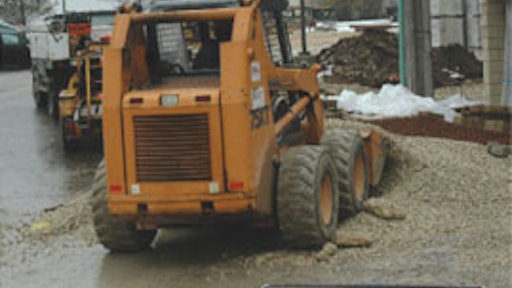 Certain terms in the American vernacular produce elaborate scenes in our minds, thanks mostly to television and movies. Take for instance the phrase "chop shop". You might envision a bright red convertible screeching down a street in a high-speed chase with the cops. A secret garage door opens up at the end of an alley and the criminal drives this desirable hot rod into a high-tech, underground chop shop where ready mechanics immediately strip the wheels, take off the doors and begin applying a new coat of paint to the recently acquired steal.
Now imagine a similar scene, only instead of a red convertible, the thief is driving a backhoe-loader. This might make for a ridiculous visual, but George Kreis, vice president of operations at J. Fletcher Creamer & Son, Inc., a heavy highway and utility contractor headquartered in Hackensack, NJ, knows the weight of this latter scenario. Although it may have never had a towable air compressor involved in a high-speed chase, like many other contractors, Fletcher Creamer has been a victim of construction equipment theft.
"We've lost several pieces of equipment right here in the New York metropolitan area and never saw them again," Kreis says.
According to the National Insurance Crime Bureau, equipment theft costs construction companies up to $1 billion per year in lost assets. Past studies have shown that less than 10% of stolen construction equipment is ever recovered.
Obstacles to theft prevention
Preventing equipment theft can be problematic. For instance, many types of equipment have universal keys; it can be difficult to secure large pieces of equipment beyond parking them in a fenced area with a lock; and you may be required to leave equipment on a jobsite overnight or over a weekend because it's impractical to tow it to and from your equipment yard.
Kreis points out that recovering a piece of equipment after a heist can also be problematic. "There is not a standardized identification system such as they have on automobiles - the VIN number," he explains. This makes tracking equipment more difficult. "It creates a lot of havoc in the police departments. If you don't put the numbers down correctly, it may never come up on a computer as stolen even though it's reported as stolen."
In addition, many of the police officers investigating crimes of stolen construction equipment are often unfamiliar with the different equipment types and don't know where to look for serial numbers. Kreis says his company encountered a situation where the police department recovered a piece of Fletcher Creamer's equipment that had been stolen, but had it in their possession for a year before they were able to return it due to a lack of adequate identification.
"There's not one standardized way of identifying a piece of equipment, so chances are very slim that you ever find stuff that is recovered," he says.
Taking control of theft recovery
Fletcher Creamer operates in six states across the United States, including Georgia and California - two states with high rates of equipment theft. (States where population growth has fueled building projects and where warm weather allows for a longer construction season are most likely to get hit with equipment theft.) The company manages about 1,000 pieces of construction equipment across its operations.
Stolen equipment had been an expensive issue for the company. With the obstacles in mind, and facing the reality of high insurance premiums, rental costs associated with replacing stolen equipment and lost profits on a job that may be delayed because of equipment theft, Fletcher Creamer decided to take theft recovery into its own hands.
Three years ago, Fletcher Creamer installed LoJack systems on about 300 pieces of equipment, including loader-backhoes, utility trucks, even the smallest track loaders - anything equipped with wheels or tracks and considered a "vehicle". Since it started using LoJack, the company has had positive results.
"We've had six pieces stolen and six recoveries, so we're batting 1.000," Kreis states.
The LoJack system is a stolen vehicle/equipment recovery system integrated into law enforcement agencies in 22 states and the District of Columbia. When a company purchases a system, a LoJack technician installs a small transponder that uses power from the machine's electrical system, plus has a battery backup. Once a piece of equipment is reported stolen, the transponder's radio frequency can be picked up by LoJack Police Tracking Computers.
LoJack reports that, in 2003, 92% of companies' stolen vehicle recoveries were made within 24 hours of the theft report; 39% were recovered in less than 1 hour.
The use of LoJack has even helped some contractors who don't utilize the system. "We had a piece recovered outside of Oakland, CA, within 2 hours of it being reported stolen," Kreis says. "It was in a chop shop, and when the police arrived, they recovered several other pieces of equipment belonging to other contractors and made three arrests."
Kreis adds that police in South Jersey who were locating another piece of Fletcher Creamer's equipment stumbled onto a similar operation and caught two people already painting the stolen Case 580 backhoe.
Other pieces of Fletcher Creamer equipment recovered with LoJack include a couple of trucks, a 58-cfm compressor and a tractor and trailer pulling a $100,000 backhoe-loader.
"The six pieces that were returned have basically paid for the entire program," Kreis says. He adds that his company has also entered into a program with its insurance carrier in which it gets a discount on rates because it uses the LoJack system.
Facts About Equipment Theft
The top five types of equipment most frequently stolen are, in order: loaders, skid steers, towable generators, air compressors and welders. These represent 81% of all construction equipment recoveries documented by LoJack in 2003.
The top 10 states that experienced equipment theft were:

1. Texas,

2. North Carolina,

3. California,

4. Florida,

5. Pennsylvania,

6. Georgia,

7. Illinois,

8. Missouri,

9. South Carolina,

10. Indiana.*
More than 80% of the equipment stolen and recovered by LoJack was five years old or less.
92% of LoJack-equipped construction equipment stolen in 2003 was recovered in less than 24 hours; 39% was recovered in less than 1 hour.
15% of LoJack recoveries lead to the recovery of other pieces of stolen equipment - in 2003, nearly $3 million dollars worth.
Information based on LoJack Co. research from calendar year 2003.
* Based on the National Equipment Register 2004 Equipment Theft Report.