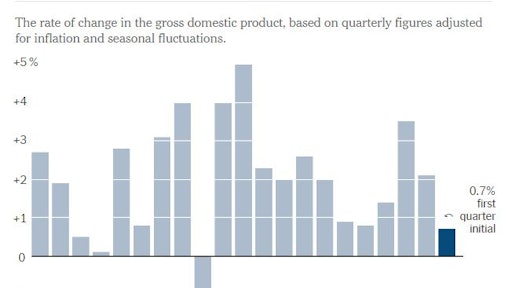 New York Times graph of US Commerce Dept figures
%The U.S. economy grew at its weakest pace in three years in the first quarter as consumer spending barely increased and businesses invested less on inventories, in a potential setback to President Donald Trump's promise to boost growth.
Gross domestic product increased at a 0.7% annual rate also as the government cut back on defense spending, the Commerce Department said on Friday. That was the weakest performance since the first quarter of 2014.
The economy grew at a 2.1% pace in the fourth quarter. Economists polled by Reuters had forecast GDP rising at a 1.2% pace last quarter. The survey was, however, conducted before Thursday's advance data on the March goods trade deficit and inventories, which saw many economists lowering their first-quarter growth estimates.
The pedestrian first-quarter growth pace is, however, not a true picture of the economy's health. The labor market is near full employment and consumer confidence is near multi-year highs, suggesting that the mostly weather-induced sharp slowdown in consumer spending is probably temporary.
A measure of private domestic demand increased at a 2.2% rate last quarter. First-quarter GDP tends to underperform because of difficulties with the calculation of data that the government has acknowledged and is working to rectify.
More from CNBC on the state of the economy.
Wells Fargo: Q1 Explained, Why Q2 will Rebound
Hampered by perennial residential seasonality issues and one-off items, the first quarter of each year in this expansion cycle has more times than not resulted in a lower-than-trend GDP growth performance.
Weakness in Q1 of 2017 centered on much slower consumer spending. After registering a strong 3.5% gain in Q4, real consumer spending advanced just 0.3% in Q1, the weakest annualized pace of growth since Q4 of 2009. This quarter's one-off factor turned out to be milder-than-usual winter weather in January and February. As a result, consumers did not spend as much on utility services, reflected in the 0.4% rise in Q1 services spending – which averaged 2.7% growth over the past three quarters. Moreover, consumers did not spend the services savings, as goods spending was essentially unchanged on the quarter. Instead, The saving rate rose from 5.2% in December to 5.6% as of February.
Another headwind to overall GDP growth was inventories, which gave back all of its Q4 contribution, slicing a full percentage point off the top line.
On the positive front:
business fixed investment rose 9.4%
the business-equipment-investment segment of business fixed investment increased at a 9.1% annual pace
structures investment surged 22.1%
residential construction increased at its strongest quarterly pace since Q4 2015 at 13.7%
"Since 2000, Q1 U.S. GDP has averaged 1.0% followed by an average growth print of 2.6% in Q2," according to the Wells Fargo Economics Group's analysis of current GDP figures. "Business/consumer sentiment continues to suggest the weakness in Q1 [2017] was not the start of a new trend. On early signs of strengthening consumer spending, resilient BFI and residential construction activity, and incorporating a modest drag from trade, conditions continue to suggest U.S. GDP will rebound solidly in Q2 – our current call stands at 2.9%"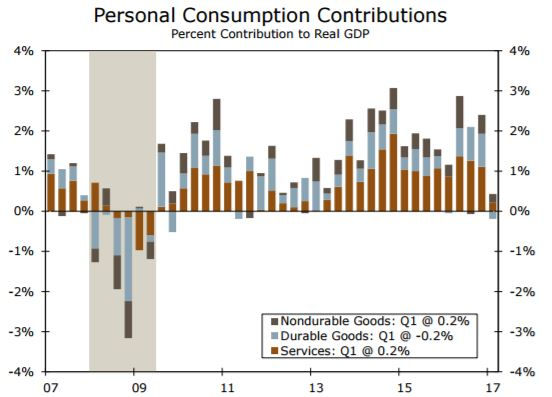 Mild weather in January and February reduced spending on utility services, which held consumer spending on all services to just a 0.4% rise in Q1 (a category that averaged 2.7% growth over the past three quarters).Wells Fargo Economics Group