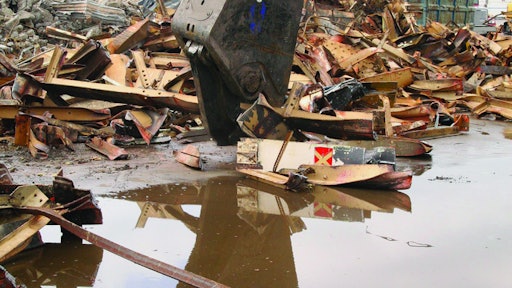 In its heyday, the Ford Lorain Assembly Plant, located on the shores of Lake Erie, employed more than 7,000 workers and produced nearly a million Ford Falcons, almost two decades of Thunderbirds and approximately 7.5 million Ford Econoline trucks and vans. After a steady downturn in U.S. auto sales, however, Ford closed the plant in 2005.
Efforts are underway to revitalize the 4-million sq. ft. plant by dividing it into separate, smaller, renovated parcels for new businesses. Its industrial park currently houses a beer and wine distributor, indoor storage facility, wholesale goods distributor and other businesses.
However, more than a third of the total plant space is in such disrepair, it's been deemed beyond renovation and slated for demolition. Sitetech, Inc., based in Grafton, OH, was brought in to head up the demolition process.
"Since we started our business in 2007, our project load has been fairly evenly split between demo and highway/heavy, so we've seen our share of decent demo projects," says Jason Friscone, Sitetech's co-owner and project superintendent. "But at 1.5 million sq. ft., this is by far the largest we have ever undertaken, and by anyone's standards, the size alone would be pretty challenging. However, when this plant was constructed in the late '50s, overbuilding seemed to be the order of the day, so we have encountered some really huge steel at almost every turn."
Processing Scrap for Profit
Fortunately, Sitetech made prior arrangements with Gibson Machinery's Dayton, OH office, to ensure it had the tools it needs to get the job done. These tools include a Genesis GXP 400 mobile shear purchased specifically for this job, several grapples for material handling and loading and a Genesis LXP 300 Logix Processor that SiteTech had previously acquired through Gibson. Due to the size of the project, an additional shear/excavator package was rented to increase production even further.
The GXP 400 is mounted on a John Deere 450C LC. "We have come across everything from lighter structural beams, piping and conduit to columns of riveted, 2-in.-thick plate, and the GXP 400 has been processing it all," says Friscone. "In fact, because of that versatility, it has been spending a good deal of its time on this project downsizing material to prepared lengths for shipment to the mill."
A steady stream of 20 to 30 rolloff containers are being sent out of the site each day. "We are shipping about 1.2 million lbs. per week, and by the time we wrap up, we will have recycled about 12,000 tons of steel for the owner," says Friscone.
Friscone says equipment dependability really becomes key when mill shipments hang in the balance. "Timing is everything on jobs like these in which we are trying to capitalize on the best scrap prices to maximize profitability for the owner," he explains. "Not being able to jump on a nice price because a shear is down could be very costly; we don't run that risk."
Versatility Comes in Handy
In addition to the steel, Sitetech is also stockpiling the more than 7,000 cu. yds. of concrete, brick and block from the project. The company expects the LXP 300 attachment with interchangeable jaws to play a major role in that part of the job.
"We've been using the LXP with all three jaw sets — shear, concrete cracking and pulverizing — for about a year and a half now," Friscone notes. "We really saw the value it can bring to the table on a demo project we did last year in Akron. We used all three jaws, were impressed with its power and found the jaw changeovers to be as fast as promised. It really played a huge role in keeping us on track there."
At Lorain, the LXP has already been used alongside the GXP 400 processing scrap. However, later in the project, it will be fit with the pulverizer jaw and begin downsizing concrete for full-scale crushing and backfilling of voids onsite.
Steady Progress
Despite the enormity of the structure, Sitetech is maintaining an average production rate of about 20,000 sq. ft. per day. Friscone says they have had days in which they've almost doubled that rate, but some areas of the plant are more difficult than others.
"We can be moving along at a clip better than 30,000 sq. ft. a day, then move to a multi-story area with paint booths and three to four times the amount of steel, and that rate goes down," he points out. "But 20,000 sq. ft. a day is still... the equivalent of taking down a decent-sized building each day."
Friscone adds that because the Lorain plant is such a huge job, they were a bit intimidated when they first went out to the site. But they were confident that having the right tools for the job, and a great support network behind them, would make the difference.
"That's one of the reasons we tried to stay away from the smaller, less proven manufacturers. We wanted that level of confidence," he says. "Is Genesis the lowest-priced attachment out there? No, it's not. But, on the largest job we've ever undertaken — a job with massive steel sizes and huge volumes — we will be out of here on time, if not before, and a lot of that is due to the equipment we use. So in the bigger scheme of things, I'm feeling like we're way ahead of the curve."