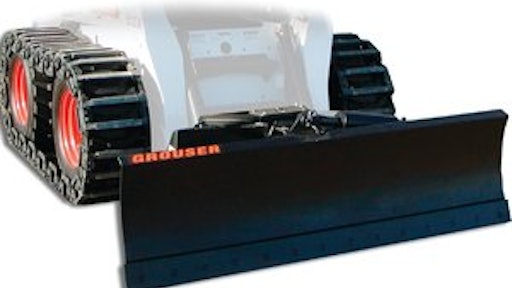 1300 Dozer Blade
The 1300 six-way dozer blade is ideally suited to spread loose fill material, level sand and gravel, backfill around foundations, backfill trenches, create run off trenches, remove rocks, build septic tank mounds and back drag.
Designed for skid steers that weight 1,500 lbs. or more
Available in 6-, 7- and 8-ft. widths
Grouser Products, Inc.
190M Cut-R-Tach
The 190M Cut-R-Tach rotary asphalt cutting attachment installs quickly on most standard motor grader moldboards and dozer blades.
Quick field installation
19-in.-diameter cutting blade
5 1/2-in. maximum asphalt cutting depth
Designed for a wide range of asphalt cutting projects
General Equipment
210-3 EQ MT Drill
The 210-3 EQ MT pneumatic drill attaches to most backhoes and excavators.
Can drill a 5/8- or 2 2/1-in. diameter hole up to 18 in. deep
Standard side shift drills a second set of holes without repositioning the carrier
Safety swivel lock
Totally pneumatic operation
E-Z Drill, Inc.
AZ-550 Reclamation Attachment
The AZ-550 full-depth reclamation attachment features a 203-hp Cummins Tier III turbo diesel engine generating 695 ft.-lbs. of torque.
Oil-cooled planetary gearbox for improved production on heavier projects
Up to 12-in.-thick cutting depths
Asphalt Zipper
Ground Hog 2500 Scraper
The Ground Hog 2500 scraper attachment mounts to the universal quick attach of 70-hp and larger compact track loaders, or skid steers with steel tracks.
Suitable for finish grading, backfilling curbs and retaining walls, spreading topsoil, fine grading building pads and more
2.5-cu.-yd. heaped capacity
Front oscillating beam allows 38° of rotation for uniform cuts even on uneven ground
Oscillating front beam and large caster shoulder the larger portion of the weight, minimizing stress on loader arms
Ashland Industries Inc.
Pull-type Vibrating Compactor
This 18-ton pull-type vibrating compactor is available in padfoot or smooth drum models.
Vibration frequency varies with the amount of oil sent from the tractor
58.4 tons of compacting force (vibrating force plus machine weight)
Amplitude of .071 in.
Padfoot drum measures 79 in. wide by 72 in. high
2- to 5-mph working speed
Miskin Scraper Works, Inc.
RoadHog Milling Attachments
The RoadHog self-contained milling attachments are powered by John Deere PowerTech turbocharged, four-cylinder Tier III-compliant diesel engines.
Suited for milling asphalt or concrete, cutting utility trenches and recycling or stabilization of base and soil
75-hp model intended for backhoes over 13,000 lbs. and comes in 30- or 40-in. cutting widths with a 8-in. cutting depth
140- and 200-hp unites for wheel loaders have a cutting depth of 12 in. with cutting widths of 40, 48 and 60 in.
Wireless remote controller activates engine functions, plus hydraulic depth and sideshift control of the drum
Cutting drum can sideshift hydraulically for cutting shoulders or against curbs
Zanetis Power Attachments
Rotary Wheel Asphalt Cutter
The Severe Service rotary wheel asphalt cutter features T-1 steel, which doubles the strength over the standard cutter.
Heavy-duty, high-speed bearing system suited for long, continuous cuts
Chromium cutting wheel offers 300% increased life
Attachments International
SitePro SSGB-8 Grader Blade
The SitePro SSGB-8 grader blade is designed for asphalt, landscaping and concrete flatwork contractors.
8 six-way hydraulically controlled moldboard with 25° rotation/tilt
In-cab remote
Shear pin protection
Reversible cutting edge
Optional laser system controls
Worksaver Inc.
Skid steer compaction wheels
These compaction wheels turn your skid steer into a self-propelled compactor.
Rim diameters of 26 to 52 in.
Widths of 4 to 72 in.
Can be attached to Bobcat blanks or other quick-coupler designs for quicker exchanges between attachments
Sealed roller bearings for increased life and trouble-free maintenance
Action Equipment Systems Inc.
Universal AP Backhoe Planers
The AP backhoe planers have a patented open drum to avoid remilling.
Direct-drive high-torque motor
Four-wheel front down and center pivot minimizes bouncing, noise and dust
Manual depth control
12-, 16-, 18- and 24-in. widths
Coneqtec
Companies in this article