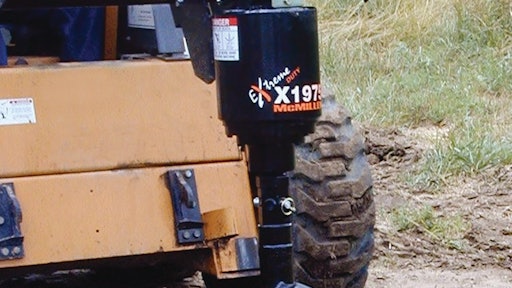 Many times skid-steer mounted auger attachments don't perform as expected, and the attachment is blamed. In reality, the problem may be a mismatch between the carrier and the auger attachment or it is simply not set up properly for the task.
"It's about balance involving machine weight, power, system pressure/flow rates, auger diameter, digging depth and soil classification," explains Dennis Von Ruden, president, General Equipment Company. "For something as primitive as digging a hole, it's not always simple."
First, size your auger for the flow and pressure your skid steer can produce. "Because drive strength depends on the hydraulic flow and pressure produced by the skid steer, choosing an auger that is too big for your machine will put unnecessary stress on the skid steer and keep it from running efficiently," says Dave Aldrich, light construction dealer development and service manager for Paladin Construction Group, which includes McMillen auger attachments..
Auger diameter is directly influenced by the available hydraulic horsepower. "Make sure to pick an auger drive to match the flow and pressure of the skid steer (standard or high flow) and that will handle the diameter of the auger that you would like to use," says Glenn Danuser, Danuser Machine Company.
Ron Peters, CEAttachments, points out that most skid steers offer very comparable pressure ratings, the critical differences are in the flow ratings. "When you choose an auger, you need to know some specs on your machine. "If your skid steer puts out 20 gpm, you want to make sure you size your auger correctly." If you know the make and model of your skid steer, it is easy to look up the specs.
The skid steer hydraulic system dictates the auger drive size and bit size you need to run efficiently. "When customers come through the door, we ask what kind of hydraulic system their skid steer is running and then recommend the best auger based on this information and their digging conditions," says Aldrich.
 The digging torque produced by any earth auger attachment is a direct function of the hydraulic system pressure relief setting. "Torque is not directly dependent upon the attachment itself," says Von Ruden. "The hydraulic pump of the skid loader produces pressure which ultimately produces the digging torque. Auger rpm is a direct function of hydraulic system flow rate. Generally speaking, the higher the flow rate, the faster the auger will rotate."
Von Ruden adds, "Operators will blame the earth auger attachment for not having sufficient torque or rotation speed when the problem really lies with the skid loader or backhoe not being properly matched. Any earth auger attachment will only function with what it is given to work with in terms of pressures and flow rates."
Generally, smaller augers run at a higher speed. "As you drive to higher torque, the speed usually drops," notes Peters.  You don't want a 36-in. or 48-in. diameter auger spinning as fast as a 12-in. diameter auger. "You need more torque because you are covering a larger area."
He adds, "For our smaller drive units, at 20 gpm they are turning 93 rpm. If you go to a larger one at 30 gpm, it is turning 66 rpm." Then there are high-flow units. "That is going to have a lot more torque. It can handle more flow. The speed on that unit can change drastically depending upon the flow that you are putting into it."
To effectively choose between torque and speed, you must understand the digging conditions. "When working with good digging conditions, such as sand, clay and loam soils, choose an auger for its speed to increase productivity," says Aldrich. "Choose an auger with a higher volume of torque to break up harder materials such as compacted soil, asphalt, concrete and frozen surfaces."
The tougher the conditions, the larger the hole, and the deeper the hole the more you will prefer torque over speed. "Nine out of ten people we speak with choose torque over speed," says Danuser.  Speed would be the best choice if you are digging in plain dirt or sand to allow the auger to throw the material off the auger."
For any given soil classification, there is an ideal speed range for the digging teeth that maximizes productivity rates while minimizing component wear. "This can make the process very complicated, so manufacturers design their attachments to produce auger speeds within a specific range," says Von Ruden. "Normally, that range will vary between 60 to 150 rpm, depending upon the auxiliary flow rate. This range is a compromise that will generally produce very acceptable productivity rates balanced against wear component service life."
He adds, "If digging a 24-in. diameter hole, the goal would be to limit auger speed in the 60 rpm range. On the other hand, if the application only requires an 8-in. diameter auger, then the goal would be something in the 120 rpm range. Rotate an auger too fast and the teeth actually scrape instead of dig into the soil, resulting in premature wear. Turn an auger too slow and it functions more like an anchoring device, producing unsatisfactory digging rates."
The weight or physical or physical size of the loader is also an important factor. "Digging a hole 6 ft. deep with a 24-in. diameter auger may result in a configuration that exceeds the tip-up capacity of the unit," says Von Ruden. "Sure, it may have a 50-hp engine, but the geometry will not allow the operator to raise the auger and extension from the hole, especially if completely loaded with dirt, factors that most operators never consider until the problem surfaces."
Planetary vs. chain reduction drive
 Two basic types of auger drives are available – chain reduction drives and planetary drives. "A planetary drive will usually offer more longevity than a chain drive," says Danuser. "A chain drive will typically have a lower cost than a planetary drive."
"Both roller chain and gears are very efficient forms of transmitting horsepower and torque when operated within certain design parameters," says Von Ruden. "The first earth auger attachments were chain driven because they provided a cost-efficient and reliable transmission source. For many years, skid loader auxiliary systems kept the flow rates less than 20 gpm which made using a low-speed, high torque geroler-type, hydraulic motor feasible."
The introduction of new attachments, including surface planers, required higher flow rates that exceeded the operator parameters of geroler-type motors and forced the switch to higher-speed, gear-type hydraulic motors that could accept higher flows. "From an engineering perspective, the only practical way to utilize a gear motor was to connect it to a planetary transmission," says Von Ruden. "That lead to the introduction of the planetary type earth auger attachment."
A chain reduction offers lower manufacturing costs, easy maintenance and relatively high digging torque values. "The downside is the design is limited by auxiliary flow rates and system pressure settings," says Von Ruden.
He adds, "Plantetary reductions accommodate practically any flow and pressure parameter. They are generally more compact and more expensive to purchase. The complexity of multiple internal gear reductions usually increases costs when service is eventually required. The basic design of the planetary transmission can also significantly increase driveshaft bearing loads versus the more simple chain. Planetary transmissions are prone to higher bearing and driveshaft failure rates."
But there are also many advantages. "A planetary gear reduction auger drive is completely sealed with all moving components running in oil for total lubrication on a constant basis," says Aldrich. "This protects the drive elements from excessive wear and tear and requires much less maintenance than chain reduction auger drives."
Aldrich adds, "Chain reduction auger drives are open and therefore more susceptible to wear and tear from outside elements like rock, dirt and sand. Because it is constantly exposed, the chain reduction auger drive requires regular maintenance to keep it clean."
You need to weigh the pros and cons. "The planetary drive is generally a lot less maintenance. If something breaks, it will be more costly to fix," says Peters. "Chain reduction may be a little easier to work on. A lot of people can repair them themselves."
Bit selection
Ground conditions play an important role in auger bit selection. "If you are working with softer ground conditions like sand, clay and loam soils, a less expensive auger bit with a fabricated head will work better," says Aldrich. "A fabricated head uses bit teeth that are all placed in a straight line, so you can quickly dig through softer conditions."
Aldrich adds, "If you are dealing with harder ground conditions, like compacted soil, a more heavy-duty cast head auger with an aggressive offset tooth pattern will be more effective." This includes solid, fracturable rock and frozen ground.
For highly abrasive or consolidated type soil formations, augers are available featuring Tungsten Carbide, conical type tooling. "Normally referred to as bullet teeth, the same tooth design is used to mill concrete and asphalt from roads," says Von Ruden. "Conical tooling allows the same digging forces to be concentrated over a smaller surface area to ease penetration. In soft soil classifications, their overall digging performance can actually be less than a conventional boring head. However, with sufficient down force and rotation speed, these augers can achieve results in soil types never thought possible."
"The perception is Tungsten Carbide is the perfect solution for every difficult soil classification," says Von Ruden. "The truth is Tungsten Carbide teeth can actually increase the power (torque) required to dig a hole over standard teeth. That's because Tungsten Carbide teeth are usually more blunt in design to prevent chipping or breakage from impacting against rocks."
"Tungsten Carbide better resists wear that standard teeth and properly used will normally allow for a significantly longer service life, especially in semi-consolideated soils like caliche, hardpan and other sedimentary materials," says Von Ruden. "It's critically important for the operator to have a good understanding of local soil types and the general condition of auger wear components to maximize his ROI."
Companies in this article