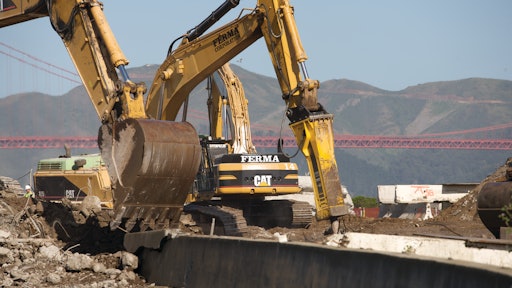 San Francisco's Doyle Drive had been around as long as the Golden Gate Bridge itself, opening to traffic in 1937. The 75-year-old elevated highway was outdated by today's construction standards and was an earthquake concern. It is being replaced by the Presidio Parkway project.
The transition from what is also known as Route 101 to the temporary bypass took place in just a single weekend. Demolition was orchestrated by Ferma Corporation, an engineering and demolition services company working the job for R&L Brosamer Inc., general contractor for the renovation.
The contract's stipulations for this part of demolition meant Ferma's crews would have only 24 hours to demolish and remove three critical sections of Doyle Drive that interfered with the Presidio bypass. Even for Ferma, which owns and operates over 1,000 pieces of its own equipment, this project's logistical requirements and time constraints were considerable. It meant freeing up or locating a large number of machines and tools and having them eady to set to work immediately, with no room for equipment failure or downtime.
Hurry Up and Wait
For its additional equipment needs, Ferma worked with a number of rental agencies, including RGW Equipment Sales LLC, the authorized Atlas Copco distributor in that territory. RGW Equipment Sales is a division of RGW Construction Inc.; it takes care of the construction company's own equipment needs and those of other construction customers.
RGW submitted its bid in June and was already beginning to bring in equipment by July. The equipment included five heavy-duty breakers: an HB3000, HB3600, HB4700, HB7000 and the giant HB10000. RGW also reserved a CC 6000 Combi cutter, Atlas Copco's largest model.
The project was originally slated to start in early fall of 2011. "We were given a September start date that slid into October," notes Marc Ferrari, Ferma's president. "By November 15, we knew we would hold off because of the holidays until at least the end of the first quarter. Then it was to be March."
The uncertain start date made the logistics of securing needed equipment a challenge. Nevertheless, when Ferma got the green light about six weeks before the final start date, RGW got the equipment there on time, and was on hand 24/7 to make sure hoses and brackets fit and flows and pressures were set precisely.
Safe and Successful
Not only did Ferma clear out the three conflict points on the project, it decided to make a 35-hour push and take down the entire superstructure consisting of 65,000 tons of concrete. With on- and off-ramps, it measured nearly a full mile of roadway.
Ferrari says he finally felt some stress relief when he awoke Monday morning in time to hear the 5:30 a.m. news announce the bypass was opening 15 minutes early. There was not a single equipment failure on the breakers or cutter during the project. More importantly, the job was completed on time and without a single incident.
"We had perfect safety. Not a single cut," Ferrari states. "That's most important to us. This was done with seven crews and over 100 workers running at the same time all while starting and running at night. We had crews working from the ground and on top of the deck at the same time. We had to make sure we cleared certain areas before we started others to make sure we could get all four crews off the deck. Then, we had to keep all that material from above cleared in certain areas to restore access across the site. I'm very happy with what our crew was able to do."
Of the hundreds of machines used on site, only about a dozen pieces of equipment were still working two weeks later. The HB10000, HB7000 and HB3000 hammers were left to assist in reducing the remaining piles of concrete to Class 2 base rock. The rest of the rental equipment has been moved off to other jobs, and Ferma is now engaged on other projects.