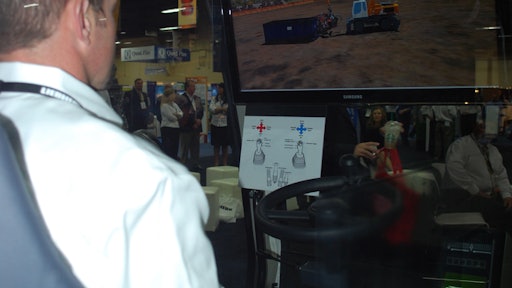 Liebherr Construction Equipment Co. introduced a Material Handler Training Simulator at the ISRI Tradeshow held at the Mandalay Bay Resort in Las Vegas. Liebherr Construction Equipment Co. in the U.S. and Liebherr Canada partnered with Simlog, a leading developer of simulation products, to develop an realistic training simulator to assist Liebherr Dealers and product owners in training their material handler operators.
The simulator depicts the operation of a Liebherr wheeled material handler in a realistic environment performing scrap handling activities. The simulator will provide different
operating scenarios and will measure the performance of the trainee during their training session.
The simulator will be available in a basic and advanced version. The basic version will utilize a tabletop steering wheel, foot pedals and Liebherr type joysticks. The advanced
version incorporates an operator seat, an industrial steering wheel and foot pedals, and Liebherr type joysticks. Both versions of the simulator can use a mid-range laptop or
desktop computer.
Companies in this article