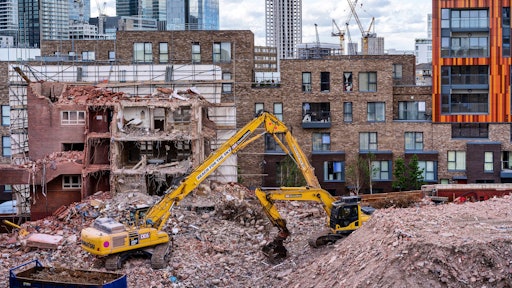 Unsplash
Construction companies are always looking for new business opportunities and ways to increase profit margins. One avenue for growth is the demolition sector. According to industry figures, the demolition and wrecking industry has had a steady growth of 2.2% every year since 2014, with an expected annual revenue of $6.7 billion by the end of 2019.

In addition, the Environment Protection Agency is promoting a Sustainable Materials Management approach to construction, which means companies need to recycle more building materials — creating a whole new method of demolition in order to divert from disposing of resources.
This means the types of equipment being used for demolition are changing, with a big surge in the use of machine mounted attachments, making it easier for companies to take on demolition work.

Used in the correct way, attachments have proven to reduce cost and time spent on site, increase productivity and recycling, and dramatically change the face of the demolition industry in terms of methodology and equipment usage.
However, knowing the right attachment and the correct size and capacity of the machine to which it will be joined is of vital importance. You may need to choose between fixed or rotating or manual or hydraulic, or you may need interchangeable jaws depending on whether you are shearing, crushing, picking, ripping, breaking, or pulling down structures. 

Below is a quick guide to machine mounted attachments and their uses.
Quick Hitch Coupler
A quick hitch is a device designed to facilitate the efficient connection and disconnection of an attachment, such as a bucket, shear, grapple, grab, etc. The device is usually fitted directly to the dipper arm of the machine, which in turn connects onto dedicated pins on the attachment or to a head bracket. There are two main categories of quick hitches:

Dedicated quick hitches, which are specific to that machine or type of attachment used. They have two advantages: the original bucket geometry of the machine is generally maintained, and the engagement lugs are standard to all attachments.

Pin system quick hitches, which have the advantage of allowing a wide range of attachments to be used on the standard pivot pins of a particular attachment, although they may cause a restriction in radius movement and a lower breakout force, due to their hitch thickness.
All quick hitches need to engage with the pins or lugs of an attachment to retain engagement with the latching mechanism, which will be secured against accidental or inadvertent disconnection.
Steel cutting shears
Primarily used for cutting, sizing, and removing steel frame structures and supports associated with the skeleton of a building, shears are an appropriate choice when a contractor takes advantage of material recycling opportunities by preparing the steel removed for a scrap yard or mill.

An operator can use the shears to cut the steel into 20-foot sections; the lengths can then be easily loaded onto a truck or rail car for delivery to a scrap yard for processing. Alternatively, the contractor can cut the steel into specified lengths as dictated by the scrap processor and increase their monetary value. Other shears are also designed to cut through concrete structures that include flat slab or reinforced beams. This method is highly effective for high and or awkward shaped structures, particularly if the structure has been weakened when bracing is removed.  
Discover more: Concrete Crushers and Shears
Pulverizers
Like shears, pulverizers can be used for both demolition and recycling projects that involve crushing concrete and separating out rebar, mesh, or cable. The pulverizer can reduce large pieces of concrete to smaller, more manageable pieces that can be easily transported off site or used as fill material where foundations have been removed or voids have been uncovered.

To aid separation for recycling, most pulverizers are fitted with cutting blades, positioned at the back of the jaw, for rebar and smaller steel sections. Pulverizers can be operated fully by hydraulic pressure to open and close the jaws, as well as enable 360º rotation in both directions. They can also be used to function so that the only moving part is the front jaw, which is connected to the 'bucket' cylinder. The rear or right-hand jaw is connected via the brace bar to the underside of the dipper arm. Although this type of pulverizer is less versatile in its movements, it is popular with smaller contractors, as it is less costly, has fewer moving parts, and requires less hydraulic circuitry.

Universal processor
This attachment provides the combined functionality of both shears and pulverizers, as the interchangeable jaws can cut steel and crush concrete. However, interchangeability of jaws should not be mistaken for the ability to shear heavy duty steel sections; this is something that can only be accomplished with a dedicated steel cutting jaw. There is a wide variety of designs regarding universal shears. The 'mini demolition machine' market, for example, offers machines available for less than a ton and up to seven-ton gross weight, whereas universal shears are very popular for use in confined workspaces.

Selector grab
This attachment has no doubt enhanced demolition techniques and improved the processing of materials. Fitted directly onto the 'dipper' arm, the jaws work simultaneously off a separate hydraulic circuit operated by the switch or foot pedal in the cab. The grab has a 360º rotation capability, and the whole attachment can be bent upwards or downwards. An operator can be very precise in the removal of individual elements from a building or structure and thus improve the capability for recycling and reclamation, while also reducing the need for manual handling. The loading of scrap or waste products is quick and safe, due to the flexibility and strength of the jaws.

Grapple
This attachment is popular with demolition contractors because of its robustness and versatility in undertaking the full range of demolition activities on all types and weights of machine. Grapples can be fitted directly to the dipper arm or via a quick hitch coupler (see below). When using a quick hitch coupler, consideration should be given to the type of hitch construction, its suitability, and its ability to withstand the inevitable increase in stress exerted on all moving/locking parts when carrying out pulling/ripping down demolition activities.
Discover more: Grapples

A Breaker
A breaker is a powerful percussion hammer fitted to equipment for demolishing concrete structures. Its greatest contribution is to deal with heavy slabs or concrete encased steel columns, although usage has dwindled over the years with the advent of bigger and better shear or pulverizer attachments that are quieter and produce less vibration. The breaker is usually fitted with a hardened 'point' or 'chisel' which is driven into the material to break it, by an internal piston arrangement powered by nitrogen gas for additional piston stroke pressure.

Magnet
The magnet has enjoyed a comeback on demolition sites with the advent of the hydraulically operated generation unit, as opposed to the externally mounted older gas, diesel, or belt-driven units. The magnet can be hung by traditional chains, directly off the dipper arm or as in most cases from the quick hitch.  The magnet is an extremely useful addition to most demolition sites in providing easy and clean separation of ferrous metals such as wood and concrete, as well as clearing the ground of sharp metallic elements that can cause punctures and tire damage. It is available in a variety of sizes designed to fit most machine weights. It is a robust unit but should never be used as a substitute for a demolition ball.
The ripper
The ripper is designed for tearing, breaking apart, and demolishing stone, concrete, asphalt, etc. It can perform both horizontal and vertical demolition and be utilized for moving away the demolition material to clear an area. Modern day rippers are fitted with a hydraulic motor, eccentric gear housing, pivot arms, and an accumulator to increase breakout force. Operation of this kind of unit is via the hydraulic hammer circuit of the machine from either a foot pedal or hand level control.

Crusher bucket
Crusher buckets are a relatively new concept and are particularly useful in small to medium demolition applications, providing an on-site recycling resource and boosting the versatility and utilization of the demolition rig. Demolition aggregate containing reinforcing steel can be crushed to allow the steel to be removed and recycled. They can reduce material to a hardcore size from just three quarters of an inch to four and a half inches, also offering a cost-effective alternative to an on-site mobile crushing plant.
Powered by the excavator's standard hydraulic breaker circuit, the crusher buckets use a fixed jaw in the base, with a hydraulically-activated hinged jaw in the roof of the bucket. The gap between the two jaws can be set with shims to determine the size of the finished material.

The crushing action is achieved by the hinged jaw being cycled in and out using an eccentric mounted on a shaft across the top of the bucket. This shaft is equipped with substantial flywheels at each end and rotated by a belt from the hydraulic motor.
The pressure sensitive reciprocating valve ensures a constant flow of material through the bucket. It is said that this is a simple, robust design coupled with low maintenance requirements to ensure long life.

Bucket
Bucket usage is still a major factor for most demolition contractors, particularly when loading crusher hoppers, stockpiling, and filling road transport with excavated or processed materials is required.
Smaller contractors may even prefer using buckets to carry out pull-down work where it is safe to do so.

There are a varying degree of applications in bucket usage that dictate the style and manufacture of the buckets, ranging from heavy duty to fine grading for formation work. It is not uncommon for a single machine to have several different sized and shaped buckets on hand for use. Together with a quick hitch coupler, changing from one to another is a relatively quick and easy process.
Discover more: Buckets

As you can see, there is a lot to learn about machine mounted attachments for demolition. With some preparation and the use of skilled operators, demolition services are a niche market that can be explored by any large construction company or smaller contractor wishing to expand business.

Jim Arabia is VP of Marketing at BigRentz, the nation's largest online construction rental equipment network serving construction companies, retailers and contactors across the U.S.