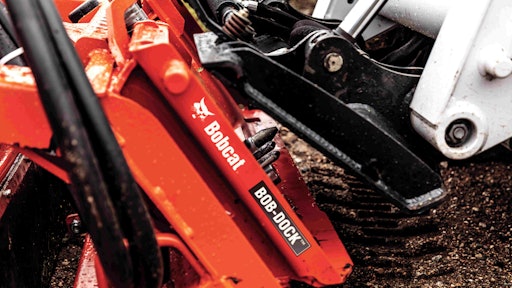 Bobcat
The latest evolution of quick-coupler technology promises the ability to connect hydraulically-powered attachments in seconds without setting a foot outside the cab. This capability now exists for skid steers, wheel loaders and excavators, increasing productivity while keeping the operator safely seated in the cab.
"New users of fully automatic couplers can see benefits fast and the payback time for the investment is relatively short," says Christian Yanes, president/country manager, Steelwrist. The benefits include:
less maintenance on the attachments — you are using the attachment in the way it is supposed to be used, and the right tool for the task
fewer machines on site
less transportation costs for machines and attachments
no oil spill when changing attachments (environmentally friendly)
less transportation damage on attachments (hoses)
no long, hanging hoses to get stuck in rebar (very low hose counts)
fewer work site accidents (less time outside machine's cab)
Simplified attachment changes ensure the correct tool is used for a particular job. "The OilQuick system makes any machine it is installed on more versatile and productive by allowing the operator to use the [correct] attachment right when it is needed," says Jason Johnson, OilQuickusa division manager. The bucket is not used as a hammer, a hammer is not used as a pry bar, a compactor is not used as a bucket, etc. "This results in less wear and unnecessary damage to each attachment and also the machine.
"When the operator can choose the correct attachment in seconds, it allows the company to use fewer machines on each job, making it possible for the company to bid more jobs," he adds.
Compact Solutions Improve Tool Carrier Performance
Skid-steer and compact track loaders are commonly used as multipurpose tool carriers. In these applications, you can earn a quick return on the latest quick-coupler technology.
Bobcat recently introduced the Bob-Dock attachment mounting system for its M2-Series T630, T650, T740 and T770 compact track loaders; S630, S650, S740 and S770 skid-steer loaders; and A770 all-wheel-steer loader. It allows you to switch between non-hydraulic and hydraulic-powered attachments at the touch of a button. All non-hydraulic attachments are compatible with the system, while most Bobcat hydraulic attachments can be adapted to work with the Bob-Dock.
Connections are made with a floating coupler block that provides movement and flexibility to retain strong, easy and repeatable connections, in addition to longer overall coupler life. "The Bob-Dock system has two main parts: an adapter plate mounted to the attachment and a patented floating coupler block housed within the Bob-Tach mounting system interface," says Jason Boerger, Bobcat Company marketing manager. "The adapter plate connects your hydraulic attachment and has a locked hydraulic connection integrated within. The adapter can stay with the attachment permanently or it can be removed and installed on another attachment. Large, durable alignment pins create a strong, direct and hands-free connection to the Bob-Dock adapter plate, allowing the operator to cleanly attach hydraulic attachments without leaving the cab."
There are other benefits, as well. "Fleet owners, equipment managers and operators who worry about machine downtime will love the Bob-Dock mounting system because it prevents many common operator errors, like failing to disconnect hydraulic hoses before backing away from an attachment, and the system routes and protects auxiliary hydraulic hoses from tire and track contact," says Boerger. "Because an attachment's auxiliary hydraulic hoses route through the system, they have an extra layer of protection from accidental contact with tires, tracks, debris or jobsite obstacles, reducing the frequency of hydraulic spills and hose replacements and repairs."
Troy Hilsgen, Hilsgen Services, Kimball, MN, has experience with the Bob-Dock system. "Being able to go from one attachment to another without having to get out of the machine each and every time makes me so much more efficient," he comments.
[VIDEO] Bob-Dock Attachment Mounting System Boosts Concrete Cutter's Efficiency
The routing of the hoses on the Bob-Dock system reduces exposure to outside damage. "A lot of times we're in tight corridors and the hoses are rubbing up against a wall," says Hilsgen. "There's miscellaneous jagged pieces of rebar sticking out on the rubble as we are grappling it up. It's not the cost of the hose; it's the cost of the downtime, the oil spill, the inconvenience."
Switching specific attachments is not only easier but safer. "The breaker tends to generate a lot of hydraulic heat," says Hilsgen. "You can't uncouple the hoses if you've been running it for any duration of time without putting your gloves on. The hoses are hot." The system also avoids problems such as too much hydraulic pressure to manually attach the hoses easily.
The Bob-Dock has so far proven trouble-free. "The alignment system is dead on," says Hilsgen. "It coupled every time and we would go to work. It's going to revolutionize the way people use attachments from this day forward. I think it's going to be a game changer."
If a loader has a Bob-Dock attachment mounting system installed, and the operator wants to use an attachment that lacks the adapter plate, it's no problem. While the mounting system's floating coupler block equips the loader with a hands-free connection point, the standard couplers located on the lift arm remain ready to use. You can utilize the full lineup of approved Bobcat attachments, with or without the Bob-Dock adapter plate attached.
Full-size Machines Experience Enhanced Productivity
Several manufacturers offer quick couplers with automatic hydraulic connections for other earthmovers.
Liebherr offers its LIKUFIX hydraulic quick-coupling system combined with an automatic hydraulic coupling system for wheel loaders and excavators. The system utilizes a spring-mounted coupling block, fully retracting hydraulic couplings and a solid steel plate. It allows both mechanical and hydraulic attachments/implements to be quickly and safely changed from inside the cab. The variants offer operating weights of between 8 and 120 tons.
In excavator applications, Liebherr claims productivity can be increased by an average of 30% based on practical customer experience. Hydro-mechanical bearing support of the tool coupling block ensures long service life of the hydraulic couplings. Practically all hydraulic add-on tools can be fitted with LIKUFIX, and hydraulic excavators from other manufacturers can be easily fitted with the quick-coupling system.
"All excavator attachments can be accommodated with the LIKUFIX attachment," says Marcus Barnes, product specialist, Liebherr USA. "We make a variety of adapter plates so that they can be used to mount a variety of different attachments. For example, we make a LIKUFIX adapter plate that can be used with a hydraulic hammer and also one that can be used with a clamshell.
"All of the Liebherr quick-coupler non-hydraulic backhoe buckets and ditch cleaning buckets come pre-drilled so that a factory adapter plate can be added easily for a customer who wishes to upgrade their machine to a LIKUFIX system," says Barnes. "The system is best for attachments that need a hydraulic connection in order to operate. It's made for contractors who want to use the machine to do digging work with a backhoe bucket, grading with a hydraulic grading bucket and maybe also some compaction on the same jobsite."
Liebherr offers a Tool Management option that enables automatic tool recognition by the hydraulic excavator. "Our LIKUFIX system has the ability to automatically recognize tools (hydraulic or electric) so that once they are attached, the machine will adjust the necessary parameters of the tools that were already set in our tool control system," Barnes explains.
Data stored on the chip in the working tool is read by the read/write head in the system's coupling block on the hydraulic excavator and transmitted to the operator's control console. The operator acknowledges data at the touch of a button, thus ensuring automatic adjustment of the fluid quantity and pressure. Aside from this technical data, fluid type and the hours worked with this tool are saved on the chip.
"Having LIKUFIX eliminates the need to have multiple machines on a jobsite and eliminates human error when coupling hydraulic hoses and setting machine tool controls," says Barnes.
Aftermarket Systems Provide Fleet Solutions
There are a few companies that specialize in quick couplers and other machine attachments that have been early innovators in automatic hydraulic coupling technology, and are able to serve the diverse needs of mixed machine fleets. Two of these companies are OilQuick and Steelwrist.
OilQuick offers an aftermarket quick-coupling system for excavators and wheel loaders that allows operators to quickly change over both mechanical and hydraulic attachments from inside the cab. The system uses leak-free oil quick couplings, which are eco-friendly.
"All attachments benefit from the OilQuick system use, even buckets," says Johnson. "The OilQuick system's extremely tight design allows it to dig in the harshest material without wear. We have installed the system on many specialty attachments, as well, that no other coupler can — for example, drill masts, sheet pile hammers, forestry mulchers and felling heads. The system is capable of running hydraulic, water, grease, high voltage, air, tiltrotators."
Connecting under pressure is not a concern. "The OilQuick system uses a proprietary relief system. Every time the coupler is activated, it relieves all of the pressure back to the tank," says Johnson. "This also results in a very long lifespan of each coupler, sometimes many, many years."
"Two years of having the OilQuick and I had to change the first seal," says Mike Groshke, GTex Construction, Houston, TX. "Thirty seconds and I was back to running. I wouldn't order another machine without OilQuick again."
Steelwrist started developing a proprietary full automatic coupler around 2014. Since then, it has used this success with safe, steel casted, symmetrical couplers to move forward to the next level of fully automatic SQ quick-couplers.
Genesis to Offer Steelwrist Hands-Free Quick Coupler on Demo Tools
With Steelwrist SQ technology, you will be able to change between tiltrotator, hydraulic breaker, crusher,  shear, pulverizer, grapple, screening bucket, compactor and any mechanical work tool in only seconds — all without ever leaving the cab. "Basically, all type of hydraulic attachments can be connected to the system," says Yanes. "Hose routing from adapter plates can be differently arranged by connection manifolds or through internal routing. In most cases, the attachment itself can be a different type but the adapter plates will be customized to fit it — meaning different bolt patterns, size and number of couplings, hose routings and connections."
These systems meet the needs of customers who use multiple attachments with a carrier. "As soon as you have a need of changing between different hydraulic or non-hydraulic attachments on your excavator, you will get benefits from the system," says Yanes.
Those who use hydraulic tools in specialized applications may benefit the most. "Imagine an excavator on a demolition site with a hydraulic breaker, a shear and a rotating grapple," suggests Yanes. All of these attachments require a high hydraulic flow, resulting in big connectors on the dipper arm and long, hanging hoses. "Changing between the attachments would mean leaving the cabin and struggling with big and occasionally pressurized connectors. If the operator does not have to leave the cabin and the changes are done in seconds instead of minutes, this will result in using the right tool for the task."
The Steelwrist SQ system can be used in combination with the company's tiltrotator for added versatility and productivity gains. "If the SQ system is combined with a Steelwrist tiltrotator, it is even possible to connect tools under the tiltrotator," says Yanes. "And when the tiltrotator is not needed, you can disconnect it easily, still having the same interface in your quick coupler."
Prevent Oil Spills
The fully automatic quick couplers available today all offer an important environmental advantage over manually connecting hydraulic lines — no oil spills.
For instance, consider the design of the Steelwrist SQ system. "As the 'nose-sealing' between female and male coupling is enabled before the oil flow is passed through the couplings, there will not be any leaks in the connection sequence," Yanes points out. "Also, the length of the connection while mating is long compared to, for example, flat-face couplings."
Liebherr also states that maintenance requirements on the coupling system are minimal. "On the LIKUFIX coupler, there are maintenance-free metal seals (no sealing rings)," says Barnes. "On the tool side, there are sealing rings, but they can be easily changed. Also on the tool side, there are two guide pins that make sure all hydraulic connections are properly attached before using."
Increased productivity, less downtime, increased safety and less chance for oil spills mean these automatic coupler systems can offer any contractor who switches between hydraulic-powered attachments a quick return on their investment. 
Companies in this article