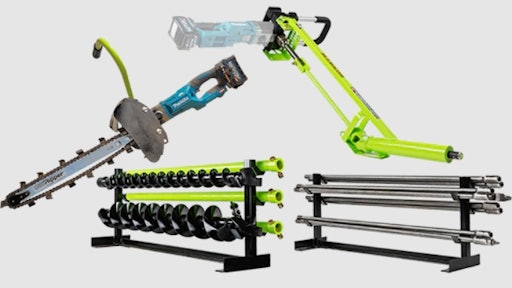 MiniTrencher
MiniTrencher has announced several new products and attachments, including a horizontal auger, a new electric battery-powered division, new GeoRipper T/A trenching attachments for the Milwaukee and Echo powerheads and a redesign of its flagship product, The GeoRipper.
In April 2023, MiniTrencher bought the American company SiBore Drill, adding horizontal boring technologies to MiniTrencher's current product offerings. The SiBore Drill is a portable horizontal auger that digs underneath concrete, asphalt or any other hard material without breaking the surface. The SiBore Drill uses a waterless-boring method leaving no mud to deal with.
With a shipping weight starting at 54 lbs., the SiBore Drill can be transported in the trunk of a car or bed of a small pickup. Powered by a Honda multi-position, 4-cycle engine or a Makita 40V MAX XGT battery-powered motor, the auger chews through soil quickly. SiBore Drill has three models: the SB216 comes standard with 2-in. and 4-in. diameter earth drilling bits reaching up to 12 ft. and the SB215 MicroBore comes standard with a 1-in. drilling bit for fiber optic and other direct-bury electrical/wire reaching up to 24 ft. Customers can choose both models with the SB431 which comes complete with all the accessories from both the SB215 and SB216, but with only one engine or motor and the SiBore Drill lower unit. Every SiBore Drill can be converted to a single-person post-hole digger. Accessory earth drilling bits come in ranges from our 1-in. drill tip or 2- to 8-in. augers and 36-in. MicroBore drill rods or 32-in. extensions are available as an accessory purchase. Pair with GeoRipper handheld trencher for production.
GeoRipper e/B
MiniTrencher is introducing the battery-powered GeoRipper: GeoRipper e/B. Utilizing a Greenworks or Makita XGT electric battery motor, the GeoRipper e/B is a complete trenching unit that includes a battery-powered motor, battery and charger, as well as MiniTrencher digging chains, bars and accessories.
The company offers the SiBore / GeoRipper Combo Pack, serving as a multi-tool solution. The package includes a SiBore Drill option along with the GeoRipper e/B. Now with the Makita 40V MAX XGT battery-powered motor, you can have a GeoRipper e/B AND SiBore Drill horizontal auger with one powerhead.
Redesigned GeoRipper
MiniTrencher is also unveiling its redesigned core product, The GeoRipper. In 2020, MiniTrencher moved its manufacturing to the United States. The GeoRipper is now a complete trenching system from MiniTrencher.
"The benefits of using a retail, name-brand engine like Husqvarna or Stihl are many. However, the biggest issue was going to be price. The name-brand engines were not built specifically for trenching in the ground. Features of these name-brand concrete saws were detrimental and expensive for our customers. Developing a specific, gas-powered engine for our all-new GeoRipper allowed us to pass incredible savings on," said JJ Harris, general manager.
All-new and redeveloped, The GeoRipper is available in three different model sizes digging a maximum depth of up to 16, 20 and 27 in. deep.
MiniTrencher also added on to its GeoRipper T/A Trenching Attachment product line and its compatibility with other brands of concrete saws. This year, MiniTrencher added the E and MX Series models to work with Echo and Milwaukee cut-off saws. The GeoRipper T/A launched in 2021 with the latest trenching adapter technology. The GeoRipper T/A allows users to go from a cut-off saw to a GeoRipper MiniTrencher in five minutes for dual functionality.
Request More Information
Fill out the form below to request more information about
MiniTrencher Unveils New and Redesigned Attachments