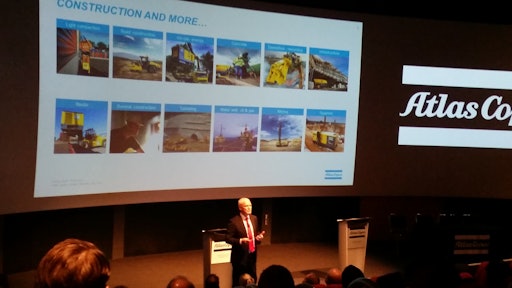 Atlas Copco hosted its annual capital markets day in Charlotte, NC, in November to provide an update of the group's strategy and market situation, and demonstrate the company's innovations at its Rock Hill, SC, manufacturing facility. 
The start of the event, held at the NASCAR Hall of Fame in Charlotte, provided investors with an in-depth look at the growth of the company, as well as where the company plans to be in the future. 
Ronnie Leten, president and CEO, confirms Atlas Copco's most recent outlook statement, that the overall demand for the group's products and services is expected to increase somewhat in the near term. 
"The market has been mixed this year, with healthy demand from industrial manufacturing customers and softer activities in the mining and construction segments," Leten says. "We are continuing to adapt wherever needed. We remain highly focused on providing our customers with innovative products and service to enhance their productivity and competitiveness."
Additional presentations by business area presidents in the compressor, industrial technique, mining and construction segments all followed similar trends while emphasizing innovation and service. 
Andrew Walker, business area president for the Construction Technique segment, was appointed to oversea the nearly $2 billion industry in September of this year. The construction segment represents one of Atlas Copco's widest product portfolio's covering light compaction, road construction, rental, portable energy and more. Walker says the company plans to continue to add products to the portfolio and indicated a complete line of planers would be released at the next Bauma in 2016. 
Walker also emphasized innovation of the existing products, noting that nearly 80 percent of the existing product line has been redesigned in the last five years to improve efficiency and meet Tier 4 requirements. 
In a site visit to the company's Rock Hill manufacturing plant, Walker spoke of the new Continuous Compaction technology that will launch in Q1 of 2015. The compaction analyzer will come in the form of a modem that contractors can install on existing machinery to monitor compaction results in realtime on the job site.
"The technology lets you know when the soil or asphalt is compacted properly," Walker says. "Drivers are not spending additional time doing a job when they have a computer to let them know when it's properly done. It helps them to be more efficient"
The technology will be able to give contractors the tools they need to create complete site maps of the job showing compaction and density results. Walker says this can protect a contractor if they need to prove quality control of a job to municipalities and other agencies.
In Q2 of 2015, the company plans to launch multi-roller functionality of Compaction Control so the rollers communicate with each other to provide comprehensive results for fleet owners. By 2016, the program will be cloud-based and real-time data can be transferred remotely to support a 3D design file reference. 
Walker says this full connectivity can optimize fleet management by giving owner/operators real-time machine positioning, along with historical data on how a machine has performed in terms of compaction and paving data, engine efficiency and even remote diagnostics of the machine that can allow for a "fix before failure". 
"This all may become standard procedure someday,"  Walker says.